Chris Wood - British Masters
By: Golfshake Editor | Wed 12 Oct 2016 |
Comments
---
Post by Sports Writer Derek Clements
IF CHRIS WOOD wins the British Masters at The Grove he will join some pretty illustrious company. The Bristolian won the BMW PGA Championship in May and the only men to have won both events in the same season are Colin Montgomerie, Nick Faldo and Seve Ballesteros.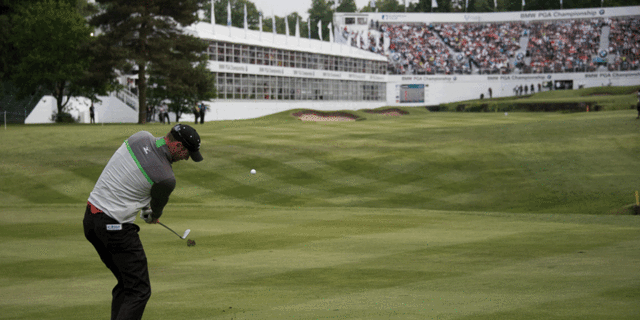 Wood is delighted to be playing on home soil again. "Just being able to get in my car and drive up the road is great, instead of coming back from America [after playing in the Ryder Cup] and then going the other side of the world, I suppose, is a massive help. And everything, just like little things, to drive to a tournament, knowing what you're getting for dinner, little things like that, home crowds, they make a huge difference to the week. So the familiarity you get from playing at home I think is quite a big hope.
"And I am not going to lie - to win this week and be in the same company as Monty, Faldo and Seve, that's quite a big thing for me to take in, that. It would be a heck of a thing to sort of have on your CV really, to be associated with those three players."

The tournament organisers have tried to make things a bit different this week, with some night golf featuring some of the biggest names on the European Tour alongside a host of celebrities and a putting competition, and Wood gave it the thumbs up.
"I love doing all that side of things. We're doing the pressure putt thing on Wednesday I'm involved in, and the night golf is really cool. Hopefully that can grow into something, maybe with music going in the background too. So everything like that, I think's great. And you know, it's great for the UK, as well. I love seeing the British flag on all of the flags and all the way around the course."
With the Ryder Cup now out of the way, a certain amount of pressure is now off Wood's shoulders. "Obviously building up to The Ryder Cup, all the pressure was on to make the team. And then you want to perform well and that brings another pressure. It takes quite a lot out of you, particularly your first one, because you don't know what to expect, but now I've gone through it, I've played nicely."
Now his focus is on the climax to the Race to Dubai, with the three closing tournaments comprising the Final Series deciding who will finish on top of the pile. One of those events is played in Turkey, and Tiger Woods was scheduled to be in the field. After withdrawing from this week's Safeway International, Woods also announced that he would no longer be playing in Turkey, and Wood is genuinely disappointed that the 14-time major champion will not be in action.
"I don't think he'll ever say it's over. I was completely surprised when I heard he had withdrawn because all the noises building up to it had been that he was ready, playing great and is fully fit again. But you never know with Tiger. Nobody's ever known, really, throughout his whole career what he really does golf-wise when he's at home, practice-wise, gym, all that sort of thing.

"It's really disappointing, because I was ready to watch [his PGA Tour return on TV], and obviously it would have been great for the European Tour for him to play in Turkey in, what, his second event back. There would have still been that buzz of Tiger's back sort of thing, and he's playing on The European Tour.

"So it is really disappointing for myself as a golf fan not to be able to sit down and watch him play, because he was my golfing hero. He won The Masters when I was ten years old, so from that point on, he's the only guy I've ever looked up to really. And he doesn't deserve for his career to come to a finish in this way. He deserves to go out in all the style that his records still deserve really.

"He seemed fine at the Ryder Cup [where he was a vice-captain]. I don't know if he followed any of my games but we all saw him roaming about and hopping off buggies and walking about and on the range with the guys. He seemed to get on well with the fans.

"On the first tee, when every player walks on to the first tee, all the fans start singing a song about them. And Tiger seemed to take that on board really well when I was down on the first tee area. But we all want to see him back on the golf course."
Image Credit: Kevin Diss Golf Course Photography
---

Be part of the action with a selection of unique golf tournament experiences, from playing in a pro-am with the stars to watching the action at golf's most illustrious events. Whether it's the Masters or The Open, The Ryder Cup or WM Phoenix Open, build your own bespoke package with the experts at Golfbreaks.com.
---
What do you think? leave your comments below (Comments)
---
Tags: British Masters
---
PLAY MORE PLAY BETTER - LATEST TUITION TIPS
---
Leave your comments below
comments powered by

Disqus