Titleist Launch 917 Driver
By: Golf Shake | Wed 07 Sep 2016 |
Comments
---
Titleist have announced the launch of the new 917 Driver which features a host of technolgy improvements and a brand new fitting innovation. The new driver is promising to create 'The Standard for complete preformance'.
Leading the new range of 917 Metals are the Titleist 917D2 and 917D3 models. These employ an improved proprietary Titleist technology - The Active Recoil Channel 2.0 and introduce a brand new fitting innovation - SureFit CG technology.
Titleist are pleased to announce that both are a result of an uncompromising "complete performance" design strategy employed by Titleist Golf Club R&D to develop the industry's most comprehensive and efficient driver designs – ones that have earned immediate acceptance and validation by many of the world's best players, including Adam Scott, Bill Haas and Jimmy Walker, who trusted a 917D2 8.5º model to win his first major title at the PGA Championship.
---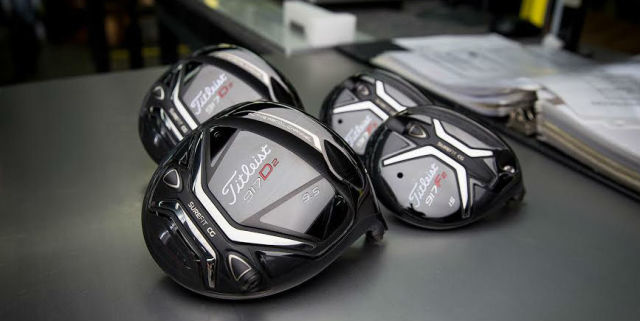 The Titleist 917 driver is joined by the Titleist 917 metals
---
"When we talk to golfers about driver performance, distance and forgiveness are always paramount. But they aren't the only attributes that players look for in a driver. They also want a repeatable trajectory, a shot shape they can count on for better accuracy. And they need it to look, sound and feel great," said Dan Stone, Vice President, Titleist Golf Club R&D.
---
Golfshake Feature Review - Titleist 917 Driver >>>
---
"The meticulous nature of our R&D process guarantees that any new innovation ultimately compliments the overall package, and we're confident that 917 delivers on golfers' each and every requirement. There may be other adjustable drivers in the market, but none are able to maximise the total driving performance for golfers of all abilities like 917."
Titleist 917 drivers promise to deliver increased ball speed for more distance with superior forgiveness, industry-leading adjustability with optimised trajectory control, and tour-inspired sound and feel through the following key technologies:
Active Recoil Channel (ARC) 2.0, a long, wide, deep sole channel, actively flexes and recoils at impact to launch the ball off the face with higher speed and lower spin for more distance. Refined thickness areas throughout the channel, including thinner heel and toe regions, produce greater face flexibility for a more consistent deflection that reduces spin and increases speed across the face.
Radial Speed Face 2.0, a high-speed forged face insert, is tuned with ARC 2.0 to promote greater off-centre ball speed for more overall distance.
A precise, High-MOI Design, with a low and deep centre of gravity location, delivers stability and forgiveness by preserving off-centre ball speed for more distance, more often.
Titleist's industry-leading SureFit Hosel and new SureFit CG weight system deliver the ultimate in precision fitting for every player.
The proprietary 16-setting SureFit Hosel allows golfers to set loft and lie independently to optimise ball flight for improved shot control and maximum distance.
New SureFit CG provides precise customisation through a highly efficient interchangeable weight system, optimising spin and launch conditions for a more consistent trajectory and tighter shot dispersion. The unique orientation of SureFit CG, positioned at an angle deep on the sole, enables the centre of gravity to be moved from Neutral to a back, heel position (Draw) or a forward, toe position (Fade). Each SureFit CG position affects dynamic face closure and gear-effect sidespin, enabling golfers to enhance their preferred ball flight and shot shape through more consistent impact and spin. The streamlined design of SureFit CG – which provides significant weight savings versus competitive "track" systems – allows the CG to be manipulated while preserving 917's high-MOI properties for distance with forgiveness. SureFit CG also provides the flexibility for headweight adjustability (+/- 4 grams).
---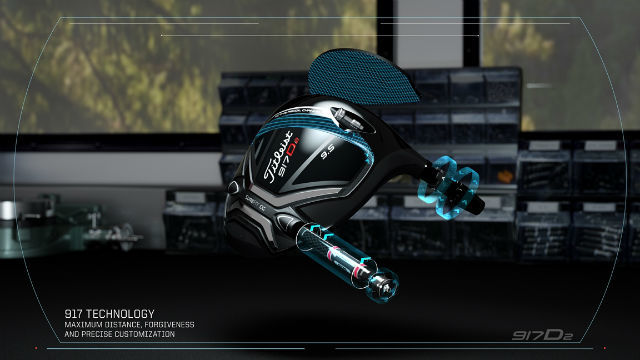 Titleist's new Surefit CG sytem allows for an extra level of fit
---
917's adjustable technologies offer the type of customisation previously available only on the Titleist Tour Van. A Titleist authorised fitter will utilise the SureFit Hosel and SureFit CG, coupled with interchangeable shafts, to determine a player's optimal setup so they are playing a 917 driver that is fit precisely to their swing.
Two models (917D2 and 917D3) provide distinct performance choices, particularly in spin and trajectory, for greater fitting flexibility and precise flight and shot shape optimisation.
917D2 provides distance and forgiveness in a large 460cc full pear profile. 917D2 offers more forgiveness and produces a higher peak trajectory with 250rpm more spin versus 917D3. (Available in 8.5º, 9.5º, 10.5º and 12º lofts.)
917D3 provides distance with workability in a traditional, tour-inspired 440cc pear profile. 917D3 offers more workability and 250rpm less spin versus 917D2. (Available in 8.5º, 9.5º, and 10.5º lofts.)
In player testing, golfers properly fit for a 917D2 or 917D3 driver experienced gains in ball speed and reductions in spin compared to 915D2 and 915D3, which equated to an average of three to five yards more carry distance. With both 917 models, players experienced more consistent speeds and lower spin across the face than their 915 drivers. Players' SureFit CG position preferences were similarly distributed between Neutral, Draw and Fade.
Optimised head shapes and structures, designed to produce specific acoustic frequencies, deliver a tour-inspired sound and feel that the world's best players demand. SureFit CG, by aligning the centre of gravity with the impact position, also contributes to a more solid feel. At address, 917's tour-validated "liquid slate" finish provides added confidence.
The new Titleist 917 drivers will be available in golf shops worldwide from 21st October (RRP to be confirmed).
Titleist: Golf's Symbol of Excellence.
TITLEIST R&D ON NEW 917 TECHNOLOGY:
"It's taken more than five years of extensive research and iteration to perfect this system. First, it's an exceptionally lean structure that allows us to preserve our high-MOI properties for forgiveness. Second, we're delivering centre of gravity movement that is meaningful to the golfer. The way we've engineered the SureFit CG differentiates us from the competition, allowing us to moderate and control spin in the draw and fade positions for a more consistent trajectory and shot shape while maintaining our high-MOI properties for maximum ball-speed off centre."
"The combined power of the SureFit hosel and SureFit CG takes us to another level in terms of optimising spin and maximising distance potential," said Dan Stone, Vice President, Titleist Golf Club R&D.
"We've seen through our extensive player testing that when you determine the appropriate CG for a player, the club squares up and times up more consistently for them. They hit the centre of the face more often, they gain club head speed and ball speed, and their shot dispersion tightens significantly. What's also notable is that because of those results and that feeling of being dialed in, we're seeing players gain more confidence and swing more aggressively, which creates even more ball speed and more distance."
917 DRIVERS ON TOUR:
Titleist 917 drivers have earned overwhelming validation and success with tour players around the world. More than 150 players have trusted new 917 drivers in competition across the worldwide professional tours since the seeding and validation process began in late June at the PGA Tour's Quicken Loans National and the European Tour's Paul Lawrie Matchplay – including Adam Scott (917D2 9.5º), Jimmy Walker (917D2 8.5º), Andrew Johnston (917D3 10.5), Bill Haas (917D2 9.5º), Byeong Hun An (917D3 8.5º), Justin Thomas (917D3 9.5º), Charley Hoffman (917D2 8.5º), Scott Piercy (917D2 8.5º), Jason Dufner (917D2 10.5º) and Webb Simpson (917D3 10.5º).
Jimmy Walker began testing early 917 prototypes in January at the Titleist Performance Institute in Oceanside, California. At his first opportunity, he put his new Titleist 917D2 (8.5º) in play at the World Golf Championships event at Firestone. Less than a month later, Walker won the PGA Championship at Baltusrol for his first major title.
"I put the 917D2 straight into play. It was definitely faster, had a better sound and feel, and I really loved the shape," Walker said. "Performance-wise, we found a lower sweet spot and I was able to lower my spin rate to exactly where I wanted. The ball flight was also what I liked to see, which is not super high. I can fly the ball on a rope anywhere from 295-310 and then it just rolls out far and straight. I've also picked up a lot of confidence hitting it into the wind."
Also at the PGA Championship, Byeong Hun An won the event's Long Drive Contest, using his new Titleist 917D3 (8.5º) to hit a 347-yard drive off Baltusrol's first tee. "My misses seem to stay straight right on line and no doubt it's longer than my 915D4," An said.
In just his second start with his new 917D2 8.5º driver, Greg Chalmers won the Barracuda Championship for his first PGA Tour victory in 386 starts. In his interview on the 18th green, Chalmers told Golf Channel: "Thanks to Titleist, I've got that new driver they've got, that 917, and I gained some yardage and started driving it straighter and I drove it beautifully…"
One week after Justin Thomas put his new 917D3 9.5º model in play, he stepped on to the 16th tee at Firestone Country Club and unleashed a 414-yard drive down the fairway of the 667-yard par-5. To date, it's the longest drive recorded this season on the PGA Tour.
"It was the hardest I've probably ever hit a drive," said Thomas, who chipped in for eagle. "As soon as I hit it I knew…"
TOUR-PROVEN SHAFT MATRIX
The 917's high-performance stock shaft matrix features four new aftermarket options from the three most played driver shaft families on the PGA Tour to fit a wide range of players and swing speeds. Each of these shafts will be making their market debut with 917 drivers.

The stock lineup, each with a stock length of 45 inches, includes the Aldila Rogue M*AX 65 (low-mid launch); Fujikura Speeder Pro TS 74 (low-mid launch); Mitsubishi Diamana Limited S+ Blue 60 (mid launch), and Mitsubishi Diamana Limited M+ Red 50 (high launch).

In addition, Titleist offers an industry-leading number of custom shaft choices.
For more information please visit the Titleist Website - Click here

---
What do you think? leave your comments below (Comments)
---
Tags: Titleist
---
PLAY MORE PLAY BETTER - LATEST TUITION TIPS
---
Leave your comments below
comments powered by

Disqus