Thumb Caddy Grip Aid
---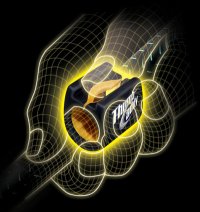 The Thumb Caddy is a new, unique and quirky training aid fresh to the market in 2012 designed to help improve your grip. The idea is simple and aims to get your thumb to remain in the same position during the backswing, downswing, impact and follow through by keeping the grip consistent.

The smartly designed small cube shaped training aid clips onto the bottom of your shaft which you then slide it up to sit on the grip of your chosen club into a position where your left thumb (if right handed) sits into the space available.
The basis of the Thumb Caddy product is that 'a stable grip prevents the tendency to turn your grip during the swing, what is commonly referred to as re-gripping. Thumb Caddy allows you to maintain proper club alignment and with a square club face, you'll consistently hit straighter and longer shots with more accuracy.' It also aims to provide optimum grip pressure and prevent gripping the handle too tightly.
It takes some getting used to to begin with, as most things do, but keeping your hands in the same positions is fundamental in a good golf swing and this certainly help towards that.
The Thumb Caddy is available online and available for £7.99 For more information visit: www.golfedge.co.uk or to follow them online for the latest updates, offers and new product check out @edgegolf
---
Related Content:
---
---
Comments