A lesson with a short game guru - Dave Pelz
By: Owen Davies | Thu 02 Aug 2012
---
Driving into The Grove you realise you are in for a treat, you note the immaculate greens and carpet like fairways, but I was not at The Grove for a game, I was there to meet an icon, arguably the world's most famous short game coach - Dave Pelz
Despite having played the game at a professional level and now off a handicap of plus one, I have often felt it is my short game that lets me down and in particular my chipping and pitching. So I was delighted when Golfshake sent me to the Dave Pelz short game school. I arrived hoping that I would learn that magic move or secret that would make me a great chipper and take my game to the next level.
Pelz recently launched his latest short game school in partnership with The Grove. The excellent short game facilities and top class hotel make it a perfect venue for his three day short game courses where students will recieve a complete overview of their game including video analysis and feedback from the very latest tools.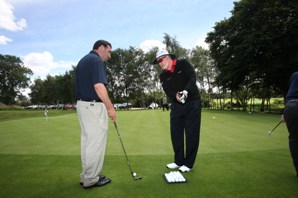 I spent the day with several other members of the press and all were excited to fire some questions at Pelz and then get down to business on the short game area. The Q&A session can be found – here
My lesson with Dave Pelz
The first thing that strikes you about Dave Pelz is the stature of the man, I often felt that he looked quite short in his bestselling books, The Short Game Bible and The Putting Bible. He is most definitely not short; he is a big man and actually quite an imposing figure. The second thing that strikes you is how eloquently he speaks. He is hugely knowledgeable and to be quite honest I would have been quite happy listening to him for hours.
Following a demonstration from Pelz on how a basic chip and run should be played, it was our turn and despite just being on a practice green I was pretty nervous. I was relieved to hear him describe my chipping stroke as "pretty good". Pelz then went on to tweak several parts of my stroke, including standing closer and moving the ball back in my stance. However the best advice he gave me was to improve my rhythm, this apperently would to help my body and arms stay connected.
I am pleased to say that my chipping and pitching has showed a great improvement since my lesson. Working on the correct setup and keeping my rhythm is making a massive difference. If you would like to find out more about when the Dave Pelz short game schools are running, please click - here
---
Related Content:
---
---
Comments