Golfband - Improve Your Flexibility, Balance & Power
---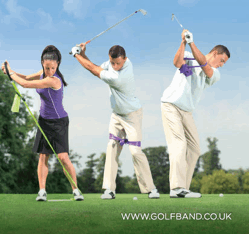 GolfBand is a revolutionary new training aid designed for golfers of all levels and abilities to improve balance, stability and arm to body connection, for a more powerful, controlled and consistent swing.
A collaboration between resistance technology experts from the leisure and fitness market and PGA Professional Ian Dudman, GolfBand combines the latest industry-thinking for strength and conditioning all relative to the golf swing.
GolfBand is a simple and flexible piece of equipment that uses the concept of resistance technology to strengthen and condition muscles. By providing resistance for muscles to work against, the GolfBand can replicate every exercise that can be done in the gym or specific to the golf swing, but without the need of costly gym membership or a visit to the practice range to hit balls.
The GolfBand pack is suitable for both men and women, is extremely cost effective (RRP £14.99) and can be used as part of a professional coaching session or an individual practice session. Each pack comes with a band strength of your choice and a fully-illustrated 20 page easy-to-perform instruction booklet - all housed within a small plastic pack that can be easily stored in any golf bag.
Available in three brand strengths, medium (green), strong (purple) and extra strong (grey), GolfBand can be used for warm-up, flexibility training and strength training with each and every one of the simple exercises effective for developing and maintaining strength and flexibility in muscles important to golf.
Ian Dudman, PGA Professional, commented: "Watching the likes of Jimenez and Darren Clarke at The Open, it's apparent stretching and warm-up exercises are becoming far more common-place in the game. That being said, the majority of products on the market are very one dimensional compared to GolfBand."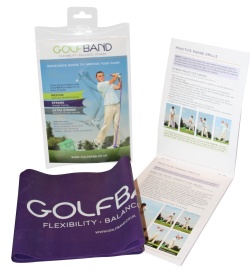 "The beauty of GolfBand is its simplicity; plus the fact it has a variety of uses as well as warm-up and flexibility training. We have worked hard to develop a range of exercises specific to golf and the golf swing, including those for arm and body connection to improve ball-striking and swing consistency, in a bid to make GolfBand the ultimate companion for golfers of all ages and abilities" added Dudman.
Small and versatile, GolfBand fits in any golf bag – ready for that warm-up session on the first tee before your next game or that impromptu practice session. While the comprehensive but compact instruction booklet contains a diverse range of exercises including: locker-room warm-up, first tee exercises, practice range drills, golf conditioning exercises and post/exercise cool down exercises.
Using resistance technology GolfBand products will help improve your game, decrease your risk of injury and help with your overall golf fitness.
Visit www.golfband.co.uk to find out more, view the range of GolfBand products and accessories or simply get your hands on your very own GolfBand.
---
Related Content:
---
---
Comments