Putt Pucks - Focus on the Target to Putt
---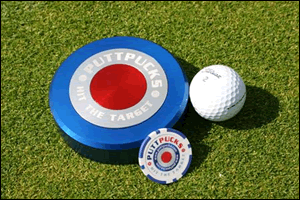 Putt Pucks® from Dinamic Golf is the ultimate putting system, featuring three innovative functions in one stylish aluminium design.
Firstly use the three targets individually or together as an instant rebound tool – simply hit your ball against your puck of choice and the rebound will tell you whether your putt was hit straight, pulled or pushed. For those lacking in confidence take aim at the outer puck, the exact same size as a golf hole.
For a tougher challenge the inner puck is slightly smaller requiring a little more focus to Hit the Target™, whilst for the advanced the central puck is only fractionally bigger than a golf ball requiring an accurate, confidence building stroke.
Putt Pucks® are designed to develop a positive putting stroke, ensuring putts always reach the hole and in addition to the instant feedback, the three pucks can be used together in a variety of different challenges to test both pace and line.
The final use once your stroke is honed is to use the outer puck as a cup size reducer, placing it in the cup to reduce the hole diameter to one of three ever-decreasing sizes giving your new found confident stroke the ultimate challenge.
Putt Pucks® were launched at last year's London Golf Show and took first prize in the under £50 category and have since been well received on Tour with over 20 European Tour players practicing the variety of drills illustrated on www.puttpucks.com on the putting green, in their hotel rooms and at home.
Putt Pucks® are available in hundreds of different colour combinations and are also fully brandable making the perfect corporate golf gift.
So as you settle down to watch the World's best battle it out on the links of Turnberry, why not hone your putting stroke at the same time with a versatile product that can be used at home, in the office or on the practice green and get one step closer to every golfers dream.
For further details please email [email protected], call +44 1293 775555 or visit www.puttpucks.com.
---
Related Content:
---
---
Comments