SKLZ Practice Pod Pro Training Aid
---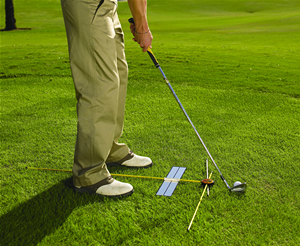 The new multi-use Practice Pod Pro is designed to aid in the correct body position, orientation and direction of the golf swing and can be used with all clubs. The easy set-up three-rod system helps golfers learn to set up squarely, as well as hit draws and fades. A shoulder alignment mirror is included to help self-monitor proper shoulder and head positioning.
"The Practice Pod Pro is ideal for practicing important shot making techniques," said Greg Shoman, vice president of marketing, SKLZ. "While we would like to have a straight shot to the green every time, sometimes a draw or fade is called for and this training tool will help golfers effectively work on perfecting those shots."
Nearly a dozen professionals on the PGA Tour currently train with the original Practice Pod and are starting to transition to the new Practice Pod Pro. This lightweight, portable alignment package includes a mesh bag with drawstring for easy storage. For a variety of Practice Pod Pro drills, visit Practice Pod videos on SKLZ.tv.
SKLZ products are designed to fit into four training categories: Accuracy, Distance, Putting and Practice, allowing players to focus on the specific areas of their game that need work. The Practice Pod Pro can be found in the Accuracy training category on the SKLZ website at www.SKLZ.com.
---
Related Content: training aids game improvement
---
---
Comments