Find your competitive edge with the Extra 20 Yards
---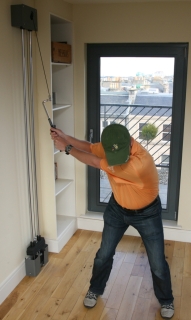 The Extra 20 Yards is a revolutionary new piece of golf fitness equipment that has been carefully designed to specifically increase strength in the correct muscles for golf and subsequently improve club head speed.

Many other sports have equipment designed for training needs such as exercise bikes, rowing machines and treadmills. Now, for the first time ever, a weight machine has been designed specifically for golfers.

The Extra 20 Yards combines weight training technology with a scientific understanding of the golf
swing to create a piece of equipment that enables you to exercise all of your golfing muscles in one movement.

The golf swing is a unique movement so it requires a unique piece of equipment to help replicate that movement. Several of golf's leading professionals have been involved in refining the technical details of

The Extra 20 Yards, which is based on:
a pulley system that is set to the correct swing plane,
a calibrated set of weights to encourage dynamic strength and movement, and
a moulded golf grip to ensure that the exercise replicates the golf swing.


Even in well equipped gyms there is nothing that has been specifically designed for this type of workout to develop the strong and flexible muscles that a golfer requires. Simon Yates (7th in all time career earnings on the Asian PGA Tour) said "This is ideal for the keen golfer. It works all the muscles in a golf swing and you don't have to spend lots of time in the gym. Forget spending lots of money on the latest drivers, just spend a few minutes each week using this machine and you will gain the Extra 20 Yards."

Kevin Craggs, a Top 25 UK Golf Monthly Coach agrees, "If you want to get distance and power into your game, what a perfect device."

No one wants to spend hours in the gym when you could be out on the course. The Extra 20 Yards reduces your exercise commitment massively as it is designed to build stronger golfing muscles in a few minutes a day.

As well as increasing your club head speed and giving you that extra distance it will also allow you to play better for longer and reduce the risk of injury. This is because stronger muscles are likely to reduce long term golfing injuries.

For more information log on to www.extra-yards.com

The Extra 20 Yards is a patented product, made to design by a leading manufacturer of gym equipment.
Retailing at just £219 (plus VAT and P&P), the Extra 20 Yards offers tremendous value. Less expensive than a gym membership or a premium driver and tailored specifically to the golf swing; if you are thinking of investing in extra distance, let us help you to find the Extra 20 Yards you already have.
---
Related Content:
---
---
Comments