10 of the Best Golf Courses in Surrey
By: Golfshake Editor | Tue 05 Jan 2016 |
Comments
---
WHEN you think of Surrey it is all too easy to come up with images of London, but you don't have to go too far away from the capital to find some fantastic golf courses surrounded by glorious countryside. On the other side of the coin, the beauty of the 10 courses we list here is precisely the fact that they are all so close to one of the busiest and most bustling cities on the planet. There is an argument for saying that Surrey is actually the finest golf county in England – check out these courses to find out why.
Walton Heath GC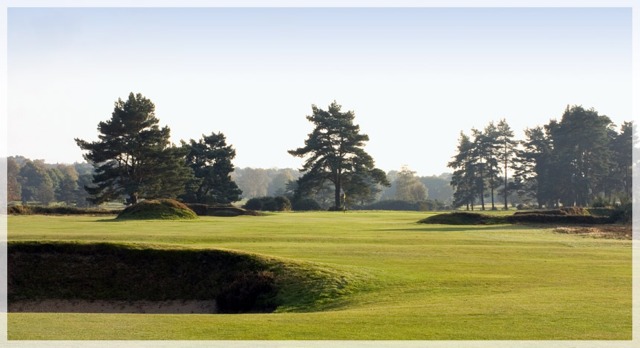 Green fee: £150; December 1-February 28, £75
Par 72, 7,420 yards, heathland
There are two courses at Walton Heath, the most famous of which is the Old Course, which is 7,420 yards long from the back tees. It hosted the Ryder Cup in 1981, and the European Open has also been played here. It is a stunning heathland layout. James Braid, the five-time Open champion, was club professional until 1950 – and it is little wonder that he didn't want to move anywhere else. It is not far from the centre of London, but you would never know it as the course is so tranquil. Most of the bunkers are surrounded by heather – it may look pretty but if it swallows up your golf ball then the strength of your wrists is going to be tested to the full. The fairways consistently provide tight lies – hit the ball properly and it will stop quickly enough on the magnificent greens.
Read our full feature review for Walton Heath: /course/news/9238/Feature_Review_Walton_Heath.html
Kingswood Golf and Country Club
Green fee, November-March £45
Par 72, 6,900 yards, parkland
Kingswood was designed by five-time Open champion James Braid. It measures 6,900 yards and has recently undergone a £500,000 makeover. It is a relatively flat course, with most fairways bordered by trees. One of its key features is the bunkering – the greens are well protected but there are also a lot of bunkers located at driving distance, meaning that you must be accurate with both your driver and irons. The seventh is a 145-yard par three which looks straightforward enough but six bunkers lie in wait, as well as trees behind the green. It finishes with a 402-yard par four that doglegs gently, with a fairway bunker to be avoided. Four bunkers protect the green, with an especially deep one on the front right.
Worplesdon GC
Green fee: £115; winter £70
Par 71, 6,451 yards, parkland
This Woking layout is surrounded by towering pine trees which frame many of the holes. There is also a natural lake, together with the requisite mix of gorse, heather and 'proper' rough. It is a reasonably well-kept secret, so our advice is to get there before that changes. Worplesdon includes several classic short holes, including the 140-yard 10th, which is played over a lake to a three-tier green, and the 175-yard 13th, which could prove unlucky if you find one of the bunkers protecting the green. The signature hole is the 527-yard 11th, which is played through pine trees. You will love this place
St George's Hill
Green fee £145, winter £65-£90
Red nine 3,210 yards, par 35, Blue Nine 3,331 yards, par 35, Green Nine, 2,897 yards, par 35, heathland
There are three classic nine-hole layouts at St George's Hill, with most people opting to play the Red and Blue, and what a fabulous experience awaits here. The opening hole on the Red is a par four measuring 384 yards. The drive is over a valley, with bunkers left and right on an uphill fairway. The green is on a plateau and the approach is semi-blind to a surface guarded by five bunkers. The eighth, a 173-yard par three, is the signature hole, with the tee shot played over a valley to a green that resembles an upturned saucer that slopes from front to back and to the right. It is surrounded by bunkers. The Blue kicks off with a cracking 434-yard par four, with thick rough, heather and trees on the left. The fairway narrows and there is a mix of bunkers and a steep heather bank to negotiate before an approach to large green that slopes away from you, with two bunkers on the right. The closing hole measures 390 yards, with a drive hit through an avenue of trees. There are fairway bunkers and a green protected by sand and trees to the rear.
Wentworth, West Course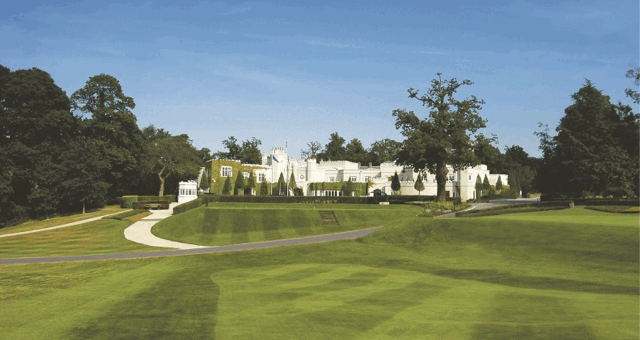 Green fee £110-£210
Par 73, 7,281 yards, parkland
Home of the BMW Championship, the Wentworth West Course has been redesigned by Ernie Els, the former US Open and Open champion. Set amid hundreds of acres of woodland, the course makes great use of the trees, which frame many holes and repeatedly come into play. The greens are among the quickest you will ever play. This course offers a serious test, especially after the alterations made by Els. If you are having a bad day, take time to enjoy the scenery and the beautiful homes that are dotted around the perimeter of the course. The first is a monster par four with a second (or third) shot hit over a valley to a sloping green. But it is the two finishing par fives that make the West Course. On the 17th, anything to the right is dead and buried – and that is the way the fairway slopes. If you find the fairway you then have a blind second shot over a hill to a green that is the hardest on the course to read. The 18th, with the stream running in front of the green, is a wonderful finishing hole. Bunkers to the left find hundreds of drives – the key is to hug the right side of the fairway, which also offers the best angle for the second shot, whether you are laying up or going for the green.
Read our full feature review for Wentworth West: /course/news/6821/Review_Wentworth_West.html
Hankley Common Golf Club
Green fee £94
Par 72, 6,791 yards, heathland
Hankley Common is a stunning golf course that is technically a heathland layout, but also has a touch of parkland with a links feel thrown in for good measure. The seventh hole is a magnificent par three of 183 yards, played to a raised green, with a giant oak on the right and cavernous bunkers at the front of a two-tier green. The 14th, measuring 413 yards, is not for the faint hearted. An arrow-straight drive is required, through an avenue of trees, before an approach to a raised green. The 18th is another great hole, measuring 432 yards. Once again, trees line both sides of the hole and there are no bunkers – instead, you have to negotiate a deep grass gulley in front of the green.
Pine Ridge Golf Club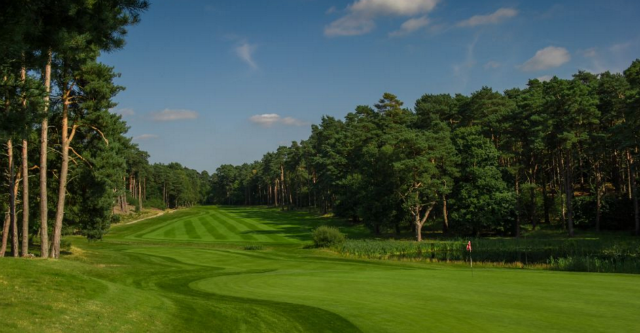 Green fee £29
Par 72, 6,458 yards, parkland
Check out the green fee! Pine Ridge has been voted as one of the best public courses in Britain – it is also surely one of the best value courses in the land. Forget any preconceived ideas you may have about municipal courses – you will always find this one in excellent condition. And it is a good test. There are lots of undulations and although there isn't much rough there are a LOT of pine trees, so you have to be accurate.
West Byfleet Golf Club
Green fee £55
Par 70, 6,197 yards, heathland
There has been a course at West Byfleet since 1904 and is just three miles from Woking. It was designed by the wonderfully named Cuthbert Butchart, who was also responsible for Royal County Down, so clearly knew his stuff. The second hole measures 378 yards with cross bunkers to be negotiated from the tee, with the perfect line being left of centre, leaving an approach to a narrow, well bunkered green. The 13th could be unlucky for some – a 160-yard par three, it requires a carry over a large pond to a green surrounded by three bunkers. The 18th is a 499-ayrd par five that can be reached in two. The perfect drive is hit as close as possible to the fairway bunkers on the left, leaving a long second to a well-guarded green that is angled to the right.
Read our full feature review for West Byfleet GC: /course/news/3416/Review_of_West_Byfleet_Golf_Club.html
Coombe Hill Golf Club
Green fee £110, winter £65
Par 71, 6,401 yards, parkland
Coombe Hill was designed by J F Abercromby and features lots of undulations and elevation changes. Putting well is the key to good scoring here, but if you find the wrong part of the greens then you are going to struggle. The fourth is 512 yards long, calling for a drive to the right half of the fairway avoiding the two fairway bunkers. On the second shot you should also favour the right side of the fairway, which opens up the approach to a comparatively flat green. The ninth is a wonderful short hole, measuring 185 yards, with a tee shot struck over a valley to a plateau green surrounded by four bunkers – the surface slopes from left to right, adding to the difficulty of the hole. The 12th hole measures 187 yards and is a delightful par three played to the smallest green on the course. A severe fall-off to the left of the green is to be avoided at all costs. The closing hole is 395 yards long and demands a drive struck to the left of the fairway, taking out of bounds on the right side out of play. Your second shot is played uphill so you need to take one club more than you think.
Tandridge Golf Club
Green fee £75, winter £45
Par 71, 6,509 yards, parkland
Tandridge was designed by Harry Colt and features 45 different species of trees. The second hole is 454 yards long and is a beast of a par four. Your drive needs to be hit through a narrow gap in the trees to a fairway with some serious bunkering. The second shot is played to a two-tier green, and you must find the right level with your second. The seventh is just 308 yards and is a birdie opportunity. Trees short of the green and three well-placed bunkers must be avoided but find the fairway and you will be left with a short iron to a green protected by five bunkers and a false front. The 223-yard 13th is a cracking par three played to a green surrounded by trees and bunkers and featuring a large fall-off area to the right of the green. There is little respite, with the par four 14th measuring 477 yards and played from an elevated tee to a gorgeous valley below.
Read our full feature review for Tandridge GC: /course/news/7447/Review_Tandridge_Golf_Club.html
---
Related Content:
What do you think? leave your comments below (Comments)
---
Leave your comments below
comments powered by

Disqus
More Golf Course & Travel Features
Plan your next golf break with Golfbreaks.com
Travel Deals Newsletter
Save up to 50% on golf breaks & tee times!
Join Today »