Stay & Play - Mannings Heath
By: Andrew Picken | Thu 15 Oct 2015 |
Comments
---
We recently sent Golfshake ambassador Andrew Picken along to Mannings Heath in Sussex to stay at the South Lodge and play both the Waterfall and Kingfisher courses. Read the stay and play feature below.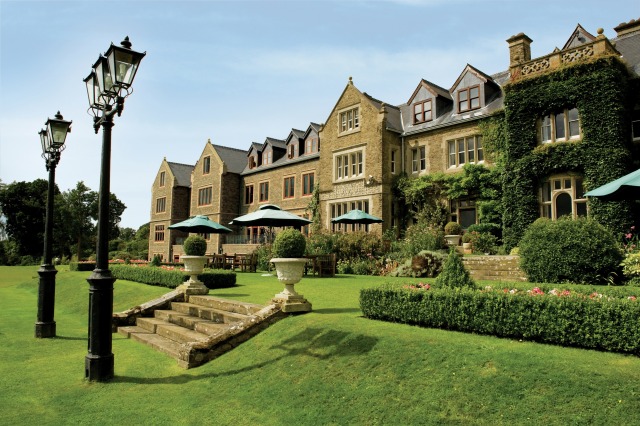 Stay and Play Experience
Mannings Heath, part of the Exclusive Hotels and Venues portfolio, is set within 500acres of Sussex downland and provides access to two championship golf courses. During my visit I was lucky enough to experience both courses as well as stay at their 5* hotel South Lodge, an Exclusive Hotel in Horsham, West Sussex.
Guests looking to stay at Mannings Heath can either stay at the onsite Fullers Cottage which is provided on an exclusive basis to 4 to 8 golfers or the sister property South Lodge Hotel, located a short 5 minute drive away.
For our visit we were booked into the South Lodge Hotel. The building is very impressive with valet parking and a clear understanding of the needs of the travelling golfer. We had been allocated a ground floor suite to save lugging golf equipment too far.
Speaking to the staff it is clear that they have a good knowledge of golfers needs. When available, upgrades are offered to golfers to use the ground floor luxury rooms to assist with baggage carriage and increase the positive experience of a stay at this wonderful venue.
The Hotel
The hotel is set in 93 acres, has a gym, a tennis court and 5 miles of mountain bike tracks.
The hotel is full of lovely quirky features that really enhance the experience. No 'Do Not Disturb' signs here, a cuddly sheep toy known as Monty is hung from the door knob instead.
The suite we stayed in was excellent and the size of a small bungalow. Two double beds were the twin facility and they were dwarfed by the size of the room. A giant flat screen TV with the full Sky HD package also came as standard. A Bose entertainment centre acted as controller for all the electrical audio visual equipment and the end result was an amazing aura of luxury. A difficult balance to achieve, but delivered very successfully at this venue.
The bathroom was fantastic with double sinks, a wet room and a Jacuzzi bath. I have never seen a hotel room before with built in colour TV over the bath. A remote control adjusted the lighting in the room with different colours available as the mood changed.
Another service new to me was that of a perfect sleep pillow menu. Whilst we ate a member of staff prepared our room for the night. There was a menu of pillows available to be chosen by the guest to ensure the most comfortable night possible. 6 different sorts including an anti-snore pillow that I would have paid good money for on previous golfing trips!
Dining Experience
The hotel also boasts two restaurants. The Pass headed by Matt Gillan, winner of the Great British Menu competition 2015 for London and the South East, and The Camellia where we ate and the food served was sublime.
Every element of our meal was superb. The staff were attentive and well informed but not too fussy. The place oozes class but at no time did we feel in anyway intimidated. Smart, casual was the dress code and we were made to feel welcomed and at home.
We were also introduced to one of only 4 wine tasting machines in Europe. This keeps various wines in the purpose built best conditions and temperatures offering a tasting sip, half glass or full glass of special vintage wines upon presentation of a prepaid credit card. The room is a wine connoisseurs' delight; tasting notes on each beverage are displayed. This was a superb way to finish a meal of the very highest quality.
Overall Experience
After a solid night's sleep we enjoyed a magnificent breakfast cooked to order from a 30 choice menu. This accommodation is stunningly good.
During the breakfast, I overhead a group of 12 golfers chatting. They had been staying for four days, playing the courses and enjoying the food and accommodation. Before breakfast was over they had agreed to vote with their feet and make a repeat booking for next year. I cannot think of a higher recommendation and validation of this facility than that.
This is a superb venue that provides excellent standards of service, accommodation and food to the discerning golfer. I have stayed at some hotels where the golf is seen as a tangent, an addition. At this location it is intrinsically linked to the hotel itself and this makes the visiting golfers experience even more memorable.
Combine this with some of the best quality, bespoke accommodation I have ever had the pleasure of experiencing and you have a winning package.
This is a beautiful part of the world and the courses available are an interesting challenge set in some of the most visually appealing settings in the UK.
Don't tell anyone, but I think this package may be underpriced.
Would I visit again? Definitely, not a doubt in my mind.
Golf packages are available from £119 per person which includes overnight stay, dinner, breakfast and 2 rounds of golf on the Kingfisher course.
For more information visit: www.manningsheath.com or visit them on Twitter @ManningsHeath
---
Related Articles
---
Related Content:
What do you think? leave your comments below (Comments)
---
Leave your comments below
comments powered by

Disqus
Plan Your Next Round
Chartham Park Golf Club
West Sussex
from £18.00
Save 34%
Gatton Manor Hotel Golf Club
Surrey
Cuckfield Golf Centre
West Sussex
from £10.00
Save 18%
More Golf Course & Travel Features
Plan your next golf break with Golfbreaks.com