Mannings Heath Kingfisher Course Review
By: Andrew Picken | Thu 15 Oct 2015 |
Comments
---
Golfshake ambassador visited Mannings Heath in September 2015 to stay and play reviewing both the Waterfall and Kingfisher courses. Below is the review for the Kingfisher course.
---
The Kingfisher course is the junior sibling of the two courses at Mannings Heath and is offered as a pay and play facility providing another excellent layout in an area of outstanding natural beauty.
Our day started with a leisurely session on the well equipped driving range. This is adjacent to the first tee on this course and offers mats and grass surfaces.
The Kingfisher does not offer the same level of strategic challenges as The Waterfall but is a perfect counter point to it. My driver was employed much more often on this course, with varying degrees of success.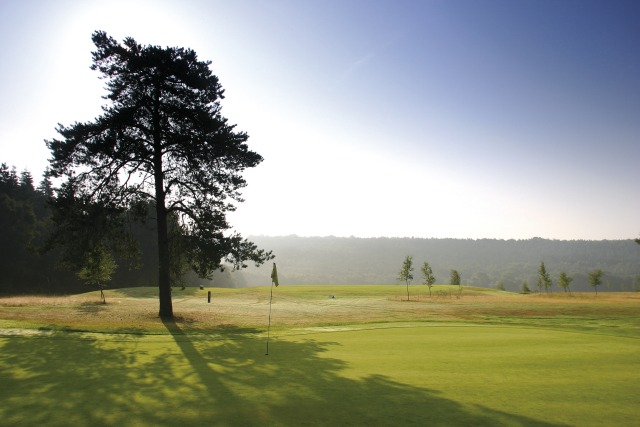 The first 3 holes skirt the course perimeter and give a clear indication of the style of holes to be faced later. Wind is a real factor on this course as the valley structure and the number of trees cause eddies and winds that are in play on most holes.
The club championship is played over 36 holes at each layout such are the different challenges they offer.
I really liked the loop of holes from #4 to #8 as they all gave different challenges due to the changing wind direction. Watch out for the tee box layout between 6 and 8. I nearly played from the wrong tee having successfully negotiated the visually lovely par 3 5th.
This course prides itself as "being laid gently on the landscape" and I agree completely.
It follows the natural terrain giving access to some stunning views and vistas. Unusually for a modern golf course there are no specific water hazards but this does not diminish in any way from the positive experience.
Accuracy is rewarded off the tee as the blonde fescue grasses and rough is very difficult to emerge from. The fairways are cut in a cross hatch fashion and they look like a quilt on many of the holes.
I loved the fact that there is an active recruiting campaign in place to generate and support an increase in those new to golf. Each hole has its usual tee placement with 3 choices available.
On each par 4 and 5 another set of tee markers have been added to the fairway making each hole considerably shorter. Those new to the game or juniors are encouraged to use these as 'tees of the day'. Using tee pegs protects the fairway and this initiative is an excellent idea in my opinion making the game much more inclusive and accessible.
Having this kind of an idea at a complex of this quality is something to be applauded and encouraged.
I really like the par 3's as a whole as they offer interesting challenges from the tee but all pins are fully visible as many are elevated. This elevation gives the best benefit for the natural surroundings and brings them into play on all holes. Many have false fronts and I found that a lot of my tee shots into these greens were slightly short due to the eye being convinced they were shorter than actually faced. The greens provide the main defence for the shorter holes as the bunkers are well maintained and are not too difficult to get out of given an errant shot.
The greens are full of subtle burrows and slopes that don't necessarily follow the natural contours. All are USGA standard allowing play during the winter months. A real bonus in my view.
I also like the shared green between #3 and #15. This makes this a very attractive hole to the eye. I am not sure if this slows down the pace of play on busy days as the day we enjoyed there were few other players on our course.
Several of the longer holes are relatively straight giving encouragement to the full use of a driver. The lack of any substantial water features does not cause any real issue as there are many natural hazards positioned around relevant landing areas. The rough is exactly that and a cautious approach back to the fairway is the only real option to regain ground lost by a mistake.
The Kingfisher opened in 1996 as a par 70 green fee only facility so is still a developing course given its age but is an interesting and varied challenge to golfers of all levels.
This course does not yet compare in quality with that of its older sibling but as a facility it is still to be relished and enjoyed. It is a different challenge but one still wholly worth a visit.
Having recommended a buggy for use on the Waterfall I would venture to suggest that this is an easier walking course that could be managed with trolley or carry bag.
I would highly recommend this venue and the prices for stay and play packages are of a very good value.
For more information visit: www.manningsheath.com or visit them on Twitter @ManningsHeath
---
Related Articles
---
Related Content:
What do you think? leave your comments below (Comments)
---
Leave your comments below
comments powered by

Disqus
Plan Your Next Round
Chartham Park Golf Club
West Sussex
from £18.00
Save 34%
Gatton Manor Hotel Golf Club
Surrey
Cuckfield Golf Centre
West Sussex
from £10.00
Save 18%
More Golf Course & Travel Features
Plan your next golf break with Golfbreaks.com