Feature Review Morley Hayes Golf Complex
By: Golf Shake | Thu 06 Aug 2015 |
Comments
---
We recently, July 2015, popped along to Morley Hayes golf complex with 4 Golfshake members to play the course and find out more about this vibrant golf course in Derbyshire.
---
Morley Hayes Golf Complex is a pay and play parkland golf course situated just north of Derby city centre accessible not far from the M1 & A38. The venue provides impressive facilities which includes the main 18 hole Manor course, 9 hole tower course, multi bay driving range and outdoor practice areas plus golf tuition through the East Midlands Golf Academy, modern and friendly clubhouse and golf pavilion as well as onsite Hotel & restaurants.
Morley Hayes is also relatively unique in that it's a non members club so tee times and course access is available throughout the week for visiting golfers, golf societies and anyone looking for a golf break.
The driving range and teaching facilities are also unquestionably the best in the area with floodlight auto-loader covered bays as well as large grass area and practice bunkers.
The course was developed in 1988 and set in Derbyshire countryside. Whilst the course is relatively flat the mix of water hazards, dog legs and layout ensures no two holes are alike and include fantasic scenic views especially when looking up at the clubhouse from the 14th onwards. It's known to play well all year round, due to drainage, and very rarely on temporary greens and the mix of short and long par's provides a test to all golfers.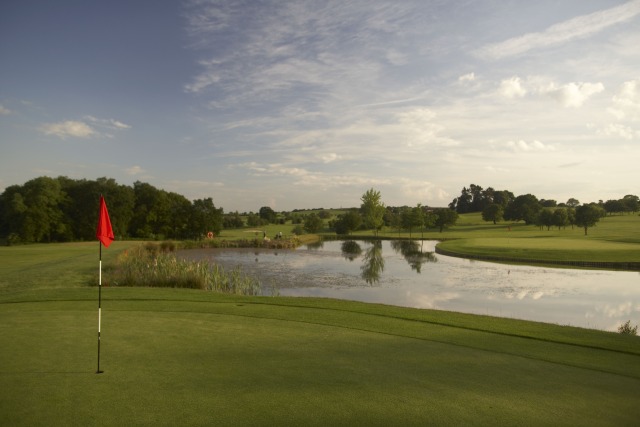 Pre-round thoughts
The whole venue is well presented from the roadside up until you reach the clubhouse. On the drive into the golf complex you pass the academy facilities and driving range which includes artificial, grass and sand areas for practice.
The golf facilities are modern and welcoming with the Pavilion bar providing a balcony which overlooks the 9th and 18th greens as well as the 1st tee making this a fantastic setting if sat outside. Our review team on the day specifically commented on this:
"A lovely looking approach to the clubhouse as you drive down. When parked up the clubhouse looks great as does the exterior area of the club."
"Upon going upstairs to the Spike Bar and sitting outside, a lovely experience when coming in after 18 and sitting on the outside balcony. Pre round I thought this looks lovely and I was not disappointed."
For visiting golfers there is a well stocked pro shop and as well as the clubhouse individual function rooms are available for large groups or golf societies.
Par 3s
There are 3 par 3s on the card and whilst they offer little danger in terms of water the length makes up for it with all being over 150 yards.
The 12th appears to be an easy looking hole at 190 yards but don't be fooled as this provided the greatest challenge on our visit with the wind being a major factor due to the holes location at the top boundary of the course.
Par 4s
The course provides a good mixture of long and short par 4's, some almost impossible to get to in 2 without two of your Sunday best shots (2nd & 11th) and some that are almost driveable. This adds to the interest ensuring varying holes on the par 4s with additional water, moreso on the front 9, or dog legs calling for good club selection and positioning.
The opening par 4s on the first 2 holes are of decent length and provide a great way to ease you into the round and get you driving off the tee. The 1st can be a deceiving hole and is a hole you would likely play different a second time with a decent straight fairway downhill which then leaves you a shot over water to a slightly elevated green.
The shorter 8th and 9th particularly stood out as holes that could either make or break your round. The 8th leaves no room for error either off the tee or with the approach. Leak your 2nd slightly right and your ball will be welcomed into a green hugging lake. Bail out left and you will have to chip out of a shallow bunker to a narrow 'infinity' green with the lake in the background
The 11th was the pick of the back nine. Up hill 420 yards and into the wind, when we played it, meant a perfectly placed drive is essential to get past the slight dog leg left to enable a long up hill second to the green.
Once you've plotted your way around the course you reach the 18th which is a fantastic final approach hole. 430 yards, tee shot over water, carefully positioned fairway lined bunkers, fairway ditch and watching gallery from the Pavillion balcony. You'd do well to make the green in 2 but it's a great hole to finish.
Par 5s
The three par 5s aren't overly long but like the shorter par fours on the front nine they use doglegs, water and sand hazards to stop you just launching it long for eagle.
The uphill 3rd requires a well positioned drive up to the dog leg but the really big hitters may be tempted to cut the corner. The approach is then protected by three giant bunkers the first of which will require a pitch of around 75 yards if you fall foul of it.
The 13th is a fairly straight par 5 but the 2 tiered green ensures you won't guarantee a par even if you hit it in regulation. This hole is also a fantastic scenic hole when looking down standing on the tee as well as providing a view across the course.
The final par 5 17th is a beautiful hole which can catch you out with a ditch going straight across the fairway and a large lake on your left hand side of the green. Played intelligently a par is a good score on this hole.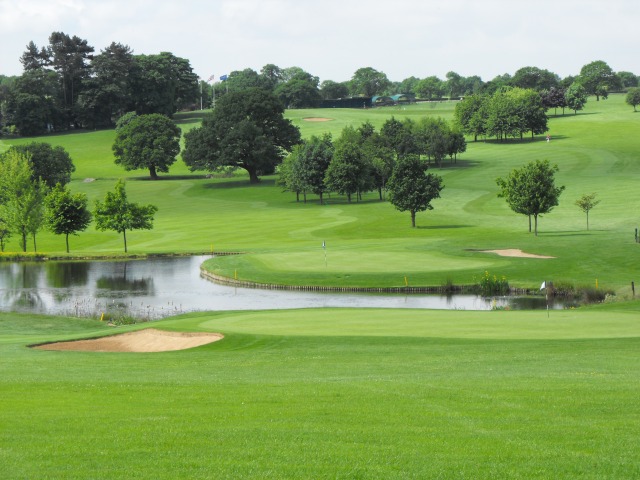 Post-round thoughts
We played in the height of the season and the course presented itself extremely well during the peak season. The review team commented:
"I would love to play this course again - with a significant advantage I think going into it a second time. The course overall was in fantastic condition the fairways are green and lush. Some of the greens could do with some work around the edge areas but the greens themselves were of a very high quality."
"In really good condition, well kept tee boxes and fast fairways. Greens were a little slow but were flat and true and would take a well hit iron."
"A few ups and downs but nothing of any major consequence. Quite a few blind holes which, once played would give you a far better idea when playing next of where to hit the ball on these holes. Overall a very nice and testing course with some lovely long holes."
Verdict/Roundup
Worth a visit and our review team commented:
"Overall a superb course which I would recommend to everybody to try and play if only once. You will not be disappointed I guarantee. Did not hire a buggy as fancied the walk but seemed to be plenty buggies available if required. Would definitely play this course again at some stage. Its an hour and 15 mins drive from Birmingham so not to a great length to go. Final sum up.
Great course decent price. Give it a bash !!!"
"The course is easy on the eye with excellent views of the local area from the top of the course and well presented greens, bunkers and fairways. I would recommended the course to all standards of golfer, it is an interesting course in a pleasant location. I imagine due to the set up of the course that scoring could fluctuate significantly from round to round. On a good day the course offers excellent scoring opportunities but on another day will have you reaching into your bag for replacement balls."
"A good course for beginners plenty of room for errors and forgiving rough. The fairways are in good condition, plenty of bounce, nice water features and wildlife."
"Not played since the changes made on the 8th, now with a larger green bordering a much expanded lake - that hole is settling in well. Small improvements keep making the course better and better. Up to it's usual well kept standards and considering the amount of traffic it gets was in superb condition."
---
Morley Hayes is highly rated on Golfshake, rated over 4 from 400+ reviews, and the review team on the day gave this an average 8.5 out of 10 taking into account price, facilities, set-up, venue & the course.
For more information visit: www.morleyhayes.com
---
Related Content:
What do you think? leave your comments below (Comments)
---
Leave your comments below
comments powered by

Disqus
Plan Your Next Round
Alfreton Golf Club
Derbyshire
from £10.00
Save 12%
Chevin Golf Club
Derbyshire
from £18.00
Save 27%
Marriott Breadsall Priory Golf Club
Derbyshire
from £20.00
Save 35%

More Golf Course & Travel Features
Plan your next golf break with Golfbreaks.com
Travel Deals Newsletter
Save up to 50% on golf breaks & tee times!
Join Today »