Feature Review - Burnham & Berrow Golf Club
By: Golf Shake | Tue 04 Aug 2015 |
Comments
---
Post by James Rowe, 16 handicap golfer from Cambridgeshire
---
Set on the Severn estuary, Somerset's Burnham & Berrow dates back to 1891. Back then it was a nine hole course, but subsequent extension, followed by redesign by Henry Colt either side of World War I have created the Championship Course you play today. The club now also boasts the Channel Course, a nine holer that weaves around its older sibling and from what we could see features some lovely tight links holes, which at £20 adult all-day rate looked great value.
Burnham & Berrow has hosted a number of big amateur events and it was clear that the members and pro were really proud of both courses. We received a warm welcome in both the clubhouse and the pro shop, and with warnings about increasing wind expected later in the afternoon, set out to tackle the Championship Course off the yellow tees (6479 yds).
Par 3's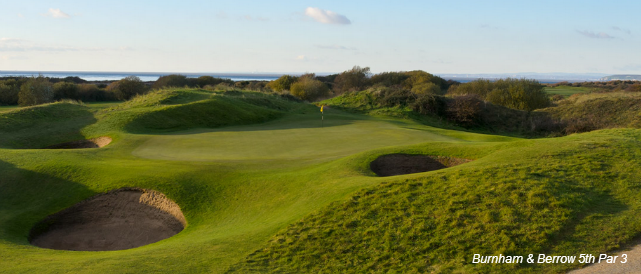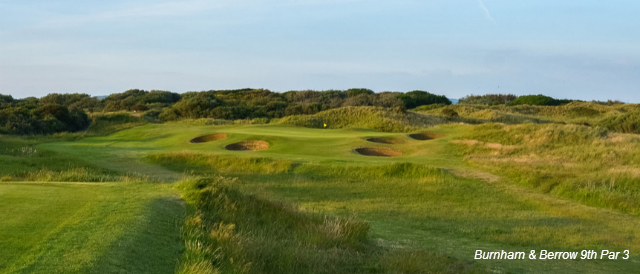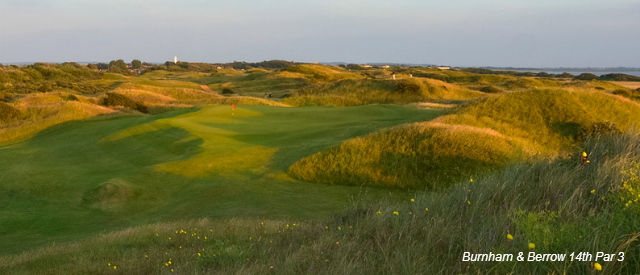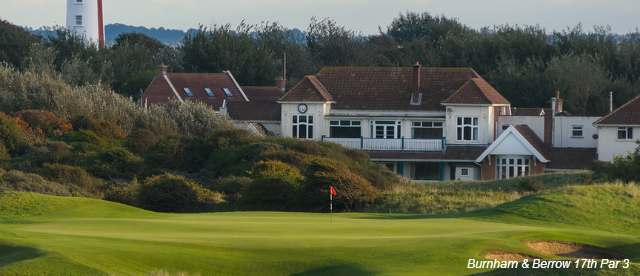 The Championship Course has four fine par 3s that all vary dramatically in difficulty depending on the pin placement and the wind speed and direction. The 9th is a beautiful hole played from an elevated tee to a large undulating green surrounded by bunkers. It's an inviting tee shot but finding the putting surface is essential as anything short will leave a tricky pitch or bunker shot and an over-hit tee shot will find thick rough over the green. The 14th is another great hole: an uphill shot into a tiered green that slopes from back to front and right to left and also falls away steeply at the front left. Anything marginally short therefore leaves a wedge up a steep bank. If you're too cute with it you'll look foolish, but find the treacherous green from there and a four is still a good score.
Par 4's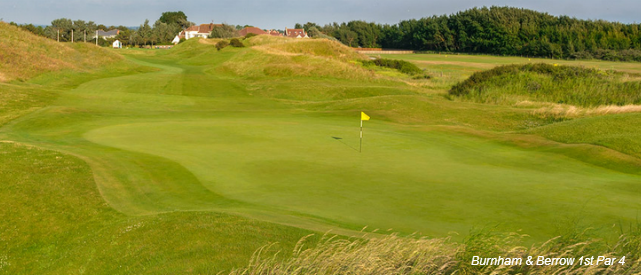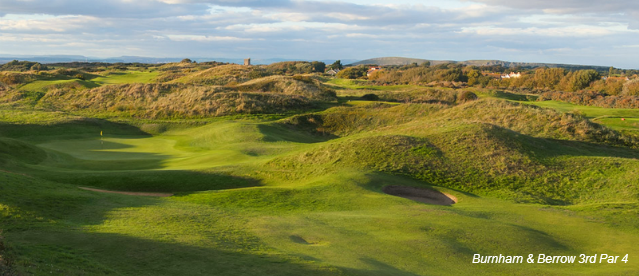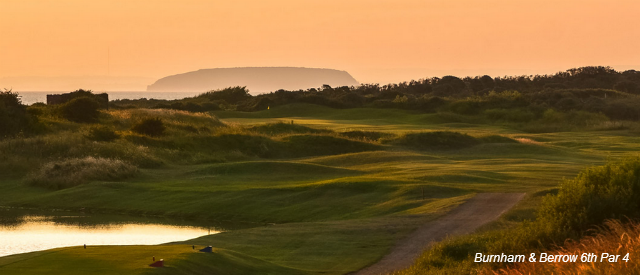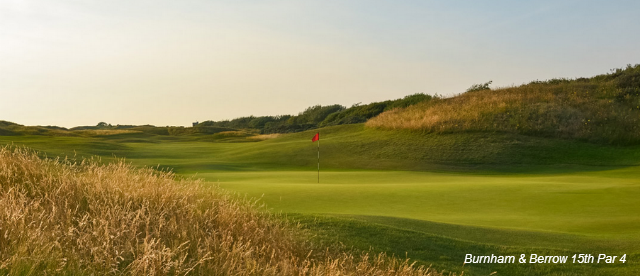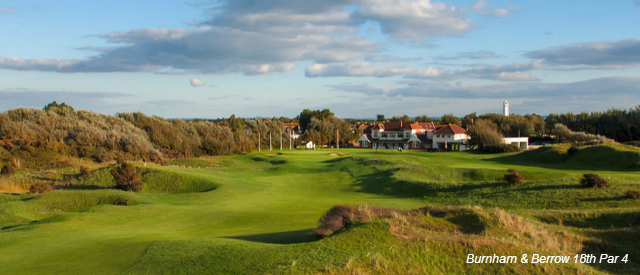 The course opens with 3 excellent par 4s that really set the tone for the challenge to come. All are lined with imposing sand hills. Typically played into the prevailing wind, the tight 1st leaves little margin for error. I hit driver and got away with it, then did the same on the second and didn't. Well placed bunkering on both the 2nd and 3rd make accuracy off the tee crucial. As with many of Burnham and Berrow's holes, there are different ways to play them, but if you're too greedy, you'll be hitting sideways out of a pot bunker, or losing your ball in thick tufts of rough atop a dune. There are a couple of holes around the turn that edge away from the estuary and the landscape softens slightly. This actually offers some welcome respite before a tough finishing stretch. The 15th is particularly challenging: what looked like a good drive from my playing partner to the left hand side of the fairway left a long uphill second to a pin that was completely hidden by a large mound front left of the green. This is a daunting hole where local knowledge is valuable both in terms of fairway positioning and the right line to take to feed into the green.
Par 5's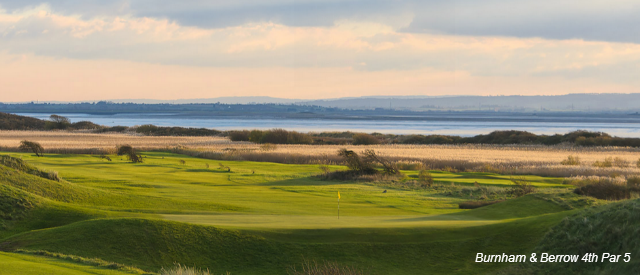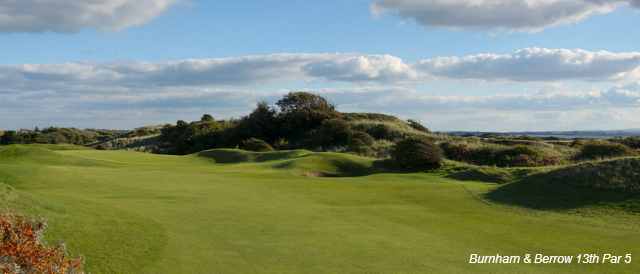 The front nine's two par 5s are left to right doglegs and tempt you to cut the corner for a shorter second. The 4th is an especially good risk reward hole as the green is narrow and raised with deep swale at the back. Even if it's in range it is therefore difficult to hold in two shots. However, the 13th is easily the pick of the par 5s. 538 yds off the yellow tees there is a relatively wide landing area for the tee shot but then the fairway narrows, funneling through waves of dunes to an even narrower green with trouble left and right. This really is a picture perfect links hole.
Signature hole
It's tough to choose a signature hole on a course that maintains such a consistently high standard throughout. The par 5 13th already mentioned really sticks in the memory, as do all 4 of the par 3s. Perhaps it's appropriate to close the review on the 18th. This is a superb long right to left dogleg playing over the dunes and then into a green guarded by deep pot bunkers and framed by the clubhouse. It's a fitting way to close an excellent stretch of finishing holes.
Post round thoughts
Sitting in the bar afterwards enjoying a local ale and discussing the round it was notable how memorable the holes were. Each one had features that set it apart and even some of the flatter holes that might look more innocuous would have some treacherous greenside bunkers or, as on the 7th, an unexpected but well placed water hazard to catch an errant second shot. The ability to distinguish between holes so easily in conversation post round really speaks to the quality of the course.
Bottom line
This is a serious links and a true test of golf. Steep sand dunes, great contouring, punishing bunkering and quick undulating greens create a challenge in all conditions, and when the wind blows you better bring your best game. If you have any appreciation for links golf you have to play this course.
Rating - 9/10
For more information please visit the Burnham & Berrow website - Click Here
All images are the property of Burnham & Berrow Golf Club and not to be used without consent of the club.
---
Related Content:
What do you think? leave your comments below (Comments)
---
Leave your comments below
comments powered by

Disqus
Plan Your Next Round
Brean Golf Club
Somerset
from £10.00
Save 19%
Isle of Wedmore Golf Club
Somerset
from £15.00
Save 23%
Burnham and Berrow Golf Club
Somerset
from £15.00
Save 25%
More Golf Course & Travel Features
Plan your next golf break with Golfbreaks.com