Brocket Hall Hailed by Mystery Shoppers
By: Golf Shake | Tue 30 Sep 2014 |
Comments
---
An independent assessment has determined that Brocket Hall Golf Club provides some of the best service in the UK.
The historic Hertfordshire club has been using the services of the golf industry's market-leading mystery shopper service,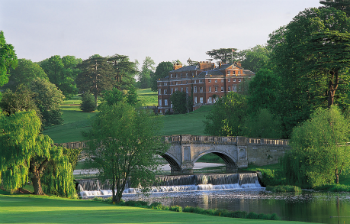 59Club, to gain objective feedback on its performance across a number of areas.
These range from the initial phone reservation, through the golfer's arrival at the club, and the facilities, through to the on-course experience in both services and course presentation. Every aspect of a member and visitor's experience is monitored – even the Palmerston Golf Academy is tested on each mystery visit.
And the latest figures received have shown that Brocket Hall is out-performing the service's three best clubs in the UK – referred to as the Podium score – in three particular categories.
Its practice facilities, including the Palmerston Academy, are, this year, scoring at an impressive 95.6 per cent, against a Podium score of 86.5. One mystery shopper went so far as to say: "… excellent practice facilities, probably the best experienced."
The club's 'on-course services' also outperformed the very best clubs, scoring 68.7 per cent to the Podium score of 66.2. This includes elements such as the tidiness of the starter's hut and information on pin placements and maintenance, through to helpfulness of staff and conditions of on-course toilet facilities, and, outscored the industry average by a remarkable 25.7 percentage points in the process.
The third area in which Brocket Hall outperformed the Podium score was in 'on-course presentation', arguably a golfer's most abiding memory of a visit. An exceptionally high score of 92.9 per cent elevates the renowned venue into an exclusive group, beating the Podium score of 90.3 into the bargain.
David Griffin, the director of golf operations at Brocket Hall, said: "These independent scores confirm what we had all felt for years: our service is 'well above average'. Whether you're a day visitor or a member, the condition and presentation of the golf course is of massive importance.
"Using the 59Club service not only did we get an independent ratification of the quality of the course in terms of an overall mark and bullet-point references, we also received additional information from the visitors – in this case they felt that it was 'value for money due to the quality of the course and the beautiful surroundings'. They added that 'it was a very memorable golfing experience'.
"Not only does the statistical information and rating help shape our strategy, such personal comments can act as a huge fillip to individual staff members because they realise that their efforts are appreciated. The depth of the 59Club review is where its strength lies. Anybody can say something was 'good' or 'bad', but it's hugely beneficial when that information is detailed and quantifiable.
"And we are 100 per cent committed to maintaining our very high standards now and in the future."
Few places in England can match Brocket Hall's colourful past, which includes close links to two British prime ministers – Lord Melbourne and Lord Palmerston. Its glamorous mansion has hosted an extensive list of royalty, celebrities and well-known dignitaries, and each guest room bears the name of a notable figure who has either lived at Brocket Hall or who has been closely associated with the house.
Lord Melbourne, a close friend of Queen Victoria who often stayed at Brocket Hall during her reign, and Lord Palmerston both resided at the famous venue in the 19th century while looking after the affairs of the nation. More recently, the late Baroness Thatcher also chose the great hall to write her memoirs.
Set within 543 acres of stunning 18th century parkland, the par-72 Melbourne Course is situated in magnificent surroundings, crossing the River Lea several times before a memorable finish in front of the hall after a short ferry ride to the 18th green.
In contrast, the Palmerston Course is a challenging par-73 woodland layout, with rare Hornbeam, Scots and Corsican pine and 300-year-old oak trees creating a memorable test for professionals and amateurs alike, and is ranked in the latest 'Top 100 Golf Courses in England' poll by Golf World.
In addition, golfers can hone their skills at the renowned Palmerston Golf Academy, and no visit to Brocket Hall is complete without indulging in five-star dining at its award-winning restaurant, Auberge du Lac, a more laid-back meal in Watershyppes Restaurant or a stay in the recently-refurbished Melbourne Lodge.
For more information please visit www.brocket-hall.co.uk
---
Related Content:
What do you think? leave your comments below (Comments)
---
Leave your comments below
comments powered by

Disqus
Plan Your Next Round
Redbourn Golf Club
Hertfordshire
Chalgrave Manor Golf Club
Bedfordshire
from £17.00
Save 26%
South Herts Golf Club
Hertfordshire
More Golf Course & Travel Features
Plan your next golf break with Golfbreaks.com
Travel Deals Newsletter
Save up to 50% on golf breaks!
Join Today »