Turkey - More than just a golfers haven
---
On our travels around Europe we have all discovered gems ahead of other people, places that give you a dilemma – do you keep it to yourself or do you tell all your friends. The problem with a hidden gem is that it is only a hidden gem while most people don't know about it.
Of course you have to share the secret. And the latest one for golfers looking for a break that will guarantee sun, great courses, value for money, excellent hotels and a warm welcome is Turkey or, more especially, the country's Belek region.
We will get to the courses later, but first of all let us tell you about the region. Belek is a township with its own municipality, situated in the Serik district in the popular Antalya Province. Belek is one of Turkey's main tourist centres and boasts more than 35 four- and five-star hotels, as well as a range of self-catering accommodation, villas and suchlike.
It is rapidly becoming established as a first-class golf centre, hosting the Turkish Airlines World Golf Final in 2012 and the European Tour's Turkish Airlines Open last year.
There is plenty to see and do in Belek apart from playing golf. The Kursula Waterfalls, for instance, offers a spectacular natural phenomenon which provides a home to more than 100 species of birds. Behind the waterfall is a hidden cave where the more adventurous tourist can have a look underground – don't go here without a camera.
Another must see is the ancient Aspendos amphitheatre. Despite being more than 2,000 years old, It still holds 20,000
people and regularly hosts open-air classical music concerts, ballet and opera festivals. It is an experience that is certain to leave the hairs on the back of your neck standing on end.
Turkey is an ancient country, boasting plenty of well-preserved archaeological sites. The Roman ruins at Perge are among the most famous on the planet.
In the centre of Belek, a mosque stands proudly alongside statues, and you will also find tree-lined boulevards featuring shops selling both world-famous brands and local produce. If you visit Turkey you simply MUST sample proper Turkish Delight which, by the way, tastes nothing like the chocolate snack available in Britain. It is far more exotic, and very reasonably priced.
The Turkish Ministry of Tourism has spent a great deal of money in Belek and similar parts of the country. They made the decision that they weren't after a quick buck. They wanted people to come here and enjoy the experience so much that not only would they want to return, but they would go home and tell their friends and encourage them to try it too. And that is why it is no longer a secret.
Don't worry though. There is plenty to go round and you won't feel that there are too many holidaymakers in Belek. There is nothing worse than arriving at a foreign resort in glorious weather and then discovering that you can't find any room by the hotel swimming pool or on the beach – that won't happen to you here.
A word about the beaches. With extensive new blue flag beach park facilities, standards of cleanliness are high, with shower, toilet and changing facilities and car parking right beside the beaches. If you come to Belek with your family, you can be absolutely certain that the wife and children won't even notice that you've gone to play golf. They will be happy to spend the day on beach, have lunch or a snack in a beach bar, laze by the pool or head to the nearest water park. There is no shortage of things to do in this part of the world – paragliding and water skiing are just popular pastimes.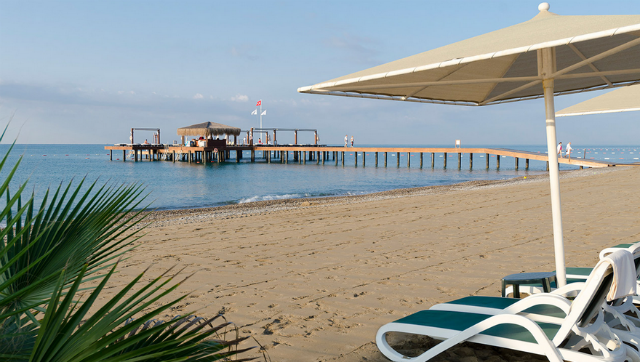 And you won't be subjected to five-hour rounds on the region's fabulous golf courses either, but more of that later.
Belek is less than an hour from Antalya Airport, located in the south of the country. Twenty years ago, there was little here other than desert and shrubland. Now there are almost 20 golf courses dotted around the glorious pine forests. Belek has much going for it, but chief among its selling points is that it is a genuine year-round destination – and you can't say that about Spain and Portugal. You will also be pleasantly surprised to discover that it offers better value for money.
If you are looking for a quiet break, you are probably best to avoid Antalya, although it is here you will land after a four-hour flight from the UK. From there, transfer to Belek takes about 30 minutes
Incredibly, Antalya was the world's third most visited city by international arrivals in 2011, ahead of New York. It is Turkey's major holiday sea resort and the Antalya district features a coastline that stretches for 408 miles, with beaches, ports and ancient cities scattered throughout, including Xanthos, which is a World Heritage Site. Antalya has a population of just over one million people, so you will quickly realise that it is a very lively, bustling city, the growth of which has been driven entirely by tourism. But you are not staying in Antalya; you are visiting Belek
Belek Destination Feature Part 2 - The perfect golfing destination?
---
Related Content:
What do you think? leave your comments below (Comments)
---
Leave your comments below
comments powered by

Disqus
More Golf Course & Travel Features
Plan your next golf break with Golfbreaks.com