London Golf Club International Course Review
By: Adam Smith | Tue 17 Dec 2013 |
Comments
---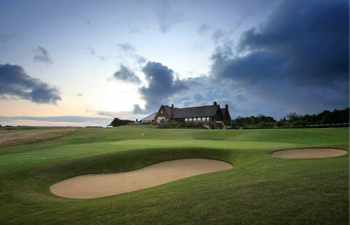 Being a European Tour destination the London Club was always going to be set in stylish surroundings and from the moment you drive through the gates and down the one-mile drive way between fairways you soon realise that you're in for something special.
The international and Heritage courses are two of Jack Nicklaus' finest European designs both of which provide a stern test of golf. The huge clubhouse is both inspiring and homely as you automatically feel at home as you prepare to get your round underway.
Pre-round thoughts
Take advantage of the superb practice facilities available from a grass range, short game area and two putting greens near both first tees.
The pro-shop is situated in the main area of the clubhouse in between the bar and the locker rooms so you don't have far to travel when you've finished your game and looking for the famed 19th hole.
There's a wide selection of drinks available and food is very good and reasonably priced for a championship venue. When you have a day at somewhere as special as the London Golf Club you want to take in every bit of the experience and I certainly recommend you do.
Par 3s
Certainly the pick of the holes on the International course with two easily up for the signature hole crown. Both the 8th and 12th are visually beautiful with elevated tee shots down to greens heavily guarded by water at the front. A full committed shot is needed especially on the 8th as at 186 yards from the championship tee usually with cross-winds it is a demanding shot.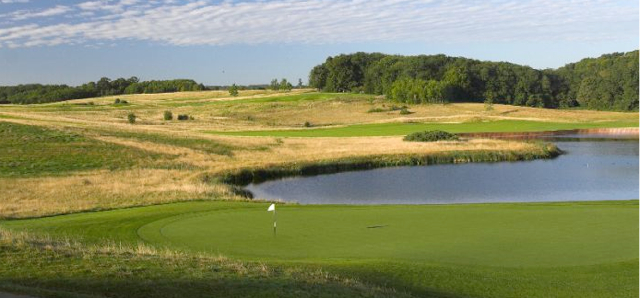 The 17th hole stands surprisingly as the stroke index two. I can sort of see why being 207 yards from the whites and slightly uphill but if you get a good tee shot away the stroke index is quite generous.
Par 4s
A delectable mix of par 4's have you thinking all the way round and most importantly keep you interested into what is on coming. Course management is certainly needed from the tee on a good handful of the holes as the driver needs to stay in the bag to both avoid the danger and if it concerns you to not be to close to the green leaving you with that awkward distance.
The front nine is certainly the tougher of the nine's and with the 3rd, 5th and 9th all over 400 yards, picking your place of where to score from will be vital for a good round.
Par 5s
You start and end with a par-5 with some gems in the middle especially the 13th which is a personally favourite of mine and another contender for the signature hole. A huge 60 yard bunker needs to be avoided if you have any chance of going fro the green in two if you're a big hitter. For the lay-up option you have generous room as you follow the fairway round to an approach shot over water with the undulating green nicely tucked against the hazard. Going for it in two? It truly is risk and reward. If you're going to miss go long as you'll be very wet if you leave it short.
The 1st hole is very much the same and for an opening hole it can set-up the mood for the rest of the round. Again if you long and straight off the tee you can catch the down slope at around 310 yards and chase it down to the bottom of the hill leave a mid to short iron in. Mere mortals can play it as a good three-shot hole leaving a wedge to the green. Although daunting over water there is a huge green awaiting to be bold to give yourself a two putt par.
Post round thoughts
The International course provides a great test of golf for the mid to lower handicappers who will thrive on the condition and the toughness. The higher handicappers and short hitters may struggle as a good handful of holes require a good carry to reach the fairway over what was tall wispy grass.
I would certainly love to play the International again or even try out the Heritage. You would expect the condition of the course to be excellent and I wasn't disappointed.
I would have gone straight back out if I could have. Although demanding and long it was an excellent test of both ability and scoring with good course management needed. Throw in USGA standard greens and top notch facilities and you have yourself and great day of golf.
Verdict/Round up
Being a championship venue you'd be disappointed if the course wasn't in great condition. With excellent drainage all-year round the two course can offer up a great day of golf whether playing 18 or 36 holes. The huge locker room is on hand to freshen up before you hit the 19th hole for a well deserved drink. Overall I'd rate 8 out of 10.
Review completed by Golfshake writer Adam Smith who played the International Course Sept 2013
---
Related Articles
London Golf Clubh Heritage Course review
---
Related Content:
What do you think? leave your comments below (Comments)
---
Leave your comments below
comments powered by

Disqus
Plan Your Next Round
Dale Hill Hotel and Golf Club
East Sussex
from £17.00
Save 25%
Boughton Golf Club
Kent
from £22.00
Save 25%
London Beach Hotel And Golf Club
Kent
from £20.00
Save 25%

More Golf Course & Travel Features
Plan your next golf break with Golfbreaks.com
Travel Deals Newsletter
Save up to 50% on golf breaks & tee times!
Join Today »