Feature Review - Brampton Park Golf Club
---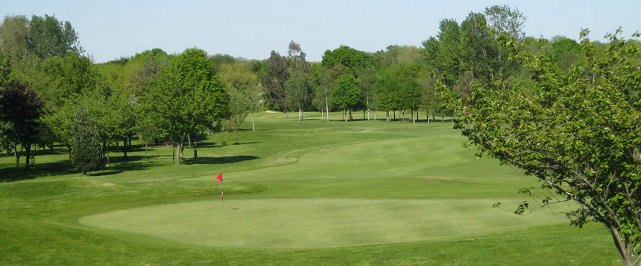 Brampton Park Golf Club is a parkland course situated in the heart of Cambridgeshire. It was built in 1991 and designed by architect Simon Gidman. It became the first ever course to be succesfully bought by it's members when put up for sale by the propietor in the late 1990's.
A mixture of open parkland and tree lined holes, water comes in to play on no fewer than 11 of those holes. The course measures 6310 yards and is a Par 71.
We sent two Golshakers, Kamal Lakhani and Matt Holbrook along to review the course, clubhouse and facilities. Here is their review of Brampton park golf Club:
Introduction:
Kamal : Mature parkland course near Huntingdon in Cambridgeshire. 6310 off the back tees so not the longest around but fairly tree lined in places & water in play on quite a few holes so expected a challenging round. Par 3 4th hole voted one of the hardest in the UK so was looking forward to that.
Very friendly welcome in bar & pro shop. Tasty well priced food in clubhouse. Adequate & comfortable change rooms & decent warm up facilities although didn't have time for or notice a driving range near the clubhouse.
Matt : A fairly new course (1991) we received a warm welcome from the staff in both the bar and the club house.Have all the practicing facilities you could wish for.Course is ideally situated 5/10 mins from the A1/A14 junction
Have played the course one before during winter so was looking forward to the experience on a dryer warmer day.We also found an excellent choice of bar snacks pre round.
Par 3's
Kamal : Two of the par 3s were relatively easy - the 7th & 15th - both around 150 yards off the yellow tees we played off. The 12th was a bit more challenging being 190 yards and SI 8 but the hardest was the 4th at "only" 175 yards but SI1 and having to thread your mid to long iron through an avenue of trees that seem to lean in towards you, you need to land and stop on a small green which is pretty much surrounded by water! 5 was our best score on this and we had at least 3 balls in the water so best of luck to you when you take it on!
Matt : The first par 3 (4th hole) is Si1 for a reason.180 Yards from the yellows with no room for anything other than a straight shot. anything short or long of the green with be wet.The other par 3's are obviously less challenging albeit with water coming into play.
Picture; Brampton Park's Par3 15th
---

---
Par 4's
Kamal : Good mix of par 4s - some short & some long. The 1st requires two very accurate shots to get a GIR as there is not much margin for error! The 2nd allows you to get a shot back as if you take the tiger line you can drive the green as was done by one of our 3 ball. The last 3 holes are also quite strong being SI 6, 2 & 10 so you need to stay focused right until the end!
Matt : A hardly anything straight. A lot of dog legs which really gets you thinking. Its not a case of taking out your driver and giving it a whack. Having said that 2 or 3 of these holes do offer the opportunity for a longer hitter to have a pop at the green in one in what would be a risk and reward shot.
Par 5's
Kamal : All 3 par 5s are fair in that you can reach them in 2 if you are a big hitter. But in doing so you also risk drifting into the trees or reaching one of many ditches on the course. The smart play may not necessarily be taking driver off the tee as in the summer with the firm fairways you will run out fairway and get wet! Bunkers and some interesting slopes guard the greens so if you are going for them in 2 you need to have a sharp short game to convert your length into birdies or better.
Matt : The 14th is a very testing par 5. Two ditches run across the fairway between tee and green. The first 280-300 yards of the hole is also a dog leg. Hit a good drive short of the first ditch then you have a decision to make. The green is surrounded by water so you have to be precise from distance. anything sort is ditched.The other par 5's have wide fairways but be careful of the huge bunkers,
Holes to Remember?
Kamal : The 1st immediately stands out as one of the harder holes so you have to be on your A game from early one. Then the 4th which is the SI1 Par 3 is another unforgettable hole - whatever you score you are determined to better it next time around! The closing loop of 16, 17 & 18 which are all strong Par 4s stand out as if you play them in or close to par then you have done well & earned your drink at the 19th!
Matt : The closing 3 holes are very testing, thinking mans holes. Can be onto a good score until you arrive on the 16th tee.
Post Round Thoughts:
Kamal : Greens were a bit fluffy and slow when we played it but were told that due to the unusually hot weather & the club champs coming up on the weekend after we played it, they were being protected & that's why the greenkeepers didn't want to cut them too short lest they get damaged. Otherwise the tees, greens & fairways were in pretty good condition. Bunkers had enough sand but not too much & were raked & well presented. Good range of food afterwards but we didn't stay to sample it due to the long drive home.
Matt : The course was a bit dry, obviously due to the hot spell we had. The greens we a tad slower than I had expected for the time of the year. I was informed they were being treated for the impending Club Championship.
The Bottom Line
Kamal : Layout was very interesting as you had options off most tees & we ended up hitting irons or fairway woods off some for position rather than having to hit driver all the time. If you don't have a course planner or GPS it helps if you have played it a few times as there were some ditches that caught us out. Higher handicappers are advised to carry a few extra balls as there are quite a few balls & the rough is quite brutal in the summer! Good value for money especially if you are on a midweek/twilight rate.
Kamal's course rating - 7/10
Matt : All in all I believe this course to be excellent and great value for money, No two holes the same and a great test for a golfer of any ability. I wouldn't have any problems recommending this course to anyone and already look forward to my next visit.
Matt's course rating - 9/10
For more information on green fees or society packages at Brampton Park Golf Club please visit their Website - Click Here
---
Related Articles
Brampton Park Reviews and Ratings
Golfshake interactive search map
---
Related Content:
What do you think? leave your comments below (Comments)
---
Leave your comments below
comments powered by

Disqus
Plan Your Next Round
Colmworth & North Beds Golf Club
Bedfordshire
from £15.00
Save 30%
Colmworth & North Beds Golf Club
Bedfordshire
The Cambridgeshire Golf Course
Cambridgeshire
More Golf Course & Travel Features
Plan your next golf break with Golfbreaks.com