Gullane No 3 Feature Review
---
During the Open Championship, all eyes were understandably on Murifield – Golf Monthly's highest-ranked UK course and a venue that's as prestigious and distinguished as the list of players that have triumphed there. For the golfing press, spectators and even players, the Open also provided an opportunity to check out some other courses in North Berwick – a corner of Scotland that boasts a wonderful and disproportionate array of top-quality layouts.
In Muirfield's catchment area lie North Berwick – host of Open local qualifying – Archerifield, where the likes of Adam Scott, Bubba Watson and Rory McIlroy opted to stay during the championship, the private Renaissance Club and Gullane – a three-course venue with two tracks among the UK's top 100.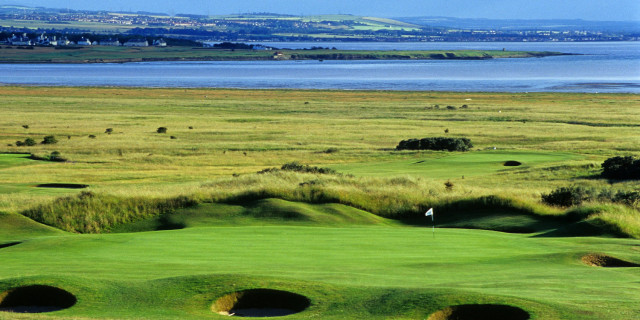 Gullane number 3
Gullane number 1 and Gullane number 2 get most of the plaudits, and whilst I haven't played either, the complements I've heard from a broad spectrum of the golfing community suggest they are wholly justified. From my experience, though, Gullane number 3 also deserves high praise. It's a quirky and unique golf course, with many distinctive character traits that provide a thrilling links test. It may not measure up to its two counterparts in terms of course conditioning and prestige, but it boasts some of the most inimitable, intriguing and frankly ridiculous golf holes that I've ever come across. It really is one of the most enjoyable courses I've played, and if you want something slightly different, you have to play Gullane number 3.
That isn't to say the course is exclusively defined by these holes, though. The overall standard is very good and what it lacks in distance, it makes up for in severity of rough, narrow fairways and steep and unpredictable humps and hollows. If you manage to keep the ball in play from the tee, you should give yourself numerous birdie chances. A few of the par 4s are under 300 yards and there is only one par 5 on the course, something that adds to its charm and allure. What I enjoyed so much is the different strategies you can employ at Gullane number 3. You can play with irons and fairway woods off every tee, or take the course on with driver. Be warned, though, if you stray off the tee, you'll struggle to find your ball in knee and waste-high rough.
Stand-out holes
In truth, many of the holes on number 3 fall into this category. It's a visually attractive course laid out over picture-perfect rolling hillside. It rises and falls over a dramatic landscape and opens up towards the turn over Aberlady Bay, which really is a treat for the senses.
Still, there are four holes that stand out most prominently at Gullane number 3 – two par 3s and two par 4s.
The first three holes are perfectly pleasant – if a little bland – but the fourth is a magnificent short par 4. It's only 250 yards, but it's so steeply uphill you can't see the green from the tee. If you haven't played the course before, you simply don't know what the percentage play is. I decided to hit driver, with the logic that I'd still have a blind second if I hit iron off the tee. As it turns out, the green is just over the ridge of the hill, and if you're somewhere near the peak, you'll have a short pitch for your second. The fairway bottlenecks towards the putting surface, though, so you'll face a slick chip to a right-to-left sloping green with no control if you're not on the short grass. It's a brilliant and distinctive hole, where anything from a two to an eight is a feasible score.
The stand-out par 4 on the front nine is the seventh, narrowly beating the stroke-index-one sixth. This 310-yard hole plays steeply downhill from an elevated tee, offering breathtaking views over the valley below. If the wind is behind, you can drive it onto the green, provided your ball gets a fortuitous bounce through a series of cross bunkers that dissect the fairway some 50 yards short of the green. It's another hole that encourages aggressive play, as it's so steeply downhill even an iron could find the bunkers. It's great fun to play and a classic links hole, where a good score is borne from a combination of good play and often a dose of luck.
The back nine starts with a long, 450-yard par 4, which is followed by an excellent par 3. The course is laid out over some relatively steep slopes, and the pattern of holes reflects that design. The 11th only measures 150 yards, but it plays at least two clubs uphill. You can't see the bottom of the pin from the tee, and, as such, club selection is very difficult. There is a hill behind the green, though, so anything that lands slightly too far could feed back down towards the putting surface. But, as I found out, if you pull your tee shot slightly, the ball will feed off the slope and roll a good 50 yards back off the front of the green!
On most golf courses around the world, the 11th would be the stand-out par 3. But this is quirky Gullane 3, and the 14th has to get the nod. In my initial description of the course, I labelled some of the holes as 'frankly ridiculous.' That assertion, for the most part, was based on the par-3 15th. The yardage is completely irrelevant on this hole, which has the steepest downhill incline I've ever come across. In truth, anything from a pitching wedge to a six iron will end up in the same place, provided you hit it straight and land it on the slope. If you're brave, you could attempt to fly it all the way and land it on the back-to-front sloping green, but that's a very high risk shot given the terrain in front of you. It's a ludicrously brilliant hole and unlike anything I've ever seen.
If you're looking for a conventional round of golf, I wouldn't recommend Gullane 3. If you approach it with an open mind and accept the idiosyncrasies of the course, however, you'll have a truly enjoyable round of golf. The scenery is spectacular in places, the design is excellent and it boasts some of the quirkiest holes in the UK. Overall, I'd give Gullane 3 a ranking of 7/10.
---
Related Content:
What do you think? leave your comments below (Comments)
---
Leave your comments below
comments powered by

Disqus
Plan Your Next Round
Charleton Golf Club
Fife
from £14.00
Save 20%
Glenrothes Golf Club
Fife
from £10.00
Save 12%
Lochgelly Golf Club
Fife
from £8.00
Save 10%
More Golf Course & Travel Features
Plan your next golf break with Golfbreaks.com
Travel Deals Newsletter
Save up to 50% on golf breaks!
Join Today »