Why You Must Play Golf in Italy
By: Liam Moore | Wed 27 Sep 2023 |
Comments
---
Italy is one of the most popular European countries for foreign visitors, and there are multiple reasons why it consistently sits at the summit of exciting countries to visit. Italian food is enjoyed by many different cultures and Italian is deemed as the language of love by locals and visitors alike.
Despite its grand and vast appeal to everyday travellers, golfers have been keeping a keen eye on the country as it progresses rapidly in the sport of golf. Gorgeous resorts, stunning courses and an enticing climate are just some reasons why Italy is attracting golfers in their masses.
Considering the size of the nation, it can be quite difficult to determine where to play and what venues are worthy of your hard-earned cash - but that is where we come in!
Golf
The passion for golf felt by Italians is growing significantly, seemingly improving by the day. Certain golfers such as major championship victor Francesco Molinari have helped capture the imagination of the country's citizens, who are continuing to produce young stars such as Guido Migliozzi - someone who is ranked inside the top 100 in the Official World Golf Rankings.
A large demand of golf has been created through their success, which has helped elevate existing or even encourage the construction of new resorts and courses. Below, we explore several brilliant options and provide insight into why you must visit them and experience the charm of Italy for yourself.
Marco Simone Golf & Country Club - Rome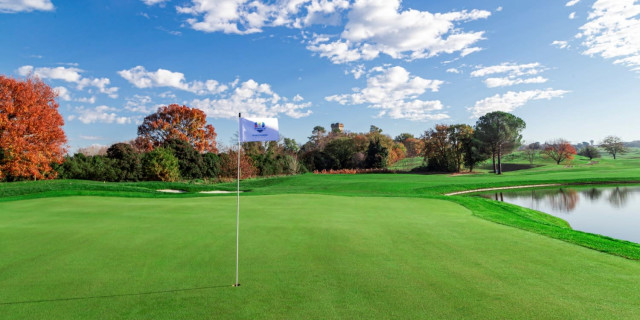 Perhaps the most famous golfing location in Italy during modern times, Marco Simone Golf & Country Club will be the first Italian venue to host the Ryder Cup in the competition's history. That fact alone should be enough to warrant a visit but allow us to deepen its appeal. Jim Fazio was tasked with creating the Championship Course at Marco Simone, which opened for play in the 1980s. It boasts a glittering history, having hosted the Italian Open several times. In readiness for the Ryder Cup, Tom Fazio II and European Golf Design remastered the layout and the final product is nothing short of world-class. An absolute must play.
Verdura Golf & Spa Resort - Sicily
If you're yet to golf in a truly luxurious setting, then a trip to Verdura Golf & Spa Resort will happily correct the record for you. Set in 230 acres of stunning countryside and olive groves, this 5* resort is the epitome of magnificent. With more than 200 rooms - with many of the offerings overlooking the Mediterranean - there is ample room for golfers to spend a day or two in bliss. Two outstanding golf courses are located on-site, with one of the routings being utilised for the Sicilian Open. Whether you tackle the East or the West course, you are guaranteed golfing delight - and a short, 9-hole course completes the stupendous experience.
Bogogno Golf Resort - Northern Italy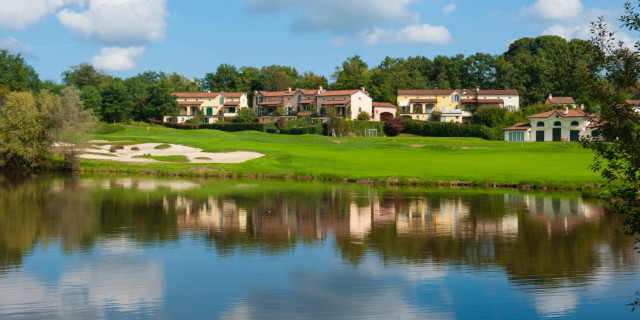 Having only opened in 2014, the creation of Bogogno Golf Resort was influenced by the environment. The on-site hotel was built with the use of natural recyclable materials that were made possible through advanced technologies. Although it's not a huge resort - only 32 rooms are available - there is a restaurant, two bars and the most important part: two excellent golf courses for you to enjoy. Set over undulating land that boasts otherworldly scenery, the Bonora and Del Conte courses are often thought of as some of the very best to reside in Italy.
Toscana Resort Castlefalfi - Florence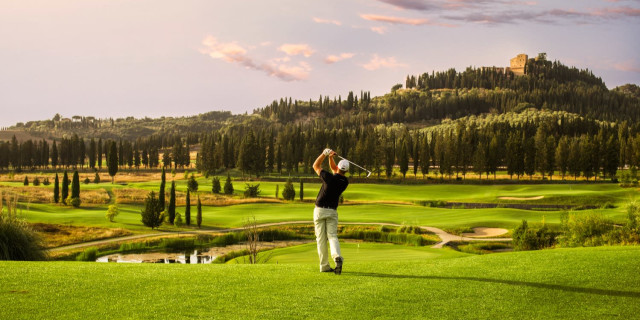 The setting for Toscana Resort Castlefalfi is simply remarkable, as golfers are completely surrounded by natural beauty of the finest order. The vistas that can be enjoyed from this venue will simply remain with you forever. Of course, we must remember that it is also a 5* resort that boasts tremendous hospitality and serene bedrooms for you to fully enjoy and unwind in. Located on-site are 27 holes of championship golf which the Tuscan countryside truly complements. Flowing water hazards are a real highlight of a trip to this location - and it's very easy to see why the golf course is award-winning!
Circolo Golf Villa d'Este - Lombardy
A theme of golfing in Italy are the outrageously beautiful surroundings that encapsulate first-class golf courses - and Circolo Golf Villa d'Este remains true to that trend. The par-69 course was built by Peter Gannon and opened for play in 1926, so it's just as historic as it is impressive. Pine, ash and chestnut trees line the fairways and all golfers will enjoy the awe-inspiring views across Lake Montorfano. Circolo is often thought as Italy's number one course and the challenge that lies there is exceptional. Since its original creation, the layout has seen extensive improvements - which is why it remains the best course in Italy and one of the best throughout the continent.
San Domenico - Apulia
The moment the Puglian countryside comes into contact with the Adriatic sea, you will find San Domenico - a splendid option for golfers who are looking to create once-in-a-lifetime memories. From a golfing perspective, any traveller should expect a mighty challenge awaiting them but golf is all about being tested, isn't it? The flawless links course contains plenty of bunkers and meanders through gentle slopes, which offer slight respite from the prevailing winds that can only be generated from being situated so closely to the sea. If you visit Italy and only get to play just one course, you cannot go wrong with the esteemed San Domenico.
Argentario Golf & Wellness Resort
If you're set on visiting Tuscany, seldom will the luxurious and highly esteemed Argentario Golf & Wellness Resort be defeated in the local area. Labelled as one of the most organic resorts throughout the world, the venue grow their own vegetables and have plans to install a new olive farm. Only 73 rooms and five lavish villas are available for renting, all of which boast terrific décor to emulate a truly relaxing environment. The 18-hole golf course is special, with stunning fairways and devious greens for golfers to contend with. Due to its close proximity to the sea, swirling winds can often act as another stern line of defence for the golf course. The resort is also home to tennis courts, an outdoor and indoor swimming pool, a beauty shop and even a barber!
Italian Attractions
No matter how hard you wish, you cannot spend every single second of your trip playing golf. If there was a way, it would have been unearthed by now! Fortunately for golfers, Italy is home to some amazing attractions that will easily elevate your trip away.
Take advantage of the serene environment you find yourself in and get exploring! Italy is a country that has enjoyed a marvellous history and, thanks to historians and a passion for heritage, a lot of its fascinating - and sometimes gruesome - history is available for experiencing.
Colosseum - Rome
Arguably the most historic location throughout the whole of Italy, the Colosseum is simply breathtaking - until you remember the heinous acts that took place there! Nevertheless, if you are either in or around Rome - and you should be, as that's where Marco Simone is situated - then you absolutely must visit the Colosseum. If nothing else, it will make you grateful for not being around during the Roman Empire…
The Grand Canal - Venice
Venice's unique setting is what draws visitors in, and you can enjoy a gondola ride that gently takes you across the water. Surrounding you are impressive buildings that were once owned by some of the most powerful people of the Venetian Republic. Like we previously noted, the access to history that Italy can provide is truly astonishing.
Duomo Di Milano - Milan
The cathedral that is positioned near the centre of Milan is the definition of breathtaking. If you've ever been fortunate enough to visit this beautiful building in person - I have - then you'll understand just how remarkable it is. The mammoth building looks extra special during the evening and did you know that it took thousands of workers and over six centuries to finish? That's what you call commitment.
Pompeii
To think that the residents of Pompeii were pottering about and enjoying their normal lives only for it to all end in the quickest and harshest way is simply unbelievable. The eruption from Mount Vesuvius still produces smoke today after its explosion in AD 79, which makes it one of the most historic and devastating natural occurrences to ever take place. We recommend delegating an entire day to explore its history - you'll certainly gain a new perspective on life and how they lived back in ancient times.
Vatican City
Vatican City should interest any visitor, but those who are exuberant about fine art will truly relish any opportunity to visit this historic location. St Peter's Square is a very famous area and it is also the location where the Pope addresses followers; it is so easy to spend an elongated amount of time at Vatican City. If you're looking to elevate the experience, then visit during sunset where the city is truly brought to life through stunning views that are complemented by the dimming natural light.
Italy is a country that is home to tremendous golf facilities and a history that is rarely rivalled across the world, let alone the continent - and that's without even considering the exquisite cuisine that is thought of so fondly throughout the globe. If you can visit any of the golf courses listed or experience a single historic attraction, you are about to embark on a journey of a lifetime - enjoy!
---
Related Content
The Best Golf Experiences in Northern Italy
Discover The Incredible Verdura Golf Resort in Sicily
North East Italy Really is Golf & More
---
Related Content: travel Italy golfshake golfbreaks Golf Courses Courses
What do you think? leave your comments below (Comments)
---
Leave your comments below
comments powered by

Disqus
Plan Your Next Round
Ardglass Golf Club
County Down
from £22.00
Save 50%
Castlerock Golf Club
County Londonderry
Galgorm Castle Golf Club
County Antrim
from £13.00
Save 23%
More Golf Course & Travel Features
Plan your next golf break with Golfbreaks.com