Glasson Lakehouse Golf Club And Hotel Review
By: Andrew Picken | Thu 27 Jul 2023 |
Comments
---
I recently enjoyed another Golfshake adventure to the Emerald Isle. If you haven't experienced Irish golf, please put it on your bucket list.
Golf in Ireland is simply a pleasure that deserves to be shared and enjoyed by as many as possible. The golf is always superb but on each and every trip I return with memories that will last a lifetime. This trip was no exception.
This particular adventure commenced at East Midlands Airport with an early morning flight of just over an hour to Dublin Airport to meet with the rest of our group.
The trip was themed around the 'Hidden Heartlands' and featured golf courses that were initially unknown to me. This was an area of Ireland I had not previously explored. We were located in the centre of Ireland and as usual the Irish road infrastructure was excellent, so the travel from airport to the hotel was pleasurably easy.
Glasson village is easily accessible from anywhere in Ireland, just 90 minutes from Dublin, Galway and Shannon. Only ten minutes from Athlone in County Westmeath was our base for the trip, the Glasson Lakehouse Golf Club & Hotel and the exciting prospect of an afternoon tee time.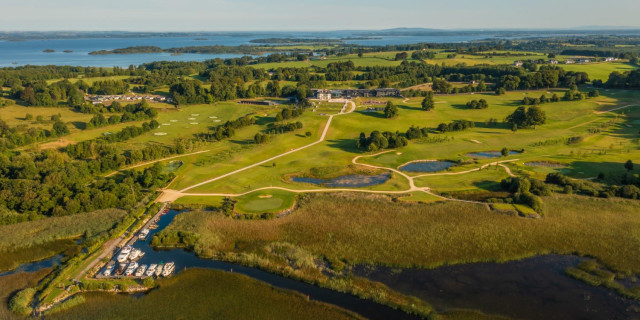 My initial research revealed that the venue was being used for the 2023 Kings Cup - an international match between Team USA and Team Ireland that was created to commemorate the significance of Arnold Palmer to golf on both sides of the pond. So I knew that the course would be of a high standard. It was!
The Venue
This is a beautiful setting on which to place a great golf course and stunning boutique style hotel and spa. It is known for its blend of parkland and lakeside holes, providing stunning views of the surrounding countryside.
This is an ambitious venue. The hotel is simply superb and its leisure facilities and rooms are exceptional in quality, style and functionality.
There is even access to a private jetty should you wish to arrive for your golf via the Shannon River!
The golf course meanders around the water and it is an excellent example of the type of design that was undertaken by Christie O'Connor Jnr around the world.
Recent improvements in respect of drainage around the final six holes have added great value to the overall package. Some distance devices have not yet caught up with these newly laid six holes but these are planned to be rectified soon. This didn't diminish in any way the sheer golfing pleasure of playing these holes. The investment in the drainage systems seems well thought out as it will extend the course for year-round play. The back six holes are all of an excellent quality, hugging the water's edge to provide a genuine challenge to the end of a round at any level.
The golf club does not have a standalone clubhouse, but the two entities of hotel and club are still closely intertwined. It doesn't need one as the hotel facilities in themselves are exemplary and membership brings access to those as well. If I lived nearby, I would definitely want to become a "Glassonian" as members of the golf club are known locally.
The views entering the driveway to the hotel are stunning and excitement heightened as we descended the sloping drive towards the hotel entrance and first tee.
I will concentrate on the golf facility but there is also access to a host of water sports-based activities including boating, fishing, kayaking, etc, to utilise its wonderful location and access to some jaw dropping scenery.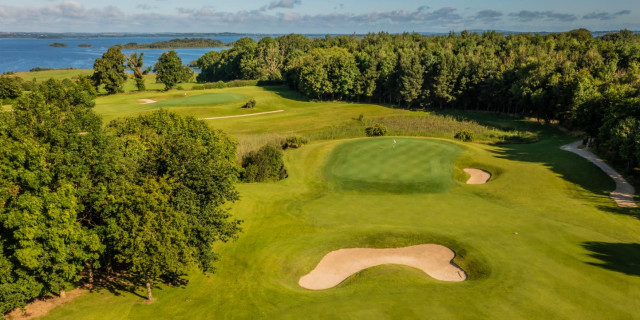 Wider Attractions
When you visit please make the time to experience some of the other sites in the area. You will not be disappointed.
I visited Birr Castle and found that I could have happily spent an entire day exploring all its features. I would highly recommend a visit to this venue and I am already planning to return in the future to spend more time exploring. Family friendly, educational and accessible. The world's largest telescope was fascinating and the displays in the scientific areas spellbinding. This was a centre for pioneering scientific discovery that enabled global navigation and even lunar discovery. The formal gardens and arboretum is stunning. The castle is majestic.
The Hotel
Glasson Lakehouse is a luxury hotel and resort that provides accommodation and a range of amenities for visitors. It offers a relaxing retreat with stunning views of Lough Ree and the golf course. It's a blend of modern architecture and natural surroundings, creating a serene and relaxing atmosphere.
I loved the décor and attention to detail with touches like a record player and mini-Marshall Amps with a selection of LPs available for use by guests. This is a very clever touch as it became a talking point for our group as we were amazed at how many of the selected albums were in facts personal favourites of the guest.
I love vinyl music and the choice of U2 as my album of choice was inspired. I can think of no better way to warm up for a round of golf than with the pounding guitars contained within the opening bars of "Where The Streets Have No Name". Apologies if I disturbed nearby residents as this is a track that needs to be savoured at full volume.
I was amazed at the Munchie Trays which are a hallmark of Press Up hotels. For the uninitiated, they are stocked with goodies such as Tayto, Irish chocolate and other treats. They are nothing short of outstanding and a genuine temptation to suit every taste.
Guests can enjoy amenities such as the wonderful spa facilities, fitness suites, an outdoor heated swimming pool and hot tubs as well as a covered BBQ area. If you are attending as a family there are a host of child friendly activities.
The hotel has also launched the Brooks & Co Spa, which features five treatment rooms, a beauty nail bar suite with manicure and pedicure thrones, recreation loungers, two couples' treatment suites and a relaxation room.
The food and bars at Glasson are exactly as expected in such a luxury venue. Breakfasts are cooked to order and are nothing short of sublime. It even has its own pub called Fish and Tackle.
There is a fabulously relaxed vibe throughout the venue from its decor to its staff that encourages a similarly laid-back vibe from guests. I loved it!
The golf practice facilities and range are excellent with a simulator also available for use by guests.
The Golf Course
The course on the scorecard ranges from 5,375 yards up to 6,731 yards for professional competitions, with a par of 71. It opens with a gentle par 4 to start played up a hill towards a well-protected green complex. I really enjoyed the shorter holes on the front nine. All are well protected with well positioned bunkers short, left and right.
The 4th is a lovely golf hole. We were also blessed by a wonderful display of Cherry Blossom on the trees that frame the hole.
The 8th is a challenging par 4. It plays right to left with the second shot downhill. The ideal line off the tee is to the right of the bunkers. The opening nine is a good quality parkland course presented excellently.
The first 12 holes are played around and above the Lakehouse. The walk to the 13th tee takes you past the hotel where it opens up to give superb views over the course to Lough Ree.
From this point onwards the golf course really came to life and the recent developments add great value to the venue as a whole.
The closing six holes each have a different challenge but make great use of the gradients and views of the loch. Water is in play on most of the holes and accuracy off the tee is a key to navigating the challenge.
I loved the 16th hole due to its obvious complexity. It intimidates visually off the tee and the words of Irish golf author Kevin Markham rang loud and clear when he knew of my impending visit. "Whatever you do don't go left!"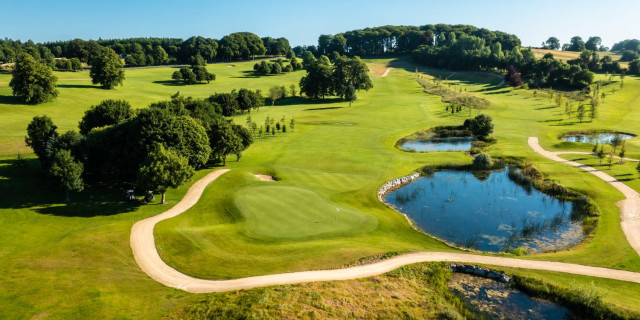 This is a cracking golf hole with a host of options and routes available for all standards of golfer. Three guesses as to where my tee shot finished?
The 17th is another real beauty. To access the tee box requires a walk across a footbridge to an island tee. The green is well protected by its undulations and bunkering and there are no options for anything other than a well struck shot.
Think of an Irish version of the 17th at TPS Sawgrass but with the water filled to the brim with reeds.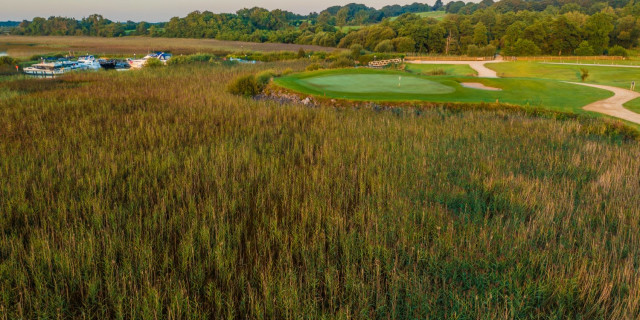 Summary
This is an excellent championship standard golf course allied to an exceptional hotel and spa retreat. I preferred the later holes but the entire experience was a pleasurable experience despite my 'A' game being left somewhere over the Irish Sea.
I thoroughly recommend a visit to the course and hotel. It is ideally situated for use as a base to explore this authentically Irish part of the Ireland that sometimes gets missed.
For more information, please visit https://glassonlakehouse.ie/golf/.
---
Related Content: travel review Ireland Hidden Heartlands golfshake golfbreaks Golf Courses Courses
What do you think? leave your comments below (Comments)
---
Leave your comments below
comments powered by

Disqus
More Golf Course & Travel Features
Plan your next golf break with Golfbreaks.com