Shirley Golf Club Feature Review
By: Melvyn Davies | Tue 06 Jun 2023 |
Comments
---
Review by Golfshake Ambassador Mel Davies
---
Shirley Golf Club is just a short drive from Junction 4 of the M42 so is easily accessible for most. Bordered by fields and natural woodland on the outskirts of south Birmingham, Shirley nestles in the Blythe Valley, enjoying a well-planned blend of parkland with mature, wooded areas. There is plenty of opportunity to open your shoulders and test your skills, but you will need to think your way around with many fairways being flanked by trees with water frequently coming into play!
Pre-Round Thoughts
We made our way straight to the club shop and received a friendly welcome before being directed to Aneil Chauhan, the General Manager. Aneil took us inside for a coffee and a chat before we went out for the round. Before making our way to the course we got changed in the visitors' side of the changing rooms, using facilities that would put a lot of clubs to shame. The main changing room is one of the biggest I've seen with an abundance of lockers. There is a lovely short game area on the drive into the course as well as a great driving range and a putting green and chipping area, in addition to well manicured gardens with a lovely water feature.
We could see various holes en route to the first tee and the anticipation of what was ahead was going up by the minute.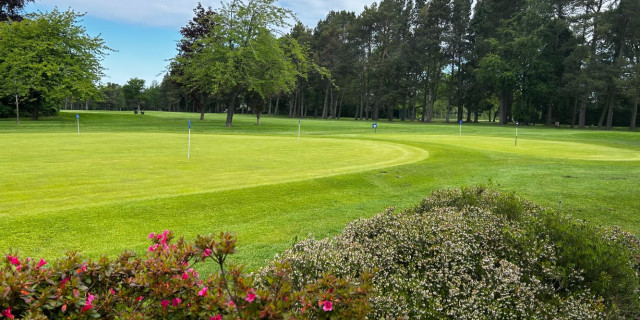 Front 9 Overview
The opening three holes set the tone for what lies ahead - one of the nicest opening par 4s you'll play followed by a great par 5 and another wonderful par 3 with water in play on all holes. Playing to your handicap for these will be a great start to your round.
You then get another top par 4 with two par 5s after that. These can offer up birdies or also really bite you if you get slightly off line.
The front 9 concludes with a dogleg left par 4, a tough par 3 where club selection is paramount, and then a top quality par 4 completes a memorable nine holes. Some great driving holes among them, tough but playable approaches, and some of the best green complexes you will be lucky enough to play on.
One added extra is there is a board with food items to order via a number from the halfway house after the 9th hole when you get to the 8th tee. Lovely touch.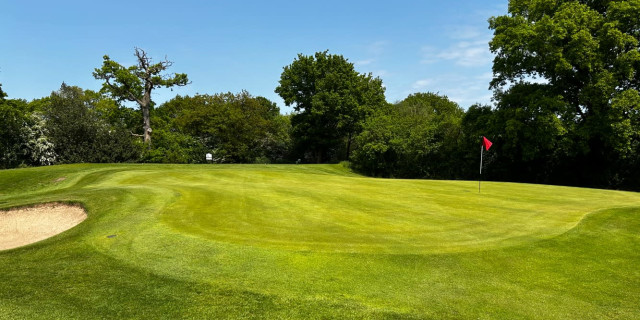 Back 9 Overview
After popping into the halfway house for a drink we then made our way to the 10th and yet again it was a fantastic, tree lined driving hole. As with all the holes here, a good drive would leave a short approach into a green with one of the longest bunkers running alongside the right of it. The 11th was a very good hole to look at from the tee with a pond in front of the tee and a slightly sweeping left to right fairway ahead. This green was one of the nicest looking approaches on the whole course for me and that's saying something as they were all very good.
Next up was the first par 3 of the back 9 from an elevated tee with some proper bunkering in front of the green and trees/hedge behind making this a wonderful looking hole.
You then take a short walk across the driveway for the final third of the round and some more great holes, including another sweeping left to right par 4, then another well protected par 3 with bunkers all round led you to probably my favourite hole on the course, the 15th, a 90 degree right dogleg with OB threatening on the right side, where the further down you were made the approach easier, but also meant a bit more risk off the tee. The green was perched up with a great bunker in front. A truly memorable par 4 in my opinion.
The finish to the round just summed up what playing Shirley is all about - great driving holes, with a demand for accurate approaches avoiding well placed bunkers and greens that if missed in the wrong place could soon lead to a three-putt.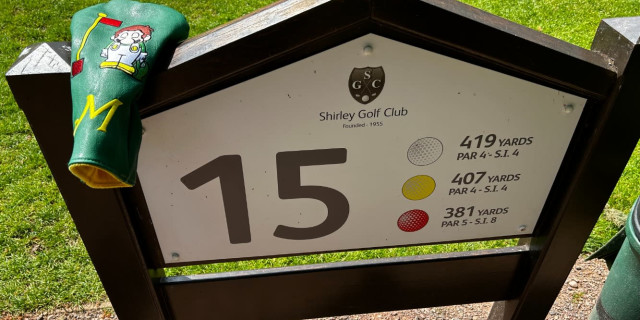 Post-Round Thoughts
Once finished we made our way into the clubhouse and ordered some drinks and food and sat outside on the patio area. I have to say that Shirley is definitely a venue I want to return to ASAP. Very friendly, great course, lovely food and drinks and Aneil and all the staff were as friendly and welcoming as I've ever had the pleasure to meet.
We all felt the course was great and playable for all levels of ability. It really was in great condition and as the season progresses will only get better.
Aneil did tell us they have recently brought in a tee booking system in the afternoons, which is great for those wishing to visit here.
Verdict
With the course being lined by the River Blythe to the bottom end (mainly front 9), you can see dependant on the weather how it could get a bit wet at times, but you can also see that they have spent time putting drainage in which is great and will only help playability all year round.
The greens were pure from start to finish. Some great complexes which required some sharp short games.
Overall Rating - 9
Course (Conditions) - 9
Course (Hole Variety/Layout) - 10
Course (Green Condition) - 10
Course (Challenge/Difficulty) - 9
Club Facilities & Clubhouse - 10
Practice Facilities - 10
Friendliness/Hospitality - 10
Pace of Play - 10
Value For Money - 9
---
Related Content: travel review golfshake Golf Courses England Courses
What do you think? leave your comments below (Comments)
---
Leave your comments below
comments powered by

Disqus
Plan Your Next Round
Dudley Golf Club
West Midlands
from £9.00
Save 24%
Marriott Forest of Arden Golf Club
Warwickshire
from £17.00
Save 20%
Bromsgrove Golf Centre
Worcestershire
from £7.00
Save 25%
More Golf Course & Travel Features
Plan your next golf break with Golfbreaks.com