Estepona Golf Course Feature Review
By: Richard Moore | Thu 18 May 2023 |
Comments
---
Estepona Golf is an excellent course built in 1989 by José Luis Lopez high up above Estepona in the hills providing stunning views from the top. The layout is seamlessly integrated with the natural Andalusian countryside, boasting outstanding views of both the Mediterranean Sea and the Sierra Bermeja mountain range which is just plain awe inspiring. It's a wildly undulating course with 18 diverse holes, which are playable for all levels of player.
This course has so many unique holes, loads of elevated tees and great greens. And, with new owners in 2022 immediately starting to inject investment in new cart paths, irrigation and new buggies - what's not to love about this truly great course?
Pre-Round Thoughts
The course has a wonderful clubhouse perched on the side of a hill providing immense panoramic views. The terrace is used for weddings and functions - I went to a friend's wedding in 2009 and never forgot the views of the setting sun and the Sierra Bermeja mountain behind - which provides a great backdrop for some of the holes on the back nine and nice views for golfers finishing in the setting sun!
The course is 5-10 mins taxi from Estepona (€9 from my hotel - H10 which was very popular with golfers on Golfbreaks).
Front 9 Overview
1. Par 4, (419 yards) SI 2. Dogleg left downhill. Nice gentle opener sweeping right to left with a fairway bunker to avoid at around 220. Aim well right of this and the ball will catch the slope running down to the green. Once you've avoided that bunker it's just a nice downhill approach to a green with some lovely apartments framing the green, which is guarded by a small tree and bunker short right. A perfect starter!
2. Par 5, (444 yards) SI 13. Here the real fun begins! It is a dogleg right teeing over reeds/water providing a blind tee shot (first of four on this course) and you need to decide how much of the corner to cut. Then it is uphill all the way to an elevated green.
Then there's a long drive through barren land to the top of a hill providing an exhilarating view!
3. Par 4, (396 yards) SI 7. It has been described as 'the ski slope' going all the way down to the green. I wonder how many have reached!? But you must hit the fairway as there's out of bounds on right and red stake hazard on left. Not easy when the adrenaline is pumping (which it will!) hence SI 7! What a fantastic hole!
4. Par 4, (313 yards) SI 15. Slight dogleg right with a very tight tee shot with hedge and trees down right beyond which is OOB. So not a slicers' hole. There's no real need to fade it as there's a bank up the left of the fairway so any straight shot is rewarded with a ball finishing middle of the fairway for a short wedge into a green that slopes right to left. Nice hole. No need to be too greedy!
5. Par 3, (153 yards) SI 17. What a gem of a par 3 all downhill. It's used as nearest the pin for many competitions and is just lovely to look at with an amazing bunker on the left with a huge palm tree growing out of the middle! Shallow bunkers all round so don't be afraid to go for it!
Walking to the sixth just beware crossing the road with a few fast moving heavy vehicles doing construction work by the 7th. Generally in the area there's lots of new developments going on with new hotels and universities, etc. That's the only minor negative - it takes nothing away from the golf.
6. Par 5, (484 yards) SI 5. This has a small water hazard on the right but it's not really in play and there's a wide open fairway to aim for. But the fairway narrows up towards the elevated green bringing the woodland and penalty area into play on the left. This requires a strategic lay-up for most if playing in regulation! I made the mistake of not laying up enough leaving a very tricky chip over the bunker short left. So not one to be too greedy on your second shot! A very well planned, clever design.
7. Par 3, (182 yards) SI 11. Beware the swale behind the bunker on the right to catch anything short right (where most golfers miss!). This is only one of two holes on the course that has no elevation. The backdrop is some construction work, which will look really nice one day!
8. Par 3, (165 yards). This was shortened from being a par 4 (of 359 yards) SI 9 about four years ago and my GPS has not updated! Suspect this was changed with it being so close to the new road on the left feeding the new development, so as to avoid dangerous shots hitting vehicles. Now it is a reasonable par 3 but nothing to write home about - not like some of the holes you are about to encounter!
9. Par 4, (337 yards) SI 3. Sharp dogleg right needs a precise shot aimed to the right of fairway bunker. It's a super, tight hole finishing with a really raised green and you need to circumnavigate a couple of trees in the fairway to reach. Great hole to finish the front nine.
At the summit there are toilets and a hut where you can refill your golf ball supply which you may need for the excitement of the 10th and the rollercoaster back nine!
Back 9 Overview
10. Par 4, (256 yards) SI 18 was my favourite hole, a stunning short hole set way down below you from an elevated tee with expansive water on the right to catch a straight or sliced drive. Don't be too greedy as there is water waiting at 200 yards just short of the green. Aim for no more than a 190 draw with an iron to leave a short pitch in. What an amazing looking hole. One of my favourite holes in Spain!
11. Par 5, (499 yards) SI 8 with the narrowest teeing area I have ever seen next to a lake. This water which isn't really in play but adds to the distraction. There's a tree lined fairway on the right which serves to narrow your focus. Incredibly demanding tee shot. The fairway then drops into a dell before climbing up to an elevated green which hides the bottom on the flag making club selection tricky. I really liked the great framing of the hole with beautiful palm trees behind. One of my favourite greens!
12. Par 4, (332 yards) SI 16. Dogleg sweeping up to the right inviting a nice power fade off the tee. Another superb elevated tee. Not a difficult hole.
13. Par 4, (342 yards) SI 1 playing uphill all the way with the glorious mountains as a backdrop. Super tee shot. Extensive trees and shrubs guard the right hand side over which is wasteland and OOB. One for the slicer to leave the driver in the bag!
14. Par 3 (201 yards) played 190 yards on the day. How many par 3s do you know are stroke index 4!? There are no bunkers as it just requires an arrow straight tee shot avoiding, at all costs, the steep run off to the right with shrubs waiting to claim many a lost ball. Tricky tee shot but there's room to the left if your short game is good to get up and down from a slope. And, don't over-cook the tee shot because out of bounds lies beyond the green!
At this point don't forget to take in the incredible views from the green back down the hole as this must be the highest part of the course. The view takes you right back across the course and then out to the sea. Love it!
15. Par 4, (367 yards) SI 10. Interesting tee shot. With a flower encrusted boulder in the middle of the fairway. Like on 9 it's a blind landing zone with the fairway pinching down from a right hand bank making for a fascinating driver strategy. Advise using the boulder as your aim point and go for what you can see! Don't be too greedy with a corner cutter as there's out of bounds to the right. So aim for middle of fairway as it feeds your ball back into the centre and down the hill to the green. This is a truly great hole and one of my favourites!
16. Par 3, (177 yards) SI 14. Another lovely downhill 'one shotter' to a nice wide green. Bunkers all around the back left and right. Super hole with four lovely palm trees to the right of the green. When on the green it's worth a look back up the hole towards the imposing mountain behind. It is just idyllic! My favourite part of the course. Very peaceful just listening to the birds reminds why we play the beautiful game.
17. Par 5, (495 yards) SI 6. Slight dogleg right (S shaped hole) from another elevated tee. Deep bushes to the right need to be avoided. Beware also that to the left of the fairway is a shallow ditch and cart path no doubt affecting the lie/stance for many a second shot. Then beyond the path is a steep run off through trees onto the 12th fairway. Another raised green finishes this nice hole.
18. Par 4, (328 yards) SI 12 starts with a semi-blind tee shot. You can just see the top of the flag over the brow. It is a straight, fairly flat finishing hole back to the clubhouse to finish.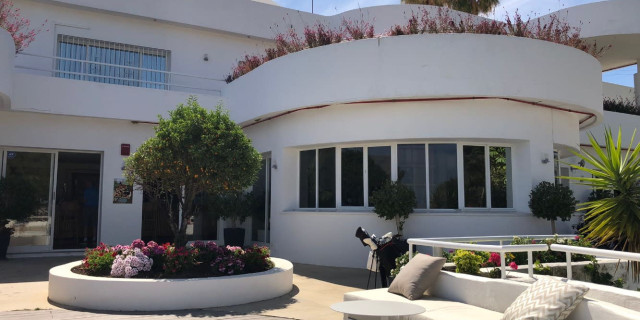 Post-Round Thoughts
The terrace at the clubhouse provides the best views for a post match drink. The building has similarities to the art deco style of Royal Birkdale's clubhouse! Here a pint of San Miguel is just €4 which is just incredible value!
The whole golfing experience is good value - it is €65 a round. €80 with buggy. Or if two sharing a buggy it is €140 total!
This is a great course with huge potential under new management. Already this has some exceptional holes and with additional planned investment especially to the irrigation you can see the quality only getting better.
On the downside you just need to be careful as the cart paths are quite narrow and with a momentary lapse of concentration you can be off the path (I know they plan to improve them with the initial investment plan). Plus you do need to cross a fairly busy road at times so do listen out for cars. I misread a sign and ended up on the road instead of on the 12th tee and headed towards an oncoming car. Thank goodness he was aware and stepped on his brakes!
Verdict
Overall, this is a really great course and well worth playing if in Estepona/Costa del Sol. Great value golf and so many unique and often exhilarating holes with views to soak in. I'll definitely be heading back with a group of friends next time I come!
That's not just my opinion. Post round I spoke to some golfers in the bar who go regularly. One said the whole course has really improved in the few years since COVID and he sees it getting better every year. Long may the journey continue!
Overall Rating - 9
Course (Conditions) - 9
Course (Hole Variety/Layout) - 10
Course (Green Condition) - 10
Course (Challenge/Difficulty) - 8
Club Facilities & Clubhouse - 10
Friendliness/Hospitality - 9
Pace of Play - 10
Value For Money - 10
---
Related Content: travel Spain review golfshake golfbreaks Golf Courses Courses
What do you think? leave your comments below (Comments)
---
Leave your comments below
comments powered by

Disqus
More Golf Course & Travel Features
Plan your next golf break with Golfbreaks.com