Valle Romano Golf Course Feature Review
By: Richard Moore | Thu 18 May 2023 |
Comments
---
Valle Romano Golf & Resort was designed by Cabell B. Robinson, an architect of courses globally and many top-notch layouts on the Costa del Sol (following in the footsteps of his friend and mentor Robert Trent Jones). This magnificent course was opened in 2010 by none other than Seve Ballesteros.
Valle Romano Golf & Resort is a top quality course and residential complex covering 122 hectares in which the utmost care has been taken with all details, but in particular with regard to respect for the environment and the efficient use of energy resources.
The course is a 5 km circuit, constructed in accordance with the highest standards as set out by the United States Golf Association featuring Agrostis 'Tifsport' turf, and a state-of-the-art-irrigation system. The course provides five tees per hole, (some with breathtaking views to the sea, North Africa and Gibraltar) and spacious greens.
Valle Romano offers full golfing facilities with a fully-equipped modern clubhouse; pro shop, restaurant, locker room and changing rooms with sauna. The golf academy offers a floodlit practice range.
Unsurprisingly this fantastic course has hosted numerous major events on the European Challenge Tour and The Andalucian Open. On YouTube you can see a great 18 hole-by-hole drone based film and the promotional video where you see the likes of Seve, Jose Maria Olazabal, Miguel Angel Jimenez all playing - you will be following some of golf's greats here!
The course is situated beautifully on the side of a hill just outside of Estepona - just a €8 taxi ride from the H10 hotel where lots of other Golfbreaks players stayed. However, the course has its own hotel so is a perfect place for a stay and play with outstanding views over the course, the surrounding countryside and the sea!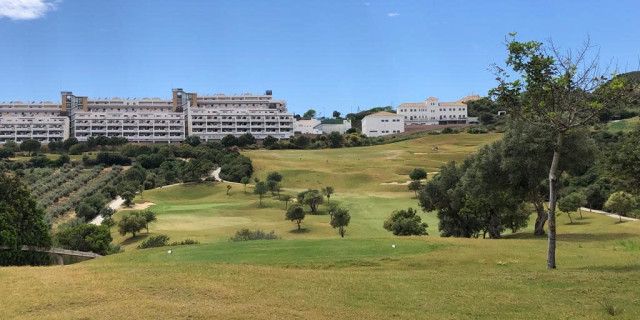 Pre-Round Thoughts
You'll receive a great friendly welcome on arrival. Antonio and his team will take your clubs and load them to your cart and ensure they are all clean when you depart too - a clear indication of the first class golf experience on offer here.
The clubhouse is very modern with pristine 5-star locker room and a sauna! On the first floor there are conference rooms, reception rooms for weddings, etc, and a really nice restaurant including a pizza oven - ideal for a pre or post match bite! A pint of San Miguel on the sun soaked terrace was a reasonable €5.50!
The first thing I noticed was the golf cart was so comfortable. Most comfortable seats ever. I was looking for a 'Bentley badge' on it! In fact it was Yamaha. Never knew they did the best buggies!
Just a short ride through an underpass are the practice facilities which are excellent. The covered bays were not open but the practice on the actual turf was ideal preparation! There's a practice bunker and chipping area adjacent to the practice putting green. This was a taste of what was to come on the course. It was so fast and had incredibly deceiving slopes. I have never three-putted so much before a round!
The course is unique - truly unlike any course I have played. It has been cut through a wonderful hillside providing some stunning elevated tee shots. I had my camera phone out on virtually every hole!
Unlike some hillside courses, I never noticed any lateral sloping fairways but there are many undulations to encounter! You'll need to be able to hit the generous fairways off the tee otherwise dense trees and bushes await any sprayed tee shot. It's definitely not a course for beginners!
Front 9 Overview
1. Par 5, 520m/590 yards (SI 5) is a straightforward opening hole. There's rugged land on right (which is a common feature of the course, beautiful to look at from the safety of the fairway but a certain lost ball if you end up in it). There's a few fairway bunkers guarding the left. First thing I noticed was that the green side bunkers are similar to Nick Faldo's trademark bunkers style in having so many varying shapes and sizes - not a straight line to be seen - they look brilliant! Then there's quite a 'green to tee' drive to the second where you play back uphill to the green.
2. Par 3, 155m/182 yards (SI 14). Rugged hillside all down the left with shrubs and trees partially obscuring the green as it pinches in from the left. There are two big bunkers guarding the green for those choosing a conservative right side of the green. Fabulous hole! Great undulating green - so beware the three putt!
3. Par 4, 314m/379 yards (SI 16). For some this is the signature hole with a spectacular huge downhill tee shot from small elevated tee cut out of the hillside. It reminded me of a similar shaped hole at Las Ramblas where you can't go too long with a straight drive. This hole at Valle Romano is a real highlight of the round. A 300 yard drive is achievable for many with such a downhill fairway but just beware as there are three big fairway bunkers on the left and run off into shrubbery if you go too long! Those skilled enough could deploy a power-fade and go for the green at 340 yards to the front. So this hole is not one for the really big drivers as you will run out on the left. The rugged hillside must be avoided for those overcooking a faded drive. A great tee shot. Incredible views. Then more fun awaits your approach with one of only two lakes/ponds patrolling the left of the green and a rare round bunker guarding front right. A fast green awaits which slopes away from the pond.
4. Par 3, 161m/195 yards (SI 13) which played only 175 on the day I played. The aforementioned pond on the left is not In play but there's a substantial penalty area on the right with water and trees which needs to be crossed - a certain lost ball for any topped shot or a slice! This provides an intimidating tee shot here which needs a fade with a medium to long iron for most club golfers and not to mention four bunkers await any offline shot! Challenging hole!
5. Par 4, 361m/414 yards (SI 4) elevated tee - tight tree lined par 4 with the only fairway bunker tucked in on the left hand side and not obvious from the tee. I thought I'd found it with my tee shot only to see the fairway is raised at both sides providing a nice fairway that helps collects your shot. There's some beautiful villas overlooking the green!
6. Par 4, 375m/429 yards (SI 2) uphill provides more of a test! This requires a shot avoiding the cluster of trees on the left. Nice wide firm fairway. Even my duffed tee shot up hill matched my average driving distance in England - the fairways are that firm! It's all uphill all the way on this hole. Only one green side bunker which is long and left. There's fabulous views of the surrounding white apartments with a backdrop of the mountains and blue sky. The clubhouse in the distance looks amazing from the course!
7. Par 5, 483m/552 yards (SI 11) downhill par 5 dog-legging slowly right from an elevated tee and another moment to capture on your camera phone. Just beware anyone holing out the 6th green below you to the left in case of a snap-hook! The bigger hitters need to be careful off the tee with a run-out into wasteland/trees so a gentle fade needed again. Three large green side bunkers need to be circumnavigated with your approach.
8. Par 4, 315m/349 yards (SI 17) is short and tight but a potential card wrecker! The fairway is like a shelf, so any tee shot missing right is destined for the woodland/wasteland which slopes off down towards the 7th. And there's more woodland wasteland on the left. It's definitely tight. Plus a fairway bunker at 215yards will to catch many-a-drive. So anyone taking a conservative iron off the tee is faced by a nest of fairway bunkers short of the green. This is not a hole for the wayward driver as I watched the group in front hunting for their balls. That's not all as four green side bunkers lie in wait. So this is a tough hole if you don't hit a good drive! SI 17 and no push over. This hole provides nice views of the sea from the green.
9. Par 4, 341m/401 yards (SI 5) uphill with white apartments overlooking the course on your left. Great tee box elevated 15 feet up from the fairway with bushes to drive through narrowing the vision. Great design. Again any tee shot missing the fairway and you will be hacking back around trees and bushes to get back to the short grass.
Back 9 Overview
10. Par 5, 513m/571 yards ( SI 10). Arguably the signature hole. Magnificent looking hole with views out to sea in the distance. It has a 90 degree dogleg left with six fairway bunkers guarding anyone cutting the corner too greedily. The pros take an even tighter line over the trees to the left of the bunkers to reduce this to a two shotter! But a conservative line to the corner of the dogleg is wisest for those playing it in regulation. Just don't be long as a straight shot will run out at 240 yards. So pick your spot to go beyond the bunkers and take advantage of the hill. An elevated green completes the challenge of this spectacular hole.
11. Par 3, 178m/218 yards( SI 10). This played more like 175 yards on the day and is running back up hill adjacent to the previous hole and with out of bounds along the left, just one large green side bunker guards the left of the green. As it's uphill take plenty more club!
12. Par 4, 384m/446 yards ( SI 1). A tight hole playing back towards the sea with the hotel/apartments running along the right hand side and wasteland out of bounds on the left. Cleverly designed as many might be conservative with an iron off the tee and a long fairway bunker on the left will catch any errant second if played too far back. Keep to the cart path on the right though. The path on the left is not for golf carts. I got stuck and had to push the cart to the path and reverse all the way back to the tee! On this hole just remember to look back during the hole at the utterly fabulous mountain behind. It's stunning!
13. Par 4, 268m/302 yards (SI 18). Short but tight played uphill providing a lovely tee shot as all you see is sky with the fairway going up over the crest of a hill - beware fairway bunkers down the right and wasteland to the left. It culminates in superb views of the sea as you get to the green (which has one green side bunker to the right). The green is actually shaped like Australia from the drone footage, providing some interesting pin placements! One of my favourite parts of the course!
14. Par 4, 306m/373 yards (SI 12). A tough hole with a lake on the right for the long hitters to find. Definitely one of my favourite tee shots as it reminded me of the 6th hole of The Twenty Ten at Celtic Manor, which plays around a lake akin to this one. The designer has peppered the left hand side all the way up with four long fairway bunkers so there is nowhere safe except the middle of the fairway here. This 14th green is beautifully framed and has two green side bunkers lurking. Fantastic looking hole!
15. Par 4, 301m/342 yards (SI 15). Water and bunker hell on this tough dogleg left hole. The championship tee is worth a view as you drive past. It is really elevated and utterly spectacular with a long tee shot over the water. Not for the faint hearted. There's six fairway bunkers sat on the corner of the dogleg but there is plenty of room to the right for the safe tee shot! It has a raised green with steep run offs making this a good tough hole.
16. Par 3, 198m/246 yards (SI 9) played a lot shorter when I played at 177 yards requiring an accurate shot with shrubs/trees on the right and on the left there are apartments with swimming pools. Not sure if they are red or yellow staked but must have caught a few balls over the years. Deep green. Easy to three putt!
17. Par 5, 498m/559 yards (SI 6) heading back inland towards the mountain and the clubhouse. Again the fairway is raised providing a steep run off to the right and a certain dropped shot in the shrubs and trees. Out of bounds to the left. This hole requires all your mental strength as you come to the end of the round - requiring accuracy to find the short grass. It has a superb approach to the green framed by the mountain and clubhouse.
18. Par 3 198m/247 yards (SI 3) another brute guarded by four bunkers (three are huge) in front of theclub house balcony. If I'm brutally honest it's probably the least appealing of all the 18 holes. But it's tough to complain after so many outstanding holes.
Post-Round Thoughts
Post round I met a group of British golfers visiting the area for the week and it was their second round here on this tour. Some had been coming to Valle Romano for the last seven years. I think that says it all!
Verdict
Finally, staying at a hotel full of golfers, I just had to ask where they were playing. Most were there to play 3-4 rounds and most of those I asked were playing Valle Romano or had done so in the past. €100 for a round with a buggy I think is fair price for an excellent course in peak season (if you play in the summer it is even cheaper - just take plenty of water!)
If on the Costa del Sol, this is a must play, unique experience. Go and enjoy!
Overall Rating - 10
Course (Conditions) - 10
Course (Hole Variety/Layout) - 10
Course (Green Condition) - 9
Course (Challenge/Difficulty) - 9
Club Facilities & Clubhouse - 10
Practice Facilities - 10
Friendliness/Hospitality - 10
Pace of Play - 9
Value For Money - 9
---
Related Content: travel Spain review golfshake golfbreaks Golf Courses Courses
What do you think? leave your comments below (Comments)
---
Leave your comments below
comments powered by

Disqus
More Golf Course & Travel Features
Plan your next golf break with Golfbreaks.com