Conwy Golf Club Feature Review
By: Richard Moore | Wed 03 Aug 2022 |
Comments
---
Review by Golfshake Ambassador Richard Moore
---
Conwy Golf Club in North Wales was officially opened as Caernarvonshire Golf Club in 1890. This links course on the Morfa Conwy Peninsula was designed by Jack Morris (nephew of Old Tom Morris). Most recently it has undergone some refinements by Martin Ebert.
The par 72 championship course weighs in at 6,910 yards from the blue tees (6,476 yards off yellow).
Testament to its challenge and appeal, the 41st Curtis Cup was played here in August 2021 following other prestigious British venues including The Old Course, Hoylake, Formby, Royal Porthcawl, Royal St George's, Royal Lytham & St Annes and Royal County Down. More recently it has hosted numerous amateur championships.
Typically during a day's play half are members and half visitors, which says to me a lot about the popularity of this top Welsh links! Visitors include large societies as well as discerning golfers who love the challenge of links golf. During my visit I spoke to their very friendly staff and heard about numerous American golfers who love to come for a month and work their way up England's West Golf Coast taking in all the top links courses in their 'pilgrimage' up to Scotland - of course stopping in Conwy on their way!
Pre-Round Thoughts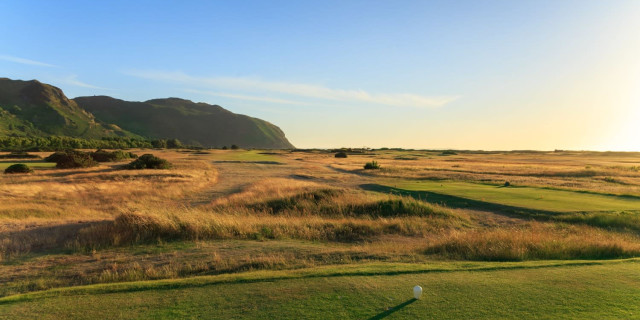 (5th Hole)
Conwy is brilliantly located, just a few miles from Llandudno and one minute off the A55 coastal road to Bangor. It's only one hour's drive from the M6 (Junction 20 which connects you to the M56). So a two hour and 45 minute journey from South Birmingham - equidistant to the links courses of North Devon! I'm now spoilt for choice after this visit.
On arrival, it has a good sized car park and a large, impressive clubhouse with a magnificent balcony overlooking the course and a well stocked pro shop. I loved the locker room, which has three impressive photos of the course to ignite your excitement. It's worth noting there are three modern showers and ample towels to use, which is a nice touch.
I made use of the fabulous big bar area with its large balcony overlooking the practice putting green and 18th. Very well price food so I took full advantage after my morning drive of a 'full Welsh breakfast' at £9.25 including coffee (and not forgetting the locally made sausages from 'Edwards Butchers' - who just won a contract to supply Tesco - and well worth a visit in the town of Conwy).
Very friendly staff, great food and what a view to enjoy. Although the view from the terrace is very nice, I do warn you, it lures you into a false sense of security about the golf ahead. It looks pretty flat and perhaps a little unexciting. But do not be fooled. There is a lot of adventure awaiting!
Although I did not use it, there is a larger driving range area handily placed just to the right of the first tee with around a dozen bays to get you warmed up!
I met the starter called Keith who was full of local knowledge. I'd advise you to arrive to your tee time early to enjoy all he has to share.
I played the course on a mild day with only a breeze. A number of the staff talked about a microclimate. which is no doubt influenced by the surrounding mountains, providing some protection from the surrounding climate. My BBC app forecast rain all day and we saw only a drizzle on one hole. I rest my case.
Front 9 Overview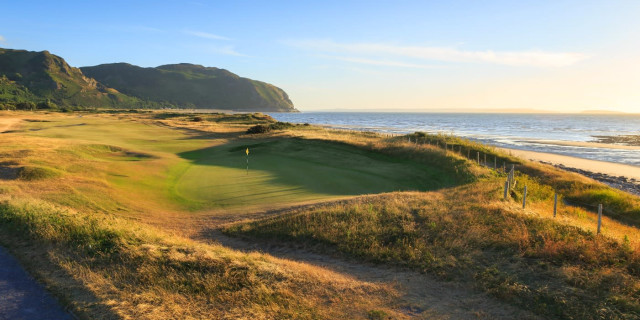 (7th Hole)
The 1st hole is 359 yards off yellows. At Stroke Index 13 it asks a tough first question with OOB all down the right-hand side and bunkers at 200 yards on the left. It certainly gets your concentration!
This is typical of tee shots at Conwy. You had better bring your 'A' game with your driver as there is trouble ahead! Reachable fairway bunkers, gorse bushes (especially on the back nine), tall wispy grass and gnarly rough packed with prickly brambles if you don't find the short grass! So you need to be straight! I speak from experience as I only found three fairways all day and I'm not a bad driver of the ball!
The approach to the 1st is restricted as it is elevated to a bowl green. From this point you get a great 360-degree view of all three hills surrounding you. Great Orme in front, Conwy Mountain to the left and the Vardre sitting behind Deganwy. All incredibly picturesque.
The 2nd is gorgeous par 3 (some staff refer to this as the signature hole) measuring 143 yards to a upturned bowl green, with deep pot bunkers awaiting anything not holding the green. This is a perfect links hole with dunes framing the hole and the wonderful backdrop of the Vardre hill behind.
The 3rd is 320 yards with a blind fairway. A lot of work has been done to clear gorse from this hole, which has opened the hole up. It is not long but take care when hitting towards the well raised green, as the 4th tee is close behind.
The 4th tee and 10th tee are just yards apart and this can cause some congestion at busy times. Remember to call those ahead of you on the 10th tee through first to keep pace of play up.
The 4th is a dogleg left par 4 at 383 yards, which plays towards the fabulous Conwy Mountain. What a backdrop! Once you peel your eyes off the surroundings you'll struggle to see the flag set around the dogleg to the left. Your tee shot must thread between three bunkers on the right and one on the left. It has another domed green. But no bunkers. Ensure your GPS is up to date as part of the recent renovation work was to remove a bunker short left.
The 5th is long par 4 at 435 yards and typically into the prevailing wind coming off Anglesey so a long hole made even harder! No surprise it is Stroke Index 1. It is fair but long - just beware the two fairway bunkers at 250 yards.
The 6th is a 180 degree turn into a 167 yard par 3 with great views of the houses at Deganwy that line the Conwy Estuary.
Then my favourite - the 7th tee. Firstly you can look out to sea from the elevated tee (always a joy for someone who plays golf in the Midlands!). From here you can see Puffin Island 10 miles out to sea and Anglesey further across the water.
Back to the golf. The fairway ahead is a great links challenge with it running at an angle to your tee position asking for you to draw a tee shot off the line of fairway bunkers ahead with the prevailing wind with you. It's a simply fabulous tee shot. Not only that but I particularly liked the shot into the green. It was nicely framed (obscured) by dunes and right behind it you see the coastal town of Deganwy. With the bay behind the green, it certainly reminded me of Trevose's signature hole in Cornwall. A wonderful place to stop and take a photo. (I'm told a number of people have their ashes scattered over the back of this green as it is indeed a wonderful corner of the course). This a fabulous hole and easily my favourite on the course.
Then the 8th is a dogleg right back towards the Conwy Mountain. A nice contrast to the previous hole, (both measure just under 430) but this is back into the wind and quite wide open and reminded me of some holes at Pennard on the South Coast. A nice links hole with an elevated two-tier (MacKenzie) green.
The 9th is a very interesting par 5 perfectly shaped in an 'S' shape. Gorse introduces itself in this section of the course and certainly comes into play with this tee shot. At 521 yards with the prevailing wind behind it is not a long hole but requires careful plotting as the left dogleg begins around 200 yards. Then after another 220 yards you need to turn right up towards a raised green, which houses a flag totally blind behind a mound. A tough approach, and don't go long or you'll be OOB.
Back 9 Overview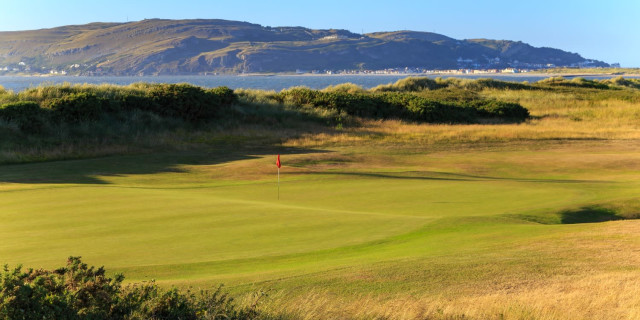 (13th Hole)
The 10th is another par 5 back to the clubhouse. The fairways are like nothing I have seen before - akin to a roller coaster with hummocks and troughs all over the landing zone for most people's drives so there will be a few unkind bounces I can forsee. The raised green is also in a bowl, which provides an interesting putting challenge.
Now the gorse starts to really feature with an intimidating 11th tee shot to a semi-blind fairway with big gorse bushes obscuring the left. You're hitting under the watchful gaze of the golfers on the balcony to add to your pressure here. At 376 yards it is a good test.
The 12th is a par 5 that can be described as beguiling … it has a sting in the tail. Although you are faced by a wide open tee shot, anything missing to the right gets swallowed up by thick gnarly rough. Although only a few inches thick both myself and my partner lost balls here so 'aim straight or left'. Similar to the fairway on 10 this has a magnificent approach to the green with the green set below the fairway down a steep slope with the magnificent Conwy Mountain as a backdrop.
The 13th is, according to many, the signature hole. It's a par 3 168 yards into the corner of the course with gorse all around. Makes the target seem so small. It's a super hole. When we played we had a RAF Hercules fly over. Very impressive.
The 14th is a downwind par 5 at 484 yards. Another hole that has been made easier by the recent renovation where gorse has been cleared. It is now dead straight but gorse starts to impinge on your thoughts as you line up for the middle of the fairway. Certainly reachable in two for the above average hitters.
The 15th is similar to the par 3 13th as gorse again is a big factor reducing the size of the target as you play this 147 yarder into a wall of wind. Another great hole.
The 16th was another favourite being a dogleg right downhill. It's a par 4 at 353 yards with lots of gorse left and right. This culminates in a surprisingly lush green (much of the course had been well baked in the recent heatwave). Psychologically, it is a little trick at this point as you finish close to the clubhouse and you know you are nearly done! But you need to gather all your thoughts and muster ready for the tee shot that awaits on 17.
The 17th , playing back away from club house and back into wind, is the tightest hole and without doubt a card-wrecker as you must thread two (if not three) shots safely through a channel between gorse lining both sides of the fairway. If anyone has a 'Knight in Armour suit' I'm sure they could find a thousand balls here. (PS they sell these suits in Conwy town for souvenirs - just saying!). A tough, tough hole.
The 18th is a 364 yard romp for home with the wind in your back in front of the clubhouse. The green is well sloped so not an easy last putt by any means in front of the balcony.
Verdict
I loved my round from start to finish and it is clear that Conwy Golf Club is not resting on any laurels. There is plenty of work that's been done. As you walk round you can see where some bunkers have been filled in and there are many areas where the penal gorse bushes have been cleared down to the underlying sand to leave natural sandy areas (sand scrapes), which are not classed as bunkers. Those of you who enjoy golf around Southport will liken it to Hillside where extensive sand scraping has been done by the same top golf architect Martin Ebert (and what a great job he has done there too!).
Conwy GC's General Manager Matthew Parsley was very kind to talk me through more of his future plans for developing the course, including potentially some on-site dormy accommodation; a Himalayas-type putting area like at St Andrews close to the first hole, etc. So there is much to look forward to for members and visitors.
On the day I played the pace of play was a bit slow but that's understandable because we played right behind a large society, which made the round five hours - so just a little slower than the average.
It's clear that Conwy is a top Welsh links. I've played Royal Porthcawl, Nefyn, Royal St David's and Aberdovey in the last three years and they are all top quality tracks and superbly maintained. But personally I think Conwy has the best 360-degree views, which is a major part of my enjoyment of golf. Being able to marvel at sights all round you makes it extra special for me! Well done Conwy!
Another really charming aspect about Conwy is how it is so connected to the local town for its food and drink supplies but also its connections with local restaurants and hotels. Golfers can leave the course on foot and take a charming walk back into the town along the estuary in about 15-20 minutes. There is a good accommodation in Conwy, including the Castle Hotel and Erskine Arms to name a few.
Conwy is a fabulous town to stay in. No doubt the larger golf societies will be staying in the big hotels in Llandudno to accommodate groups but Conwy has so much to offer smaller groups I feel.
Typical summer green fees are £85, reducing to £50 after 2pm and £40 after 4pm (this twilight is also available via GolfNow).
Great value, superb golf and food. I know I'll be heading back soon.
Overall Rating - 10
Course (Conditions) - 10
Course (Hole Variety/Layout) - 10
Course (Challenge/Difficulty) - 9
Club Facilities & 19th/Clubhouse - 10
Practice Facilities - 10
Friendliness/Hospitality - 10
Course (Green Condition) - 10
Pace of Play - 9
Value For Money - 10
---
Related Content: travel review golfshake Golf Courses Courses
What do you think? leave your comments below (Comments)
---
Leave your comments below
comments powered by

Disqus
Plan Your Next Round
Denbigh Golf Club
Clwyd
from £12.00
Save 25%
Abergele Golf Club
Clwyd
from £13.00
Save 20%
Bangor St Deiniol Golf Club
Gwynedd
from £18.00
Save 18%
More Golf Course & Travel Features
Plan your next golf break with Golfbreaks.com