Walsall Golf Club Feature Review
By: Melvyn Davies | Tue 14 Jun 2022 |
Comments
---
Showcasing a design by the legendary Dr Alister MacKenzie, Walsall Golf Club is Highly Recommended on Golfshake and is a jewel of the West Midlands.
Ambassador Mel Davies recently visited to experience this tree-lined course that demands accuracy from visiting golfers.
Pre-Round Thoughts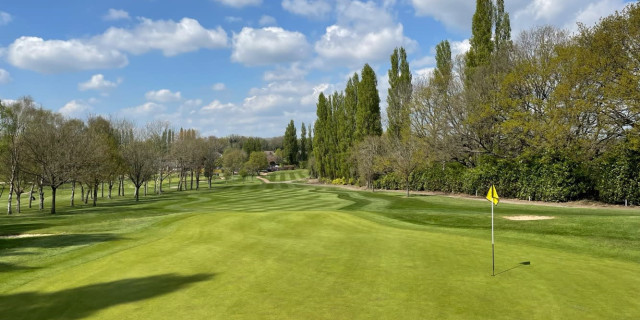 I've heard many great things about Walsall down the years but this was my first visit so it was another course I was really looking forward to playing. Chris Low, the Head Greenkeeper, met me before we went out and explained a few things about the course and what to expect which was a really nice touch.
The clubhouse had a very nice and welcoming look to it and sat right in front was a lovely patio area with some gorgeous flower beds and then a more than ample sized putting green. Also nearby was a driving range, the pro shop that was well stocked and from there you could see the first hole and the 9th and 18th greens.
Front 9 Overview
The front 9 is definitely the scoring 9 but don't be fooled, there is a great mix of short par 4s and longer par 4s, two tough par 3s and not one par 5.
The opening two holes are both short par 4s where there is a risk reward option or just a simple mid iron leaving a short shot into narrow greens with bunkers well placed (this is a big feature here). What you could see from the off was that the greens were fantastic but very undulating leaving hardly a straight putt all morning.
There then followed a sweeping par 4 to the right and a tough par 3 where both holes needed a very accurate approach shot.
The 5th is the longest hole on the front at 433 yards off the yellows and rightly stroke index 2, par here and you really have played the hole well.
Another short par 4 is next up followed by another mid to long iron par 3. The front finishes with another long par 4 then a short par 4, accuracy off the tee really is the order of the day here and that allows the chance of posting a good front 9.
Back 9 Overview
The back 9 was definitely a tougher and longer (500 yards) proposition than the front. Par 36 as opposed to 34 on the front.
Another mid iron par 3 starts the back, then a 400+ yard par 4 that like every hole here has a tree-lined fairway and it always seems to pinch in at driving distance. The first par 5 is next up and a good drive can enable you to attack the green in two and offer up a birdie or even eagle - but as in every green you have a very narrow landing spot.
The fourth and final par 3 follows and has a really long kidney shaped green with bunkers seemingly everywhere. The par 3s here are all great holes but very tight and there really isn't any bail out.
Four par 4s then come along with three measuring 400+ yards so birdie chances are at a premium - one great feature here is no two holes seem the same, and they all seem to require different shot types which is a challenge to me but also something I enjoy.
The round finishes with a great par 5 that is a wonderful finishing hole - a dogleg from left to right, only the biggest (and straightest) can get home in two and finding the ideal lay up for your approach isn't easy with the green tucked away to the right. The approach shot is over "Full Brook" to a green set with the clubhouse as its back drop. A really great finish to a truly great course.
Every hole here was great and a true test of your ball striking, short game and putting.
It was in superb condition, greens are the best I've played this year and will be hard to beat. Very true and quick. Great mixture of short and medium length par 4s. Short par 4s are risk and reward if tempted to go with driver. Superb layout with excellent bunkering on all the holes. Excellent clubhouse with a great view of golfers coming down the 18th.
The 18th hole for me is the signature hole. Great finishing hole with a stunning backdrop and it really was the end to a wonderful round of golf on a course that was challenging but also playable for all and very enjoyable.
Post-Round Thoughts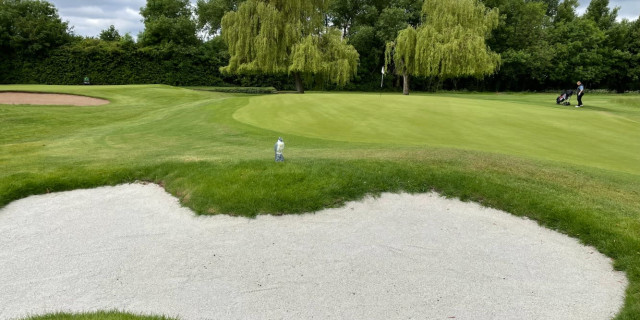 The clubhouse had a very relaxed feel to it with a good choice of beverages and food options.
It was also great to meet up with Chris again and also Jayne the General Manager who took time to tell me various things about the club and what improvements and changes were going to happen.
They are very welcoming and have some great tee time prices, society deals and open competitions coming up so do head over to their website to see what they can offer.
Verdict
Greens as I've already said we're A1, the whole place including the gardens looked fantastic. I do always love a course that comes back to the clubhouse after each 9. Playable for all levels of ability and definitely worth a visit. A great venue, course and setting for a golf day/society.
Overall Rating - 10
Course (Conditions) - 9
Course (Hole Variety/Layout) - 10
Course (Green Condition) - 10
Course (Challenge/Difficulty) - 9
Club Facilities & Clubhouse - 9
Practice Facilities - 9
Friendliness/Hospitality - 10
Pace of Play - 10
Value For Money - 10
---
Related Content: travel review golfshake Golf Courses England Courses
What do you think? leave your comments below (Comments)
---
Leave your comments below
comments powered by

Disqus
Plan Your Next Round
Bridgnorth Golf Club
Shropshire
from £15.00
Save 30%
Dudley Golf Club
West Midlands
from £9.00
Save 24%
Marriott Forest of Arden Golf Club
Warwickshire
from £17.00
Save 20%
More Golf Course & Travel Features
Plan your next golf break with Golfbreaks.com