The Carrossa Hotel Spa Villas Review
By: Andrew Picken | Tue 19 Oct 2021 |
Comments
---
Review by Golfshake Ambassador Andy Picken
---
With slight trepidation I recently dusted off my passport travelling to Mallorca on behalf of Golfshake to sample the delights of the Carrossa Hotel and Spa.
The pre-trip process was straightforward by completion of the UK NHS Covid Pass App. This provides a QR code that is identified to you via medical records. I followed this by the completion of the Spain Travel Health App and this was a similar procedure. It generates unique QR codes that are produced and simply checked via a scanner at the customs barrier allowing healthy entry to the country.
The process was actually smoother than when I last travelled to Spain as all passengers had arrived earlier and the checks were completed without rush or concern. I found this process reassuringly safe and not intrusive. To return; a passenger locator form is required 48 hours before departure and a validated swab by a doctor was then married up to the travel intentions with an email providing exactly the same information.
Ensure your phone is fully charged before arrival at the airport, as if all your QR codes are stored on the phone and it crashes it makes for a difficult and stressful time whilst a sufficient charge is obtained.
Carossa Hotel Spa Villas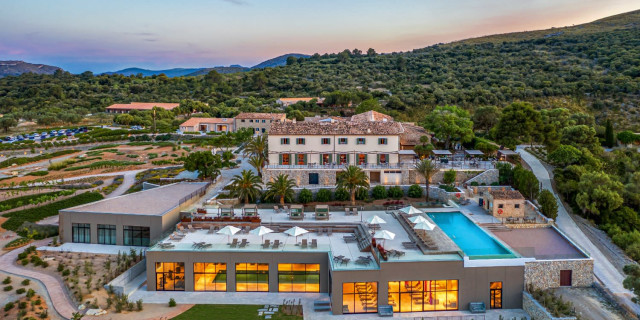 This is the island's newest 5* resort providing picture postcard views towards Cala Millor and Alcudia. Nestled close to the town of Arta, the hotel is centered around an historic manor house with top quality bars, restaurants and an elegant well- appointed spa experience. It opened in 2018 ad is known for its casual luxury. The renovated manor house that is the centre of the site offers delightful views and a wonderfully relaxed but opulent atmosphere.
My flight was direct from Birmingham to Palma with a few additional but essential checks and administrative procedures but none were overbearing. I actually found the protocols reassuringly comfortable.
Two and a half hours after take-off, I landed in Mallorca. Travel protocols were soon dispensed with and I emerged from the airport into beautiful sunshine. The north east of the island has much of its original history retained and allowed for a comfortable and interesting journey.
I was travelling deliberately light, leaving my own set of golf clubs at home, as I wanted to assess the quality and availability of hire clubs at both the host clubs but also at the hotel.
It made a refreshing change not to be wrestling my golf bag around the airport and simply having carry-on luggage to consider made it a much easier flight experience. Leaving the heavy rain in the UK to savour the warmth of the sun was also a major advantage.
After an easy 45 minutes transfer to the hotel, I soon settled into my beautiful suite. I was able to explore the extent of the site and savour its delights.
Whenever I arrive at a venue I try and describe it to myself in simple terms, my notes reveal the word "tranquil" written. The ambience to this venue is simple. It's a retreat, a haven for well-being practices, extensively used for the practice of yoga, cycling, walking and returning back to nature in a simply stunning natural environment. A place to rewind and recuperate.
There are 52 publicly accessible beaches from the Colona Sant Pere to Calas de Mallorca area throughout the Llevent region, the majority situated along the east coast from Cala Ratjada to the south.
Using the venue as a base for golf is a relatively new enterprise for the UK market but I have no doubt will prove successful as it is well placed to a number of well-priced, quality golfing venues.
I love my Mallorcan cuisine and the Badia Bistro offers enviable views over the Bay of Alcudia and Pollensa. They specialise in offering fresh fish dishes and we enjoyed some exceptional culinary delights during our stay.
The spa experience was a joy. Indoor and outdoor pools offering access to the sun. An excellently appointed gymnasium and steam room and sauna add to the package.
The site offers access to fincas and villas for those travelling with larger groups wishing to stay together in a more social experience. This venue offers flexibility to handle all guests needs and I anticipate that the golf packages will prove to be very popular.
For more information, please visit https://www.carrossa.com/.
A Personal Recommendation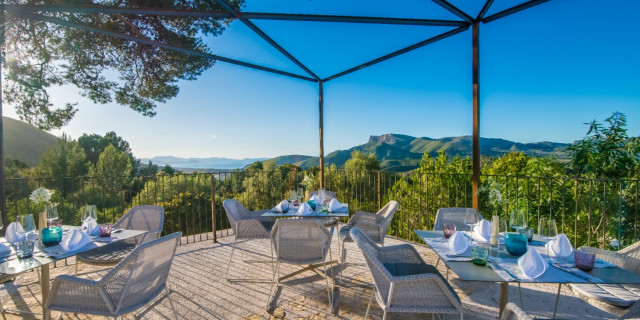 Try the Tapas lunch time offerings at the Badia Bistro. Excellent value for money and the freshest and tastiest of ingredients served on the terraced restaurant with some unbeatable views and vistas.
Another tip: we played most of our rounds with an early morning start and this gave us the advantage of viewing some incredible sun rises but also allowed us to have completed our rounds before the fiercest sun.
We then enjoyed leisurely unhurried lunches savoured with a glass of the excellent local wines followed by time on the sun beds in a state of complete relaxation.
Carrossa is even growing its own grapes for bespoke wine production and has an excellent sommelier in house who offers a formal wine tasting experience of the local Mallorcan produce that is also highly recommended.
This venue offers 5-star luxury for the whole family. Excellent cuisine, superb location, fabulous facilities for all sports and then the opportunity to sample the delights of a superb spa and well-being practices.
Every staff member that I met during my stay was multilingual with the languages spoken primarily Spanish, German and English.
If you are considering a trip to North East Mallorca then this is a venue that should be considered.
Capdepera Golf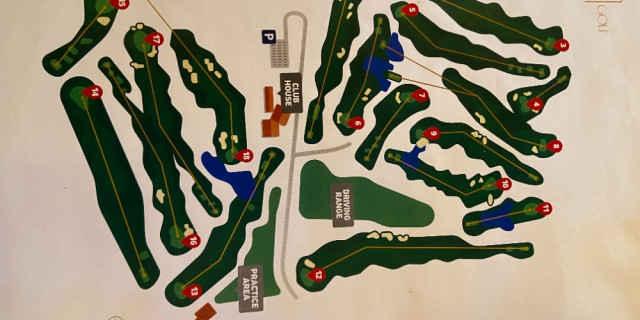 The golf courses I played during my stay were the wonderful Alcanada and Capdepera.
Capdepera Golf is an easy 15-minute ride from the hotel and offers a value for money golf course and experience. The Pro Shop had been relocated to an upstairs bar area as a Covid related protective measure enabling golf staff to support the restaurant staff and vice versa, so I didn't see it at its best. However, it was well appointed with a range of stock ideally suited to the needs of the visiting golfer.
There is an excellent driving range and practice facility and this is an area that should be factored in when considering playing this venue. Having access to a grass driving range, when the UK was enjoying torrential rain with some temporary course closures, was a real bonus.
Capdepera was designed by US golf architect Dan Maples. He is not a designer I have come across before as his main body of work is in the US. However, he comes from a prodigious family of golf course architects.
When the golf course construction boom began to hit the Myrtle Beach area of South Carolina in the 1980s he was ideally placed. Of the 19 courses built on the Grand Strand in that decade, Maples created eight of them.

He is the third generation golf course architect in the family who are known collectively as "the first family of Carolina golf," His grandfather, Frank Maples, was course superintendent at Pinehurst and the construction engineer for legendary architect Donald Ross at several of his courses in the Sandhills. Frank's son, Ellis Maples, became a prolific architect, creating more than 70 courses, nearly all of them in the Southeast.

Dan Maples grew up playing golf at Pinehurst and working for his dad in the summers. He is said to have designed his first course at age six and was driving tractors before being old enough to hold a driving licence. Dan Maples and his father created 17 golf courses together. As a player he was good enough to win the American Society of Golf Course Architects tournament six times. His courses demand accuracy over length, with everything in plain sight.
The online booking is easy to follow and for the golfer with no clubs there is an easy hire facility also available. I would advise a decent stock of golf balls as anything off the fairway is likely to get caught up in the verdant rough making the finding of off line shots a challenge. Definitely a course for the straighter player to get best enjoyment from.
The start of the course is situated in a valley area with few undulations or gradients as this was previously the site of an almond plantation. After the turn, the course meanders and strides through the Mallorcan Llevant mountains and offers some excellent views and vistas.
It gets heavy visitor use and some of the greens suffer from a failure to repair pitch marks, a real bug bear of mine. If you are good enough to make a pitch mark you should be good enough to repair it, immediately. The greens are well kept but suffer from this unnecessary issue.
I consider this course to be a value for money venue for the visiting golfer as opposed to one that is a bucket list location.
The opening nine is flat but it is tight and the rough and semi rough offer the course its main protection. Keep it straight and on the cut stuff and this is a simple layout. Bring anything other than your best game and this will be a challenging visit.
The grasses here are very different to those experienced recently in the UK and it is easy to slide the club under the ball around the green surrounds leaving some embarrassing duffs. Adapting your technique with this in mind will lead to a less annoying outcome.
All the course buggies are fitted with GPS locators and maps so there is no need for a distance device. The course is well sign posted so the first-time visitor will not get lost.
It offers a par of 72 playing 5,847 metres in length of the tips.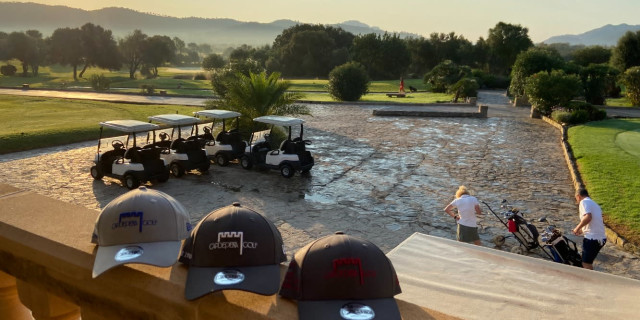 For me the most memorable holes appear later in the round when the course moves into the mountain areas.
The 10th hole is an interesting par 4 layout. Only 256 metres at its tips, it is reachable from the tee, but the tee shot is over a large ornamental lake and cascade and the green is well protected by sand and natural hazards.
The 12th is a tight yet interesting par 5 of 543 metres requiring careful placement around bunkers at the shoulders of a double dog-leg and accurate approaches to a fairway of small width. There are some excellent views and backgrounds to some cleverly constructed green complexes. I enjoyed all the holes on the back nine simply because of the elevation changes and routing through the pine forests and hillsides.
The short 15th is a lovely looking hole with subtle structures offering additional putting challenges if the green is found with the approach shot.
The short holes on the front nine offer little challenge to the experienced player but as a resort type venue are more than adequate for an enjoyable round of golf. The main protection is the water hazards that are formed from many lakes in this area.
Given all the hire equipment available this is a perfect venue if visiting the island with a family and in need a quick golfing break.
Make sure you give yourself enough time for access to the practice facilities and also use the excellent patio /restaurant area post round as it is of a good enough quality to attract local patronage. A good indicator of its quality and consistency.
For more information, please visit https://www.golfcapdepera.com/.
Our other venue is a course I have played and fallen in love with before.
Alcanada required a 45 -minute trip from the hotel and it was worth every second. It is a premium venue that is maintained in a pristine fashion.
Owned by Peter Porsche, it simply oozes class and distinction. A Robert Trent Jones Jnr layout that has utilised the wonderful nature reserve location and surroundings to great effect.
16 of the 18 holes have sea views. There are only 58 bunkers but they are placed strategically and carefully affecting each hole and its playing strategy in equal measure.
The elevation and gradient changes are superb, offering some jaw dropping views from the immaculately kept tee boxes, especially those that are elevated.
I have a real affinity to this venue; it suits my eye and I enjoy all it has to offer. The manicured fairways are also much more forgiving than Capdepera although off line tee shots are punished by the requirement for a high tariff recovery shot to stand any chance of par.
There are some real elevation changes so we chose to use a buggy. Alcanada uses the Tag Marshall system for monitoring pace of play of all players on the course whether they use a buggy or carry the clubs and this ensures a reasonable pace for all those enjoying this experience.
Our three-ball made good progress but we found a single golfer behind us who was clearly a very competent player and so we invited him to join us.
This was an excellent move on our part as Adam Billingsley was a 5-handicap golfer but also a Golfshake member of several years standing. He was with a group of friends on the island, some of whom had been cycling and he chose to tick off a bucket list course having read one of my previous reviews from several years ago.
(Golfshake Member - Adam Billingsley)
When undertaking our review visits, the courses and staff know we are coming, so this was a perfect opportunity to get the views and opinions of a "secret shopper" regarding the experience of playing at Alcanada.
He was so secret even we didn't know he was joining us until the 10th hole!
Adam described his experiences of booking online, trying to select a time with a member to ensure he didn't play alone but unfortunately his partner withdrew the day before. He was full of praise for the simplicity of the systems and was also very happy with the quality and choice of the hire equipment he was allocated to use.
There was nothing he could find with his experience that could be considered to be in any way a criticism, so from a course perspective this was an excellent customer interaction.
This was his first visit to the venue and it was really useful to view it from his perspective having had the chance to enjoy the facilities before.
The course has always had excellent environmental credentials but these are now even stronger.
Drinking water is provided in fully recyclable cartons with even the lids being especially adapted to be 100% recyclable.
The site is within a nature reserve and ensuring its ongoing viability is another important goal for the club. There is an excellent relationship between the locals and the club. This is encouraged by local patrons being encouraged to visit the clubhouse restaurant and enjoy the excellently priced cuisine. A simple but highly effective way of ensuring that the relationship between local villagers and the club is strengthened and enhanced.
I was astonished at how busy the restaurant was on a Tuesday lunch sitting and this local support strategy is clearly working well.
Practically every tee provides a "Kodak" moment.
For more information, please visit https://www.golf-alcanada.com/en/.
---
Related Content: travel Spain Mallorca golfbreaks
What do you think? leave your comments below (Comments)
---
Leave your comments below
comments powered by

Disqus
More Golf Course & Travel Features
Plan your next golf break with Golfbreaks.com