Church Stretton Golf Club Feature Review
By: Melvyn Davies | Mon 19 Oct 2020 |
Comments
---
Review by Golfshake Ambassador Mel Davies
---
Located not far from Shrewsbury and a little further from Wolverhampton, Church Stretton Golf Club is quite simply unique. Its 18 holes sit atop the stunning Shropshire Hills – an area of outstanding natural beauty – and its panoramic views are among the finest in England. The course has been there for over 100 years and in that time major champions such as Sandy Lyle, Ian Woosnam and Henry Cotton have graced the fairways, while the legendary Harry Vardon and James Braid helped design some of its most outstanding holes. Woosie once labelled the course as "brilliant."
If you get the chance to play here, you will soon see what he meant.
Pre-Round Thoughts
I had heard many comments from people down the years about how great the course is and how it is one I must visit, so that is exactly what I did. I received a very warm welcome from James Townsend (Manager/ PGA Professional), and I could see that this was a very friendly and happy course to play your golf at. There was a big putting green adjacent to the 1st tee and also a practice net. The club shop was well stocked with everything you would expect to be able to purchase.
Front 9 Overview
The front 9 starts like no course I've ever played before - with three challenging par 3s at varied lengths. The 1st at 181 yards all uphill is probably as tough a starting hole as you'll find. The 4th is the stroke index one hole and a par here is almost like winning the lottery - it played all into the wind and was a real brute, but at the same time is a gorgeous hole.
The 5th was the longest par 3 and last on the front 9 followed by four more par 4s all offering varying challenges, but one thing is consistent, the views really are breathtaking. I really love courses like this as it shows that not every course needs to be 7,000+ yards to keep the juices flowing from hole to hole.
Back 9 Overview
The back 9 starts with a great par 4 at just over 300 yards, but don't be fooled as it really can bite you if you don't put the ball in the right place. The 11th is the longest hole on the course at 433 yards and it's a real toughie - a well-placed drive leaves a tough second shot into what is a small green with trouble all round.
The 5th and penultimate par 3 is next up and then you have five more par 4s before the 18th and sixth and final par 3. Good tee shots can put you in position to attack these greens and maybe claim a birdie or two, but again each and every hole here has danger waiting for any errant shots.
The 18th is probably the signature hole at 174 yards all massively downhill (club choice is so tough) to a green that looks like a little pimple from the tee. A par here or even better will put a spring in your step as you walk to the clubhouse for a much-needed drink and bite to eat.
Post-Round Thoughts
I was not disappointed one bit from my trip to Church Stretton. The course is playable all year due to the sand-based land. I would recommend a buggy if you are not the lightest on your feet and also a bit of inside knowledge of where to hit on some holes would really be an advantage.
Each hole has its highlights and the views really are to die for. Even though it has six par 3s, each one is different and makes playing this course a real delight.
The back 9 is in my eyes the tougher 9 and the last hole is truly stunning. I really feel I could just walk round here without my clubs and be gobsmacked with every step I take.
Verdict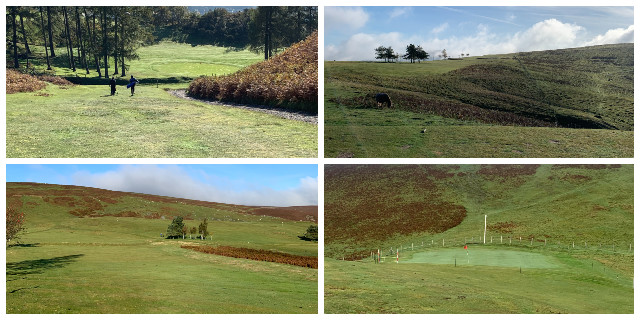 The course is hilly but that adds to the challenge. The fairways are as good as you'll find, and you don't get a bad lie on them. The greens are as good as you would wish for and run very true. Recent maintenance didn't really cause any issues for us which is testament to the club and staff. A thoroughly enjoyable round and one I would recommend to others.
Overall Rating - 8
Course (Conditions) - 9
Course (Hole Variety/Layout) - 9
Course (Green Condition) - 10
Course (Challenge/Difficulty) - 9
Club Facilities & 19th/Clubhouse - 8
Practice Facilities - 7
Friendliness/Hospitality - 10
Pace of Play - 10
Value for Money - 10
---
Related Content: travel review England Courses
What do you think? leave your comments below (Comments)
---
Leave your comments below
comments powered by

Disqus
Plan Your Next Round
Bridgnorth Golf Club
Shropshire
from £15.00
Save 30%
Cleobury Mortimer Golf Club
Shropshire
from £15.00
Save 23%
Church Stretton Golf Club
Shropshire
from £15.00
Save 40%
More Golf Course & Travel Features
Plan your next golf break with Golfbreaks.com