Blackwell Golf Club Feature Review
By: Melvyn Davies | Fri 25 Sep 2020 |
Comments
---
Review by Golfshake Ambassador Mel Davies
---
Blackwell Golf Club is a private parkland course situated in Worcestershire just a short drive from the M5 and M42, making it a very accessible location, with Birmingham not far away.
The club was founded in 1893 by four prominent local businessmen and the local curate from St Catherine's Church in Blackwell. The original course was built on part of the Hewell Grange Estate, owned by Viscount Windsor, and a local golf professional, C. W. Cunningham was commissioned to plan the original nine hole layout.
Today, this traditional course measures 6,260 yards from the white tees with a par of 70. In 1929, Blackwell held an exhibition match between Walter Hagen and Archie Compston, and the following year Bobby Jones also took part in a match. Sandy Lyle won the Midlands Boys Championship at Blackwell in 1972, so the venue has welcomed visits from some of the world of golf's most celebrated names.
Pre-Round Thoughts
I've heard many positive things about Blackwell down the years, and I've also been able to get a good look at a couple of its holes when I pass regularly driving my train, so my excitement levels were really up for this review. When I arrived, I had a stroll round the holes close to the clubhouse and I could see this was one course that would make me want to come back for more.
There is a large putting green for pre-round practice, and also a separate warm-up chipping area at the entrance of the property to get you ready for the 18 holes ahead. Peter Lowery the Club Manager, came out to greet me as I made my way back to the clubhouse and we had a quick coffee and chat before we went out to sample the delights Blackwell had to offer.
Front 9 Overview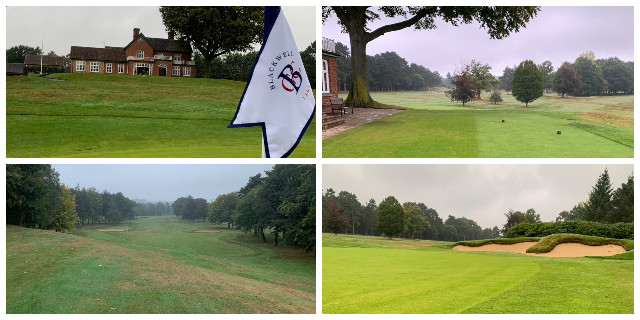 The opening hole is a drive and a mid-iron to a green well surrounded by bunkers. A par here is a great start to your round as the tee shot is over the hill and just under 400 yards. The first of five truly great par 3s is next up and one thing I can say is the short holes here can make or break your round.
Next up is a real tough par 4 that gives the longer hitters a chance to get over the ditch. Even then you'll be left with at best a mid-iron to a tough green to hit. A reachable in two par 5 follows before you face a relatively short par 4, but don't be fooled as both can still cause problems, especially on the tricky and quick greens.
The 6th and second par 3 has the only green with an even number of bunkers. The 7th and 8th are birdie chances, but once more danger awaits any shot hit other than well. Then onto what has to be the signature hole and a real brute at that! A par 3 measuring just over 200 yards all carry over the water that is home to the resident heron! You can bail out left to avoid the water but even then, making a bogey isn't an easy prospect. A great finish to a fantastic opening 9 holes.
Back 9 Overview
The back 9 starts with two holes running alongside the main railway line to the South West and Wales. The 10th is a birdie chance, but the 11th at 222 yards is a monster with some of the best bunkering I've had the pleasure to witness. Somehow, I managed my one and only birdie on this hole.
The third and final par 5 is next and for the big hitters this offers another chance of eagle/birdie. It has to have one of the longest stretches of bunkers I've come across, running down most of the right side from driving distance to a pitch from the green.
You then reach the final par 3, which once more requires a well struck shot avoiding the bunkers to stand any chance of making a par. The final five holes are all par 4s, but they offer up the chance to hit a variety of clubs into greens that once more have an abundance of well-designed and placed bunkers making you think about every shot coming in. The finishing hole was a big favourite of mine playing downhill with the backdrop of the fantastic clubhouse. What a truly wonderful finish to an absolutely fantastic course. A true test of every club in the bag.
Post-Round Thoughts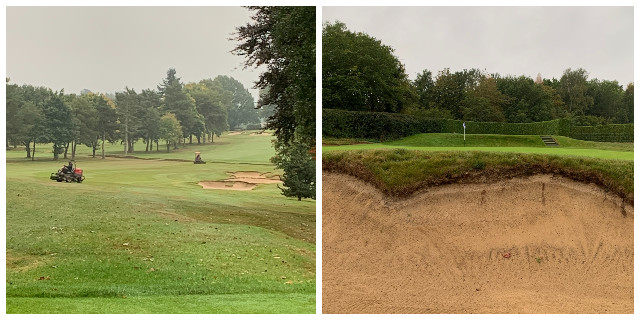 The experience of playing at Blackwell was one I would love to repeat again given the chance. The hospitality shown to us was second to none. The Head Professional, Dan Cummins, came over for a brief chat and was very friendly, as was the Head Greenkeeper when I had a chat out on the course.
The course and the staff really are a credit to the club and its members. We had a quick bite to eat and a drink and the atmosphere was relaxed and friendly and the food was as you would expect - top quality.
Verdict
You could pick any hole as a standout and both 9s were as great as each other. The bunkering and greens are as good as you are likely to find anywhere. The fairways are fantastic and with the ground being sand based the course would be playable all year round.
A truly great mix of holes and a challenge for the best golfers but also playable for players of less ability. Magnificent.
For more information on Blackwell, visit https://www.blackwellgolfclub.co.uk/Home.aspx.
Overall Rating - 10
Course (Conditions) - 10
Course (Hole Variety/Layout) - 10
Course (Green Condition) - 10
Course (Challenge/Difficulty) - 10
Club Facilities & 19th/Clubhouse - 10
Practice Facilities - 9
Friendliness/Hospitality - 10
Pace of Play - 10
Value for Money - 9
---
Related Content: travel review England Courses
What do you think? leave your comments below (Comments)
---
Leave your comments below
comments powered by

Disqus
Plan Your Next Round
Dudley Golf Club
West Midlands
from £9.00
Save 24%
Marriott Forest of Arden Golf Club
Warwickshire
from £17.00
Save 20%
Bromsgrove Golf Centre
Worcestershire
from £7.00
Save 25%
More Golf Course & Travel Features
Plan your next golf break with Golfbreaks.com