Dunston Hall Stay & Play Review
By: Derek Clements | Tue 08 Sep 2020 |
Comments
---
Dunston Hall is not your typical golf resort. Located on the outskirts of Norwich, it features an impressive English country house set in 150 acres of stunning woodland. Built in 1859, the Elizabethan mansion has been fully restored, mixing original and contemporary features in a seamless manner.
It comprises a hotel with 166 bedrooms, three dining rooms, a selection of bars with spectacular views, a spa, swimming pool, gymnasium and a beautiful 18-hole parkland golf course.
Like every other hotel and resort, Dunston has faced challenges because of Covid-19 and social distancing measures are currently being strictly enforced.
The Hotel
Each bedroom features high ceilings, elegant furnishing, authentic period features and many also have four poster beds. The deluxe rooms are located in the executive wing and are modern in design, all boasting plenty of space, which makes them perfect for either leisure or business stays. All guests are entitled to complimentary use of the hotel's leisure club, and all rooms come with air conditioning, en suite and luxury toiletries - a real home from home. We spent our stay in a luxurious double room with two double beds and a huge amount of space. It was stunning. There are also suites, family and superior rooms.
The suites are located within Dunston Hall and all come with views of the golf course and the countryside beyond. They also have separate lounge areas.
The Food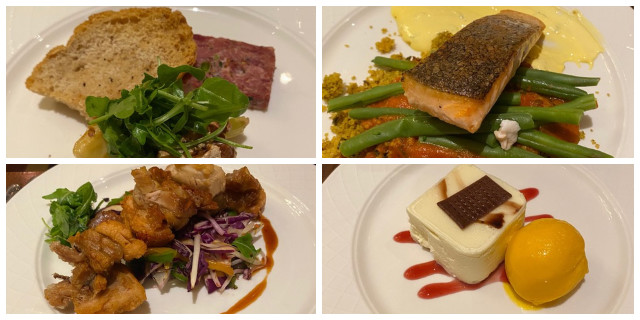 Dunston Hall provides three dining options. The Brasserie restaurant offers breakfast and carvery buffet selections, the Garden Terrace Bar offers lighter bites and drinks from 9am, with views looking out over the beautiful gardens and, finally, Bunkers Bar, provides light meals, drinks and views over the golf course. A traditional afternoon tea features finger sandwiches, home-made scones and a selection of desserts, served in the Snug Bar which, once again, offers views of the gardens.
We had dinner and breakfast in the Brasserie restaurant. The first thing that needs to be said is that the delightful staff were friendly and welcoming and couldn't do enough for us, while ensuring social distancing measures were enforced. We felt completely safe but relaxed during our stay. And the food was amazing. The menu features fresh local produce and the burger and salmon we had were delicious - and the all-you-can-eat full English breakfast was to die for.
The Spa
The Lilac Room, which has six treatment rooms, is where guests go to relax and be pampered. There is a huge choice of treatments, including facials, massage and specialist treatments, including Nora Bode Oxygen Oxygen Facial, the Shrinking Violet Inch Loss Wrap, microdermabrasion, manicure, pedicure, Gelcolour and lash tinting.
We opted for a neck and shoulder massage, the perfect way to unwind. I spend a lot of time hunched over a computer. As a result, I suffer a fair amount of discomfort in my neck and back - a massage is the ideal antidote to the stresses and strains of modern life. It was wonderful. We felt utterly relaxed and struggled to stay awake during what was a truly wonderful experience.
The Swimming Pool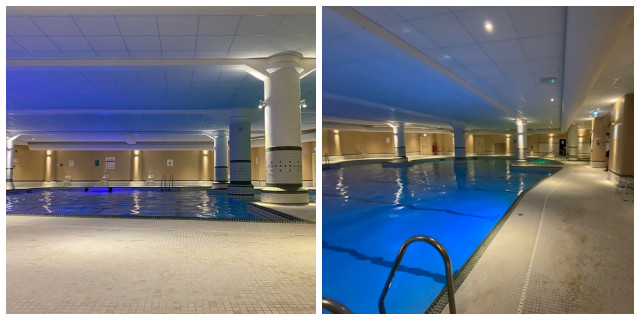 During my visit, Covid restrictions were still in place, meaning that it was necessary to book a pool time and arrive ready to swim in the delightful pool. The changing rooms and lockers were not in use but that did not spoil the experience. We were asked to turn up ready to swim and then returned to our room to change. If there is a more beautiful hotel pool then I haven't seen it. There is also a fully-equipped gymnasium, with staff on hand at all times to offer guidance and advice.
The Golf Course
6,179 yards, par 71
Parkland
This is Dunston's jewel in the crown. Many resort golf courses turn out to be a deeply disappointing experience. Not Dunston Hall, which somehow seems to have found a way to keep both hotel guests and members happy.There is a 22-bay floodlit driving range, practice putting green and an undulating pitching green with bunkers filled with proper sand.
It is a delightful parkland course that provides a challenge to golfers of all standards. The first thing to say is that I have played here several times and have always been impressed with the condition of the course. The fairways, greens and bunkers are beautifully maintained and there are many gorgeous water features that can destroy a good score.
The first hole is a short par four, but don't be fooled. It is a dog leg and you simply must choose the right club to give yourself a chance of finding the heart of the green. Go too far left and you will be chipping out sideways. And even if you do find the short and prepared, you need to be precise with your approach as a watery grave awaits. The third hole is another par four, measuring nearly 400 yards, featuring a blind tee shot over the brow of a hill. There is trouble left and right and if you hit the ball too far it will find a lake at the bottom of the hill.
One of the features of Dunston Hall is its par threes, and the fourth hole is one of the best. It measures 185 yards and plays uphill to a tiered green that slopes from front to back, and there are plenty of bunkers to avoid. The fifth is a short par four that can be reached from the tee but you MUST avoid the cavernous bunker that guards the left side of the putting surface. End up in there and you could spend the rest of the day trying to escape. The key is to come in from the right side, with the fairway sloping from right to left. An obvious birdie chance.
The signature hole is the sixth, a par four measuring 400 yards. Finding the fairway is vital, but be sure to avoid the bunker on the right. The second shot will be a long one over a lake to a green that is well protected by sand. The eighth hole is another short par four of 270 yards, with trees down the right side and thick rough and saplings to the left. Big hitters will have a go at the green but you need to be accurate. Find the green in two and beware of the sloping putting surface - this is a birdie opportunity but is a also a potential card wrecker. The ninth is another great par three measuring 169 yards. Surrounded by trees, the green slopes from front to back and the absolute key is to ensure that you leave yourself an uphill putt.
The 10th is a cracking par four, with trees on the left and bunkers on the right. You must find the left side of the fairway as the green is protected by a huge tree. The 11th is another tree-lined hole with a narrow fairway, leaving an approach to a small green protected by a pond. The 15th is a challenging par five, measuring 547 yards and, once again, the drive is the key shot. A huge lake lies in wait for a slice, while there are trees on the right and left. The second shot plays uphill, leaving an approach to a large green that is well protected by bunkers.
The 16th is the best hole on the back nine, a par four measuring 425 yards from the back tee. It is a blind drive over a hill and, yes, there are trees right and left. Find the middle of the fairway and you will have a downhill lie for your approach, which is played over another lake to a huge green that slopes from back to front. Do not leave yourself a downhill putt. The 17th is another par five, this one measuring 554 yards from the back tees. Out of bounds and thick rough lie in wait on the left but you will want to favour the left side because the fairway tilts from left to right. An accurate second is required before an approach to an elevated green that is protected by bunkers, with water short left and right. The closing hole is a magnificent par three played to a green protected by a pond to the front, with sand at the back.
For more information on Dunston Hall, visit https://www.dunstonhallhotel.co.uk/golf/.
---
Related Content: Stay Play review England Courses course
What do you think? leave your comments below (Comments)
---
Leave your comments below
comments powered by

Disqus
Plan Your Next Round
Ardglass Golf Club
County Down
from £22.00
Save 50%
Castlerock Golf Club
County Londonderry
Galgorm Castle Golf Club
County Antrim
from £13.00
Save 23%
More Golf Course & Travel Features
Plan your next golf break with Golfbreaks.com