Discover Golf in Tuscany
By: Andy Waple | Mon 21 Oct 2019 |
Comments
---
Golf is not an activity readily associated with the average Italian and few would have predicted the country would ever host the Ryder Cup.
Yet the nation largely famed for its food, wine, football and politics as divisive as our own is set to stage the biggest golf match on the planet in 2022 at Marco Simone Golf Club on the outskirts of the Italian capital Rome.
Italy is hardly a major destination for golfing trips by the 70 million-plus existing golfers worldwide either, so it may come as a surprise to many to learn that more than 400 golfing venues and 140 championship courses with 18 holes or more are spread across the land.
One that is beginning to secure its position on the radar of the European travelling golfing fraternity is the Il Pelagone Hotel & Golf Resort in Maremma, a region of Tuscany about 90 minutes' drive from Pisa Airport.
The future of the resort – complete with course and hotel apartments - was cast in doubt a few years ago when its Austrian operator went to the wall.
It was rescued by German retail developers FCR Immobilien which bought the property last summer and has started to inject funds both on and off course.
The golf course, known as Golf Club Toscana, was completely revised and new golf machinery and golf carts bought. Additional greenkeepers were hired to ensure good playability throughout the year and next year the water supply will be improved.
The overall impression a golfer will take away from this course is of the outstanding natural beauty of its landscape. Situated a little inland from the Mediterranean it runs over rolling countryside dotted with Tuscany's trademark trees – the tall, cylindrical cypress pines and the flat-topped umbrella pines. Fairways pass vineyards and olive groves, and gorgeous hillside properties with terracotta roofs, pink and orange rendered walls complete the picture of Italian countryside at its finest.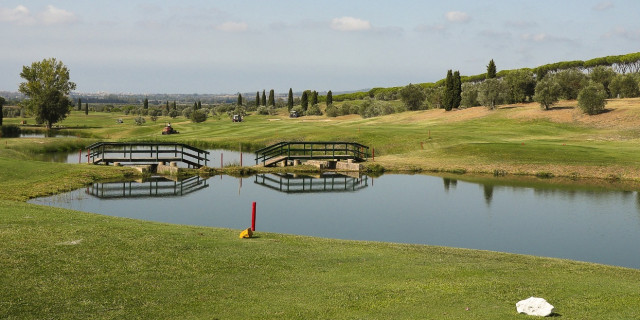 This is a tourist course, rather than a grueling championship masterpiece, yet there is plenty of variety, interest, and several holes that will test players of all abilities. Water comes into play on several holes and the greens are well kept and were slick when we played in September.
The first is a pretty hole with a fine view of the forested hills in the background, with a wide, flat fairway but water running down the right in play from the tee shot and on the approach.
After a reasonably gentle start, the course starts to toughen up from the 5th where the tee shot needs to play to a sloping fairway with water on the right.
The signature hole follows on the next, a stunning looking par 5 with water everywhere from the tee and beyond. The par 5 9th earns its stroke index 1 status due to its length at almost 550 yards, undulating fairway, and very well bunkered elevated green.
The halfway house situated next to a very impressive private property gives you chance to regain your composure before starting the back nine with a drive over a waterfall. The approach shot is again to an elevated green on this very impressive and visually stunning hole.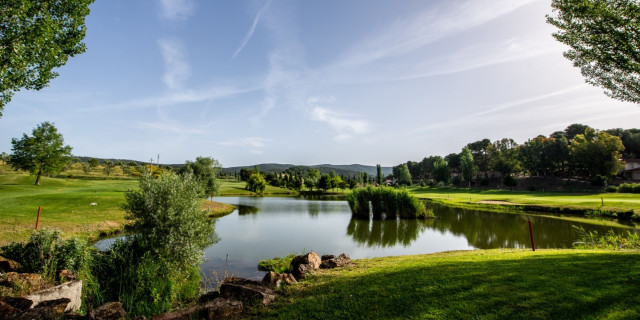 After an easy par three there follows a series of interesting holes before you reach the 16th, another par 3 which is much more demanding than the earlier one-shotter. This time instead of a downhill flick with a wedge you are faced with a 180-yard tee shot to a green that has very little bale out.
Golfers finish their round from the 18th tee where in good weather you are given splendid views of the islands of Elba and Corsica beyond.
About 30 minutes' drive towards the coast brings you to Golf Club Punta Ala situated amid a dense oak forest outside the prosperous seaside resort of the same name. Il Pelagone is working to formalise a link so golfers can easily play both courses, adding to the appeal of a golfing trip in this region.
The course weaves through the trees and navigates a deep gorge in the hills – in complete contrast to Golf Club Toscana in appearance and lay out. It makes up for its lesser panoramic beauty by its challenge – it is a tough course to master and some of the par 4s are possibly out of reach for many if not most, notably the 410 yard 8th, which plays steadily uphill from tee to green, and the 460 yard 12th, a long par four that doglegs right and slightly downhill to a sand-protected green. The 3rd, 5th, and 18th, are equally challenging holes, although you may get a little frustrated by the lone, very large oak trees that inhabit the fairways just in your line of play.
There are perhaps too many doglegs here although it features some very enjoyable holes– the 1st, and 7th, give the best open views from elevated tees and the 9th gives the best chance of a birdie in front of the clubhouse verandah.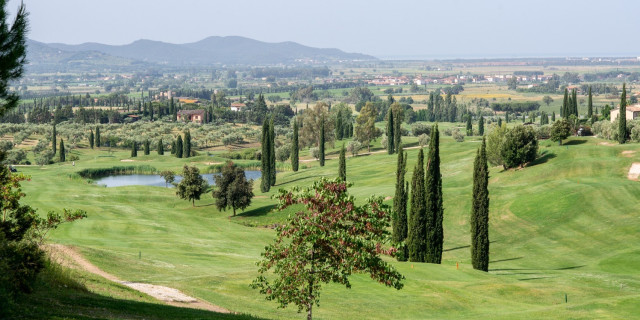 Il Pelagone Off Course:
Accommodation:
Occupying a large hillside site the resort's accommodation comprises of roomy four star apartments with a small kitchen area. These are currently undergoing phased modernisation along with the public areas and restaurants.
A complete reconstruction of the reception is planned as well as a new golf club house with pro shop and storage area for clubs.
In 2021 the owners will enhance the two restaurants and the large swimming pool before a new hotel complex with up to 300 beds gets underway the following year.
The works underway are not impinging on the resort operations and guests will not be disturbed.
Gastronomy:
There are two restaurants on site – the poolbar that serves as the clubhouse diner and the more formal Le Cerretelle. The quality and variety are very good at both. Not many 19th holes can turn out a seafood salad to match the one we enjoyed.
Wine Tasting:
Tuscany is famed for its wines and those from the Maremma region are no exception. The local boutique winery, Azienda Agricola Valentini http://www.agricolavalentini.it.
is it only a few kilometers from Il Pelagone and a tasting session there is highly recommended. Tastings are also held at the resort.
Cycling:
If you want to sample the delights of the local countryside without traffic off road e-biking is tremendous fun. Ask at reception for availability and routes.
Beach:
The resort's private beach with new changing rooms, toilets, and showers, is 18 k away.
Spa:
The resort has its own spa offering the usual treatments.
Out and About:
La Maremma, until the Middle Ages a mosquito-infected marshland, is now a hotbed of tourist delights that pleases so many senses. Visually it is stunning, with mediaeval properties, olive groves, vineyards situated amid glorious rolling hills rising from the flat coastal plain. Scents of wild herbs and flowers waft from the countryside and kitchen aromas leave your mouth watering at every turn. Culture vultures can head off to Pisa, Sienna and the many hilltop towns that dot the land.
Factfile
For further details and to book direct visit https://www.ilpelagone.com/?lang=en.
https://www.golfbreaks.com offer a range of stay and play packages in Tuscany and worldwide
Flights to Pisa and Rome are widely available from UK Airports
Holiday Extras https://www.holidayextras.co.uk is the market leader in UK airport parking, hotels, lounges and transfers. Booking Meet and Greet Parking ensures that you can enjoy more holiday without the hassle.
---
Related Content: Tuscany travel Italy
What do you think? leave your comments below (Comments)
---
Leave your comments below
comments powered by

Disqus
More Golf Course & Travel Features
Plan your next golf break with Golfbreaks.com
Travel Deals Newsletter
Save up to 50% on golf breaks!
Join Today »