Quinta do Lago Laranjal Course Feature Review
By: Golfshake Editor | Mon 30 Sep 2019 |
Comments
---
Review by Golfshake's Kevin Paver
---
The Laranjal is the newest course to join the Quinta do Lago family, and was always going to need to shout loudly with its fellow family courses, the North and South already well established. Opening in 2009, Laranjal was designed by Portuguese course architect Jorge Santana da Silva, and clearly, he did a fine job as it was awarded 'Best Golf Course' at the Portuguese Travel Awards in 2011.
Previously, an orange grove, (hence Laranjal) the 6,500-yard course is real test. With a choice of tees, including black championship tees (increasing to just over 7,000 yards, but you need some game if the wind blows!), you can decide how hard you want to make it.
Pre Round Thoughts
Despite the short drive east (around 2km) from the other two Quinta Do Lago courses, it still oozes the same class and is very much a part of the 'Quinta' family. As with the other two, as you arrive you receive the same warm welcome from the staff as they direct you to check in at the well-stocked pro shop. There's also a nice restaurant to get your pre round fuel up whilst you look over the score card of this par 72 course. Get there early in the morning and have a coffee and they serve it with a rather lovely (and very addictive!) Mini pastel de nata (Portuguese tart).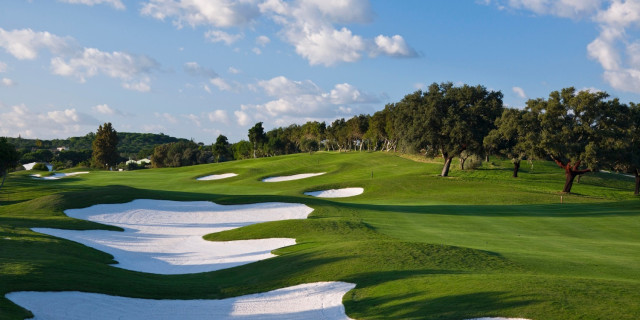 Front 9 Overview
Once you have the scorecard in your hand, the first thing you'll notice is the somewhat unusual configuration of holes – five par 5s, 8 par 4s and 5 par 3s, but don't let that put you off.
The front 9 at Laranjal eases you in beautifully with the par 4 1st and continues in the same vain until you reach the 5th. At 391 yards (from the gold tees) it's a hole that really gets you excited and is also one where you'll need your best drive. From an elevated tee you need to feed your ball between the trees to the lush fairway, before looking left towards the green. It's one of those tee shots that you wish you could watch in slow motion, providing you didn't hook it left of course! With bunkers left and right of a large undulating green, this is one to savour.
The 7th is a beast of a hole, and one of the toughest par 3s you'll play. 224 yards with pine trees left and bunkers right, you need a big brave hit, especially if you have a crowd watching! Once you've hit the green and holed out for par, you'll feel pretty damn proud of yourself!
The 9th is a fabulous hole. It's probably my favourite on the course and a fantastic way to end the front 9. A par 5 at just 470 yards from the tee, but don't think that makes it easy. As you tee up your ball and survey the dogleg left, you'll first notice the trees to the left too. Once you've played up the right of the fairway, you then have to go the other way with water to the right! If you're striking it well, and are feeling particularly brave, you can reach in two, but the sheer amount of water makes you really think about your shots, and more than likely get there in three.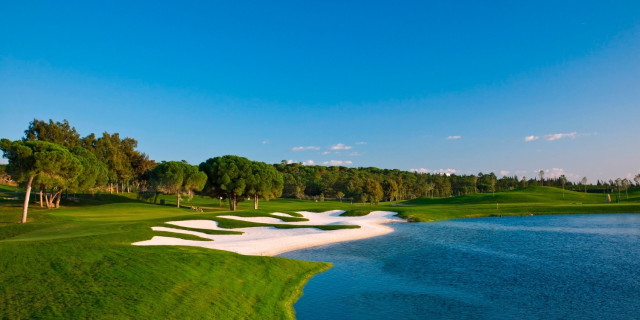 Back 9 Overview
The 11th really is something special. It's easy to see why this 180-yard par 3 is a signature hole on the course. As you tee up your ball, you see the huge lake to the right of the hole and the famous 'beach bunker' running alongside. You almost want to hit the bunker it looks so inviting, well, maybe not, but you get the idea! Make it onto the lightning fast sloping green and make par - a great result on this hole.
The 544-yard 16th is another double dogleg. Tee off with water to the right, all the way up the fairway. If you've hit a great tee shot, you might think about going for the green in two, but it's a very brave shot as you'll need to carry a small lake to an elevated green. Chose to lay up, even the third to the green can make you feel a little nervous! Fabulous hole.
Verdict
What a stunning golf course Laranjal is, and very much under rated in the Algarve. Every single hole is well thought out, and the landscaping and detail is superb. We played out of season (August) and the condition was still absolutely fantastic. There are some great opportunities to score well, even if you have a high handicap, and there are also some real risk reward shots too for the better player.
Maybe because Laranjal is a little further out than the others, it almost feels a little left out of the party. But, I kind of liked that about it as it almost feels like you've discovered a hidden gem.
Of the three Quinta Do Lago courses, I think Laranjal was my personal favourite and if you play here, I'm sure you'll feel the same. It's one you'll want to come back to, and not just for pastel de nata!
OVERALL RATING – 10
Course (Conditions) - 10
Course (Hole Variety/Layout) - 10
Course (Green Condition) - 10
Course (Challenge/Difficulty) - 9
Club Facilities & 19th/Clubhouse - 9
Practice Facilities - 9
Friendliness/Hospitality - 10
Pace of Play - 10
Value for Money - 10
---
Related Content: travel review Quinta do Lago Portugal course Algarve
What do you think? leave your comments below (Comments)
---
Leave your comments below
comments powered by

Disqus
More Golf Course & Travel Features
Plan your next golf break with Golfbreaks.com
Travel Deals Newsletter
Save up to 50% on golf breaks!
Join Today »