Patshull Park Hotel Golf Country Club Feature Review
By: Melvyn Davies | Mon 09 Sep 2019 |
Comments
---
Review by Golfshake Ambassador Mel Davies, September 2019
---
Patshull Park is a beautifully mature 18-hole parkland golf course set on the Staffordshire/Shropshire border. There has been a golf course on The Estate in an area known as High Park since the beginning of the 20th Century, the present course was designed by John Jacobs and opened in 1979. it is an 18-hole, par 72 6,329 yards off the whites, 5,564 yards par 73 off the reds, rated Highly Recommended on Golfshake.
The course enjoys superb views of the countryside with a splash of water. There is excellent Mens, Ladies, Senior and Junior memberships along with free junior coaching that takes place on various Saturdays in the calendar with Head Professional Richard Bissell.
Pre-Round Thoughts
Having played here a good few times before I knew what to expect. It's always a well-presented course with some great holes including a few with water not far away, which personally I like. A friendly welcome always awaits from the pro shop and also the members on and around the course.
There is a practice net next to the putting green and if you don't mind either a short drive or a 10 minute or so walk there is an ample sized practice area near to the 13th tee. We had a nice bacon sandwich and coffee upon arrival after a friendly welcome from Club Captain and Head Greenkeeper Mal Mitchell.
The course looked in great condition as we drove down the lane, so I was really looking forward to what lay ahead.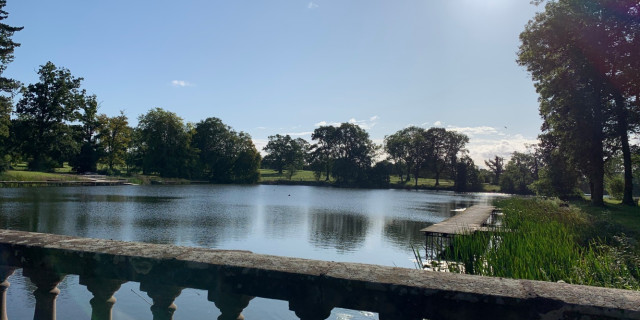 Front 9 Overview
A tough par 4 starts the front nine where a par is a great score down this tree lined hole. The 2nd is the only par 3 on the front and an accurate mid iron is needed to avoid the bunkers and get on the correct level. Two par 5s then follow, the first runs alongside the water "The Great Pool", then you walk over the bridge crossing the water to the next, both great holes that can offer up a birdie if played well but any errant shot can lead to a big number
The holes through the 5th and 9th are all par 4s with the 5th being the longest at 374 yards, the 7the shortest at 307, but don't be fooled as birdies can be gained but straight tee shots are needed followed by accurate short irons/pitches to well protected greens.
This to me highlights that you don't need 400+ yard par 4s to make a hole challenging. You get some great views looking down across the course and into the surrounding countryside. There is plenty of water and numerous bunkers to keep you on your toes, all well placed and of great quality and consistency.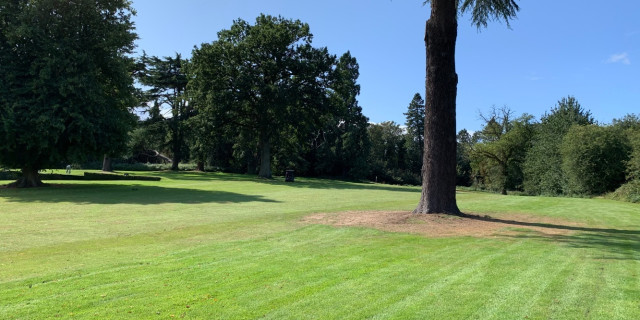 Back 9 Overview
The back nine starts with a short par 3 that has quite a large green, but you can't see a lot of it as it plays slightly uphill and has two bunkers short for anything coming up short. The 11th and 12th are two tough and tight par 4s that require a good straight tee shot followed by a mid to long iron to two greens protected at the front by a bunker, the one on the 12th stood out to me as it had a little grass island in the middle, which I personally thought was a great feature.
The 13th and 16th are vying as the signature hole in my eyes. A tee shot over the water to a reachable green can lead to a birdie or possible eagle, but again well-placed bunkers short left and right and some large trees can swallow up your tee shot. The 14th is a great par 5 where you tee over the 'lagoon' to quite a generous fairway and then you have the choice of going for the green in two over the ditch or laying up. Yet again the green is protected by bunkers left and right and a large tree to the right, another hole that can easily lead to birdies or much worse.
The 15th is a dog-leg right which is a proper risk/reward hole, take on the corner and out of bounds and get on or close or play to the corner leaving a mid-short iron. The 16th is a truly great hole! A straight but not necessarily long tee shot is needed to leave a mid-short iron into a green with trees left, right and behind and water short left, the green slopes from back to front so getting the ball below the hole is the order of the day. The third and final par 3 is the penultimate hole before the short walk to the 18th hole, which at 438 yards with trees lining both sides (as is the case on the whole course) makes this a great and challenging closing hole.
There is a great mix of holes here, some short some long. Plenty of trees, bunkers and a decent sprinkling of water make the whole 18 holes thoroughly enjoyable and playable for all levels of golfer.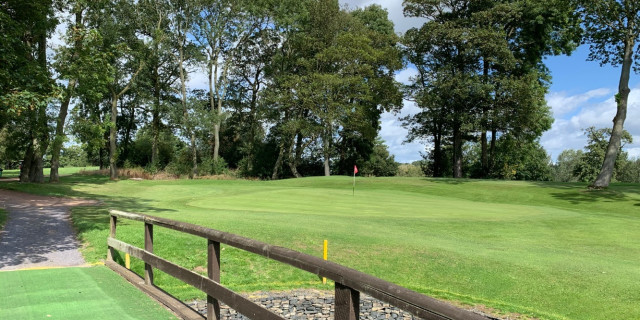 Post-Round Thoughts
As I said I've played here a good few times before, but this was the best I've ever seen the course and it has always been in great condition. The bunkers all looked and played well with a consistent layer of sand in them all. The greens ran true and fast. The fairways had a nice layer of grass and looked fantastic.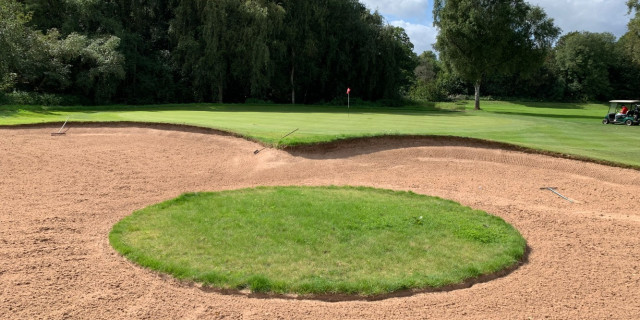 Verdict
Patshull Park is a course that you can see has been well looked after and the staff and members have a course to be proud of. A truly great mix of holes that would make you want to come back to play again. At around £20 the value here is superb.
Overall Rating - 9
Course (Conditions) - 9
Course (Hole Variety/Layout) - 9
Course (Green Condition) - 9
Course (Challenge/Difficulty) - 8
Club Facilities & 19th/Clubhouse - 8
Practice Facilities - 8
Friendliness/Hospitality - 10
Pace of Play - 9
Value for Money - 10
---
Related Content: travel review England Courses
What do you think? leave your comments below (Comments)
---
Leave your comments below
comments powered by

Disqus
Plan Your Next Round
Cannock Park Golf Club
Staffordshire
from £7.00
Save 7%
Ingestre Park Golf Club
Staffordshire
from £20.00
Save 30%
Stafford Castle Golf Club
Staffordshire
from £10.00
Save 22%

More Golf Course & Travel Features
Plan your next golf break with Golfbreaks.com
Travel Deals Newsletter
Save up to 50% on golf breaks!
Join Today »