Selsey Golf Club Feature Review
By: Will Trinkwon | Wed 21 Aug 2019 |
Comments
---
Review by Will Trinkwon
---
Selsey Golf Club is a small but quality 9-hole links course, situated in the coastal village of Selsey, Chichester. The club has a Highly Recommended rating from Golfshake members, 93% of which say that they would play it again or recommend it. Its average rating is a solid 3.82, which is an impressive score for what, despite the old trick about multiple tees, is really a 9-hole course. Golfshake contributor Will Trinkwon took to the links to see what the hype is about.
The club began life in 1908, when its 9 holes were set out by the 20th century golfer and course designer J.H. Taylor. It was later extended to 18 holes in 1910. Recognising the course's quality, the links was then purchased by the soon to be Open champion Max Faulkner in 1949. It was then sold on to a series of holiday complexes who developed it alongside holiday chalets which are still tied to the club today. In order to accommodate the chalets, the course was reduced to 9 holes. At 5,833 yards for 18 holes from the white tees, Selsey is not a long course on paper. A par of 68, however, means that this still represents a stiff test.
Pre-Round Thoughts
Selsey's clubhouse isn't the biggest or grandest of buildings, but it's well-furnished and has a real homely charm. Though it encourages regular visitors, the club is a member's club at heart and there's always a few regulars hanging around the bar! In contrast to its slightly workaday exterior, the inside of the clubhouse is lovely. Rustic competition boards line the walls and the atmosphere reminds me of a friendly old pub. It's no doubt a great place to relax after the round.
In terms of a pre-round warm up my options were a little limited. While there is a practice range, it's a long way away from the first tee. It's also quite basic – it's essentially just a large field – and while the fact that it's 'hit your own balls' will appeal to some (no shelling out £5 for a handful of range balls!), it's a bit of a faff to be ball-picking before a round. Fortunately, there are also a couple of nets just outside the pro shop, so I avoided a trip to the range. There's also a very serviceable putting green, though no dedicated chipping one. Only a small portion of the putting green can be chipped on, which makes short game practice difficult.
The pro shop itself is small (there's a bit of a theme here!), but surprisingly well-stocked for its size. It's also exceptionally welcoming. The professional, Gary Hughes, is a friendly and knowledgeable guy, who treats you like a much beloved member as opposed to a more expendable 'visitor'. A couple of Mars Bars (very reasonably priced!) and a drink and it's off to the 1st tee.
Course Overview
Selsey begins with a gentle par 4 (well, relatively). Gorse and out of bounds spans the right, but there's plenty of room out left to ensure that this shouldn't come into play. The fairway is also wide. However, with the prevailing left to right wind, my drive came nearer the gorse than I would have liked – hit a slice and you're reloading. Not much else to be afraid of here, providing you hit a good tee shot.
The 2nd is a par 5 and a great risk and reward hole. Again, the onus is on a good tee ball. The hole doglegs sharply from left to right and big hitters can try and bomb one over the corner. Come up short, however, and you're out of bounds. For everyone else, the play is probably a hybrid or long iron down to the corner, another one just short of the green and a pitch and two putts. The approach, however, is far from straightforward. Like all of the greens at Selsey, the 2nd green is claustrophobically small, and slopes off wickedly on every side. And, as I found out to the ill health of my scorecard, its easy to three putt too.
The 3rd is a short par 3 – only a wedge or a 9 iron for most players, but another small green makes this trickier than you would think. A large bunker will catch anything too short, and another awaits a tee shot pushed right. A pretty little hole, and well-designed.
I said earlier that Selsey's par of 68 is much tougher to better than you might expect. The reason is because of the next two holes. The 4th and the 5th are par 4s but play more like par 5s. Both are around 450 yards long, slightly uphill and play straight into the prevailing wind. As if this wasn't enough, they're also distressingly tight. The 4th isn't so bad – you can bail out left throughout – but the fifth is exceptionally narrow. Any hint of a slice, on either your tee shot or your approach shot, and you're out of bounds. But go left and you'll probably be in a water hazard. Bogies on these holes feel like pars, and if you're even 5s for 9 holes or 18 then you're doing sublime.
The 6th offers a welcome break after the two long holes. At just under 300 yards, it can be reached with a strong drive. Like the 5th hole, however, this one is narrow. Gorse left and gorse right means that if you err from the short stuff then you're in trouble, and even shots down the middle of the fairway are in danger of being guzzled up by multiple fairway bunkers. The green is defended by two more traps, but this should be a comfortable par, perhaps even a birdie if you play it well.
Another par 3 hole, the 7th is a trickier test than the 3rd. It's not long, measuring 154 yards, but with a cross wind and a semi-blind tee shot, it can be difficult to hit the green. Bunkers and gorse surround the putting surface and add difficulty to an up and down. A much tougher hole than it initially appears.
The 8th is another shortish par 4, which features a drive over an infamous local landmark, called Davison's Pool. The Pool, created from a 64-foot bomb crater made during World War Two, isn't really in play from the tee shot, but psychologically unsettles you and makes what should be a relatively straightforward drive play more difficult. Again, anything sprayed left will find gorse and long rough. Go right and you're flirting with out of bounds. The approach shot is similarly testing, and is fired to a small and hard green which will reject anything not coming in with enough height. Out of bounds lurks long, but the real danger is two bunkers short left and one to the right. Find these, as I did, and par will be the last thing on your mind.
Like all good courses, Selsey boasts a strong finishing hole. The 9th is a par 3, but at 184 yards (211 from the 18th tee), often into a stiffening breeze, it's a difficult hole to hit the green on. A tree and bush smattered burn hides the green and, depending on the pin position, the flag, from sight, so, to add insult to injury, the tee shot is partially blind. Anything low will clatter into the trees and the brook, so clubbing up is probably wise. The green is two-tiered and full of subtle slopes. A testing end to a testing 9.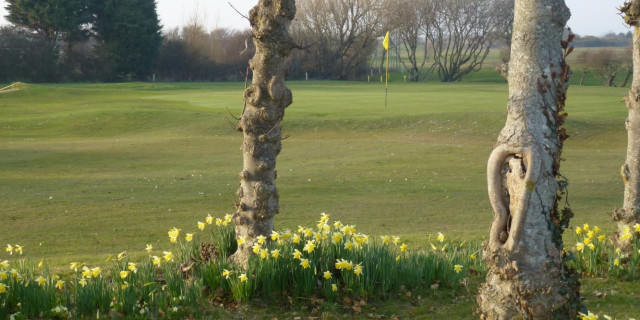 Post-Round Thoughts
Selsey Golf Club has a great reputation among Golfshake members, and it's easy to see why. The course is a really quirky little layout with a good combination of scorable holes and ones with some bite. The course's multiple tee positions mean that you get some variety if you go round for a second 9 (competitions are played over 18 holes). However, there isn't really much change between the two 9s, and I think that it's right that it's not marketed as a full 18. Players who prefer the experience of 18 holes are unlikely to warm to Selsey's course. But for those with a more open mind, Selsey's 9 holes offer plenty to enjoy. Especially in summer, the course is surprisingly pretty – the gorse contrasts well against the scorched brown fairways and there's enough rough to keep everything well-defined. Its fairways and greens were in good shape, and the course as a whole is well-designed. I was also blown away by the green fees. 9 holes midweek comes for only £10, and 18 is only £4 more. This represents exceptional value, especially for a course of such quality!
Verdict
This is a really very good links type course, which I really enjoyed visiting. The practice facilities are a little underwhelming, but the course itself offers nine varied holes, which will keep even the most seasoned of players in line. A tough test when the wind blows and a lovely little find.
Top Tips
Off the tee, left is almost always better than right. Players should avoid hitting a slice, or their score will be high.
Keep your ego in check on the 4th and 5th holes. Both of these are card killers and are best played conservatively. Aim for two 5s!
Make sure you get over the brook on the 9th. It's easy to underclub and there's no prizes for coming up short.
Overall Rating – 7
Course (Conditions) – 7
Course (Hole Variety/Layout) – 7
Course (Green Conditions) – 6
Course (Challenge/Difficulty) – 7
Club Facilities & 19th/Clubhouse – 7
Practice Facilities – 3
Pace of Play – 8
Value for Money - 9
---
Related Content: travel review England Courses
What do you think? leave your comments below (Comments)
---
Leave your comments below
comments powered by

Disqus
Plan Your Next Round
Bognor Regis Golf Club
West Sussex
from £35.00
Save 35%
Goodwood Golf Club
West Sussex
Avisford Park Golf Club
West Sussex
More Golf Course & Travel Features
Plan your next golf break with Golfbreaks.com