Bamburgh Castle Feature Review
By: Robert Treanor | Fri 02 Aug 2019 |
Comments
---
Review by Golfshake Ambassador Rob Treanor, July 2019
---
Bamburgh Castle is often cited as the most scenic golf course in the UK. Golfshake members have been very impressed with the clifftop course, resulting in the club achieving Highly Recommended status. Making his way up to Scotland's Golf Coast, hear what Golfshake Ambassador Rob Treanor made of this Bastion on the Border.
Pre-Round Thoughts
Bamburgh Castle Golf Club was founded in 1904 by castle owner Lord Armstrong who had a vision to increase tourism in the area. Situated on the very edge of the Northumberland coastline, architect George Rochester was commissioned to put the early course together using a very natural use of the rugged yet beautiful landscape. Once ready for play, the forward-thinking Lord Armstrong had his ten-year-old daughter hit the first tee shot at the club, which also hosted a mixed open during the week-long festival to mark the club's inception. This club has since enjoyed a rich, if turbulent history.
Today the clifftop gem measures 5,645 unspeakably beautiful yards. Bernard Darwin is quoted as saying "there may be prettier golf courses, but I really don't think I have ever seen them". The charming clubhouse which served briefly as a radar station during the Second World War processes arriving golfers before they are unleashed to enjoy the scenery and perhaps a little golf too.
Front 9 Overview
The cracking opening shot plays from just outside the clubhouse to the soundtrack of the waves which gently lap against the cliffs below. It feels as though this shot is played over a much larger chasm than it really is, though as well as the North Sea; golfers may also entertain an audience of walkers who share the footpath which runs parallel to the hole. There is a tremendous amount to take in from this tee box, not least of which the 182 yards to the flag. This raucous par three gets things off to a racing start!
The par threes are the standout holes on this stunning golf course. The demanding 6th is played from a relatively sheltered tee box up to the top of the landscape. As well as factoring in the ascent, accounting for the wind which blows stronger on top of the hill means that anything less than a very well-judged shot will be rebuffed! An excellent test which is graded as stroke index 1, this is a windswept and very interesting hole!
The signature 8th is an unbelievable golf hole. Bernard Darwin described the course at Bamburgh Castle as "mountain golf" and this eloquent expression was likely directly linked to this strong par 3. At 161 yards, the island green is half hidden behind a rockface which can almost fully shield a pin tucked to the right. The challenge on this hole is not posed by length but precision, making it a really, really good golf hole!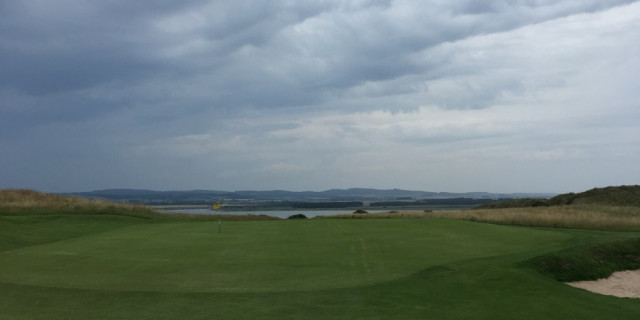 Back 9 Overview
The rumbles and ripples of the landscape serve as a reminder that the land here existed long before the golf course. The 11th is a fantastic driving hole which is played over a gorge before winding round to the left. The only dogleg to speak of on the course, there is OOB long of the green which is framed to the left by a hill. A satisfying drive, a framed approach shot; it speaks volumes that even a hole from which the beautiful coastline is not visible is still a real beauty.
The views from the elevated tee box on 15 are possibly the best on the course. No fewer than five castles can be seen from this vantagepoint on clear days. The tee shot is played to an inviting fairway below before giving way abruptly to a gully. The second shot is played over this natural feature to a good-sized green, though the wind and elevation change require thought making this a real thinking man's golf hole.
Bamburgh Castle comes into view beautifully on the par four 16th. The green is framed by the high ground on either side on a hole which twists and turns. It is impossible to capture just how wonderful this vista is which definitely makes focusing on this short hole more challenging. There is a sequence of risk reward shorter holes towards the end of the circuit which may yield birdies to those who can take their eyes from the views.
Post-Round Thoughts
After just a few holes, I knew Bamburgh Castle would be one of my favourite golf courses in the world. Beautiful and brilliant, it has all of the character and charm that a course which traces its history back to 1904 should do. Tremendous fun to play, length is no great advantage here- instead golfers will need accuracy and shot making ability to perform well on this old-fashioned clifftop blockbuster.
Despite its traditional charm, the club is progressive in its approach and is halfway through a project of upgrades with McKenzie & Ebert who were responsible for the exceptionally well received new holes at Royal Portrush. This new bunkering and hole redesign is sympathetic to the original design principle of making the most of the natural landscape.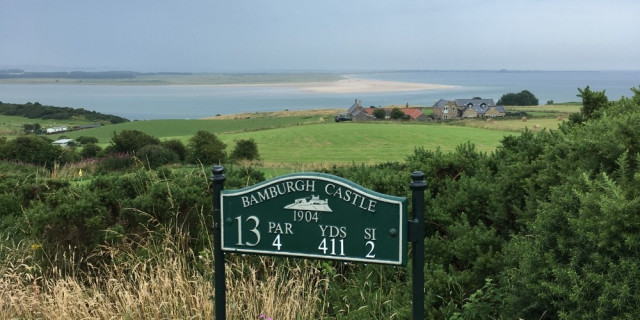 Verdict
Bamburgh Castle was everything I wanted it to be and more. Charming, picturesque and wild, we had sun, wind and rain for company at different stages, all of which added to the experience. There is a good spread of short and long holes here though it is the par threes which will live long in the memory. I simply cannot wait to return to this golf course.
Top Tips
Use a course guide or GPS such as SkyCaddie SX500 to help plan for the blind tee and approach shots.
Despite the forecast, pack for four seasons as you may well need it!
Get your hair cut ready for the inevitable selfies over the dramatic coastline which frames this beautiful course.
Overall Rating: 9
Course (Conditions): 9
Course (Layout/Variety): 9
Course (Green Condition): 7
Course (Challenge/Difficulty): 8
Club Facilities 19th/Clubhouse: 8
Practice Facilities: 8
Friendliness/Hospitality: 8
Pace of Play: 10
Value for Money: 10
---
Related Content: travel review England Courses
What do you think? leave your comments below (Comments)
---
Leave your comments below
comments powered by

Disqus
Plan Your Next Round
Percy Wood Golf and Country Retreat
Northumberland
from £11.00
Save 15%
Bamburgh Castle Golf Club
Northumberland
Goswick Links (Berwick) Golf Club
Northumberland

More Golf Course & Travel Features
Plan your next golf break with Golfbreaks.com
Travel Deals Newsletter
Save up to 50% on golf breaks!
Join Today »