Goswick Golf Club Feature Review
By: Robert Treanor | Thu 01 Aug 2019 |
Comments
---
Review by Golfshake Ambassador Rob Treanor, July 2019
---
Goswick Links in North East England is a top-quality course situated just a few miles south of Scotland's famous Golf Coast. Golfshake Ambassador Rob Treanor went to this Highly Recommended venue in July 2019, shortly after Open Qualifying took place to experience the course in top condition.
Pre-Round Thoughts
Goswick Links is a James Braid masterpiece which first opened in 1890. The club is an Open Qualifying venue for a five-year stint between 2018 – 2022 which speaks volumes about the quality of the course design and conditioning. Just a few miles south of Berwick-Upon-Tweed, the course measures 6,803 yards of world class links golf. The club has recently made significant upgrades to its clubhouse facility and some on course aesthetics including renovations to paths which are designed to encourage a more natural feel.
A given for a club of this stature is excellent practice facilities and Goswick plans to add to this further by adding covered bays to the extensive driving range. The club is extremely resourceful, having recently put together committees from their membership to mobilise skills such as marketing. The extremely friendly professional team includes Assistant Pro Eric who put together the excellent course guide by himself using his years of experience at the club. Eric cites number six as his favourite hole which is easy to see why.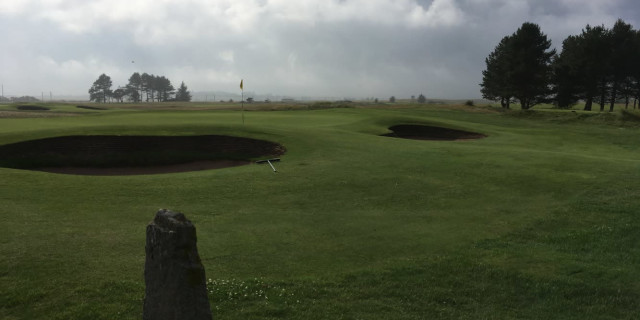 Front 9 Overview
It is simply impossible not to have a good time here. Sandy turf, wispy rough, riveted bunkers and buffeting winds make this a sensory experience to be savoured and enjoyed. Every hole is worthy of a detailed description in its own right, though it speaks volumes that 1 and 18 make the cut. The par four first is played from the clubhouse out toward the sea. Navigating around the only woodblock for what feels like a hundred miles, the opening shot needs to be long enough to gain visibility of the green around the dogleg, but not so long as to run out of fairway. Anything short on the uphill approach to the raised green will catch the runoff apron and travel back some distance to the fairway. What a hole. What a start.
All of the par 5s are fantastic though the 6th might (just) be the cream of a champagne crop. Played from an elevated tee box from the very boundary of the course, the beautiful dunes to the right of the fairway are all out of bounds. The fairway slopes from right to left initially, meaning judging a favourable landing point requires a lot of thought and no less skill. Depending on bravado, the next shot is either a tactful layup or a brazen whack to an elevated green which is well protected by three bunkers. A characteristic runoff protects the front and the green features several beautifully manicured layers meaning few putts here will be given!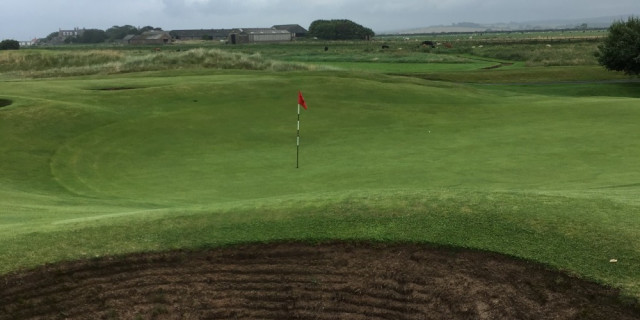 Back 9 Overview
Symptomatic of a classic links course, these two loops of nine sees golfers return to the clubhouse with a tail wind ready to take advantage on the following sequence of holes. The 12th is a unique and demanding hole which requires bravery and precision. Playing for position from the tee, the second into the flag is played over a large mound which completely blindsides the green. There is an extended apron at the front, though this generous feature is an unknown as golfers play a daunting approach from the fairway and hope for the best.
I could play the exquisite 15th all day, every day for a week and not tire of it. A stunning downhill par three played from an elevated tee box to a green protected by a steep bank to the front and five small, but wicked bunkers. There is no such thing as a boring green on this course, and the sculpting at the rear of the green on this 150-yard par three helpfully encourages the ball to return to the centre of the short turf. Tremendously enjoyable and unbelievably satisfying, I will play this hole over and over in my dreams.
The 18th is brilliant. A short par 4 which is played from a deliciously elevated tee box, as with most shots on the course; the hole is laid out in front of you allowing golfers to make an informed decision. The green is reachable from the tee, though the bunkering offers it military grade protection, so a long iron to the middle of the fairway setting up a short chip is a safer play. A distinctively beautiful, testing and enjoyable hole, it marks a great way to finish a great course.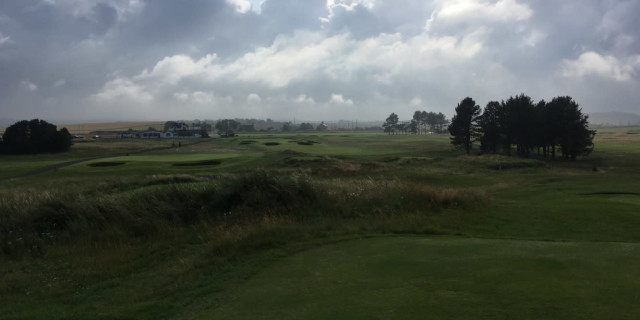 Post-Round Thoughts
Goswick Links is a treat for the soul. To play well you'll need to manage the wind, manage your ambition on the course and play to the right places. To enjoy the experience, you very simply just need to turn up. This is a vastly underrated venue which offers true, fine links golf and is unbelievable value for money.
I had a grin from ear to ear as I played this wonderful course. The fact that it's location is a little way from the beaten track makes the venue even more special. It is there to be found, ready and waiting to give visiting golfers the experience of a lifetime. It is simply excellent, and I rank it in my top ten courses of all time.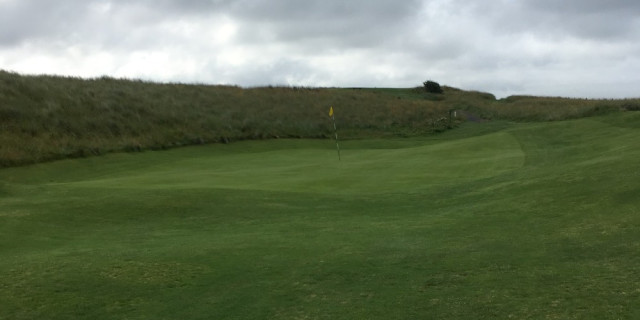 Verdict
As Field Marshall Montgomery said of elite UK Parachute forces during World War Two; "they are in fact -men apart- every man an Emperor".
Thus, Goswick Links is a course apart, every hole a classic.
Top Tips
Don't try to fight this golf course as it will gladly eat you for dinner. Be patient and wait for the right time to attack.
Taste the salt in the sea air, feel the slight sting in the eye and savour this unbelievable experience of links golf.
Position is key as playing from the rough makes it extremely difficult to find the right portion of these exceptional greens.
Overall Rating: 10
Course (Conditions): 10
Course (Layout/Variety): 10
Course (Green Condition): 10
Course (Challenge/Difficulty): 10
Club Facilities 19th/Clubhouse: 8
Practice Facilities: 9
Friendliness/Hospitality: 10
Pace of Play: 10
Value for Money: 10
---
Related Content: travel review England Courses
What do you think? leave your comments below (Comments)
---
Leave your comments below
comments powered by

Disqus
Plan Your Next Round
Seahouses Golf Club
Northumberland
from £14.00
Save 20%
Bamburgh Castle Golf Club
Northumberland
Wooler Golf Club
Northumberland

More Golf Course & Travel Features
Plan your next golf break with Golfbreaks.com
Travel Deals Newsletter
Save up to 50% on golf breaks!
Join Today »