Golf in the Dales at Wenningdales Escapes and Bentham Golf Course
By: Golfshake Editor | Fri 28 Jun 2019
---
Feature review from sports writer Derek Clements who recently visited Wenningdale Escapes in the Yorkshire Dales, which is located in an area described at the gateway to the Lakes and Dales. While there he played golf at Bentham Golf Course which is part of Wenningdale Escapes. Find out how he got on.
---
"So what do you think then?"
"It's beautiful."
"Is that the best you've got?"
"No, you're right. It is jaw-dropping, absolutely jaw-dropping."
"That's more like it. I knew you could do better."
This was the conversation that took place between yours truly and the head greenkeeper as I stood by the 10th tee at Bentham Golf Course and took in the views. And they really were spectacular.
I was staying at Wenningdale Escapes, looking out on the Three Peaks in Yorkshire. There wasn't a cloud in the sky and the temperature was hovering around the 22C mark. Suddenly, I realised why the locals call this God's country, and why they are so proud to call it their home.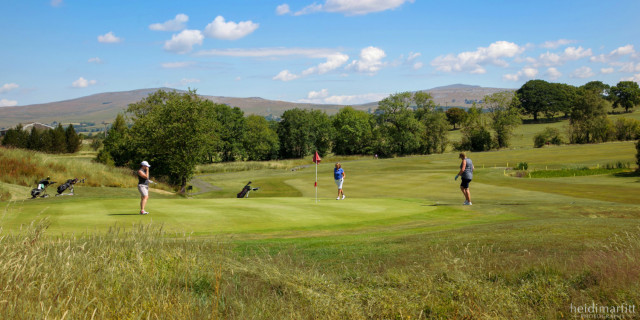 Let me start by telling you a little about Wenningdale Escapes. It is a family-owned business that comprises Bentham Golf Club and a series of luxury lodges (which can be bought for around £149,950) and five pods - these are smaller than the lodges and feature a double bed, fridge, sink, tea and coffee-making facilities and a fully-equipped bathroom with shower. If you conjure up an image in your mind of a comfortable hotel room then you won't be far wrong - that's the level of accommodation offered by these pods. Some people call it glamping. It's not. It's much better than that. There are four lodges available for rent and 14 available for private purchase, with plans to build more. They are for sale with a 35-year licence and the park is open all year for holiday use. Anybody who chooses to buy a lodge can rent it out - it will be managed by Wenningdale Leisure Ltd (selected areas only).
And, of course, all of the pods and lodges at Wenningdale look out over the glorious countryside on the edge of the Yorkshire Dales.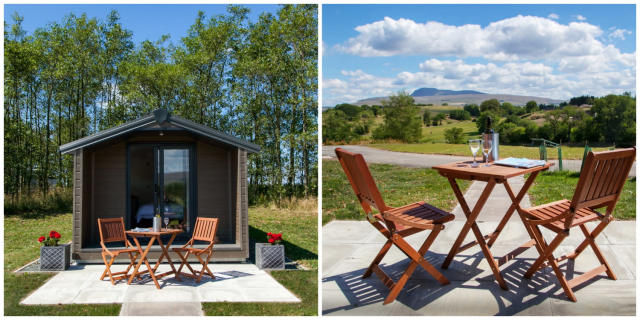 The golf course was bought by the Marshall family in 2009 and has been extensively renovated and updated to create the gem that exists today. It has been described as the Augusta of the Dales. More of the golf later. First of all, let's tell you a little bit about the village of High Bentham, which is a short stroll down the hill from Wenningdale. It is a glorious village featuring some wonderful Yorkshire pubs - The Horse and Farrier, The Black Bull and The Coach House all serve fabulous home-made food at incredibly reasonable prices. The steak we had at The Coach House melted in our mouths and the kebab skewers served at The Black Bull could have been cooked in Turkey.
And if you fancy something a little different, wander down to the Hoggs N Heifers, where you will find an old Harley Davidson motorbike hanging from the ceiling, a pool table, a dartboard, some lively background music and a great, friendly crowd of locals who will quickly engage you in conversation.
Bentham is ideally located for exploring this beautiful part of the country. We headed off to Skipton to visit the castle, which dates back to the 13th century and affords beautiful views of the surrounding country. Once again, you cannot help but be struck by how incredibly friendly the castle staff are - they genuinely want you to enjoy your experience here. Afterwards, you should take a walk through the town and amble along the canal bank, where you will come across a statue of Fred Trueman, the legendary English fast bowler, who came from the area.
From Skipton we headed off to White Scar Cave, which is the longest show cave in England. Tickets cost £10.75 and all trips, which last 80 minutes, are with a guide. It is not an experience for anybody who suffers from claustrophobia and be aware too that there is a likelihood that you may get damp, but the stalectites and stalacmites and natural rock formations are well worth seeing, and you are allowed to take pictures.
Next it was off to Kirkby Lonsdale, a town on the Yorkshire-Lancashire border where many TV dramas and movies have been filmed. It is a town where time has stood still. We stopped at the Kings Arms and as we sat outside enjoying a drink we were joined by the landlord,, a delightful man who asked what our plans were for the following day. We told him that we intended to visit the Lake District. He disappeared and when he came back he was flourishing a piece of paper with a list of places to visit - and those to avoid.
And so we ended up heading off in the direction of Windermere, stopping at Rydal Water and a number of magnificent hostelries Greg had recommended. After a long walk we headed into Bowness, where we decided that it would be rude not to take a boat trip on Lake Windermere. Be advised that if you opt to do this you will surely be astonished by the number of Chinese visitors doing the same thing.
So what about the golf?
Bentham Golf Club is an 18-hole course that measures 6,151 yards and is a par 71. It wends its way up and down the undulating countryside and features a number of truly breathtaking holes. The second is a challenging par five measuring 517 yards, with trees and out of bounds all the way down the right. The best approach is to lay up at the brow of the hill, avoiding the pond to the left before going for a green guarded by three bunkers. It is followed by a 290-yard par four that can be reached from the tee by big hitters - just don't go right off the tee. The fourth is a par five measuring only 488 yards, but there is out of bounds all the way down the right. The perfect drive is to the left where a ditch lies in wait. Be careful when going for the green because if you go slightly left you will hit the slope and end up in the water.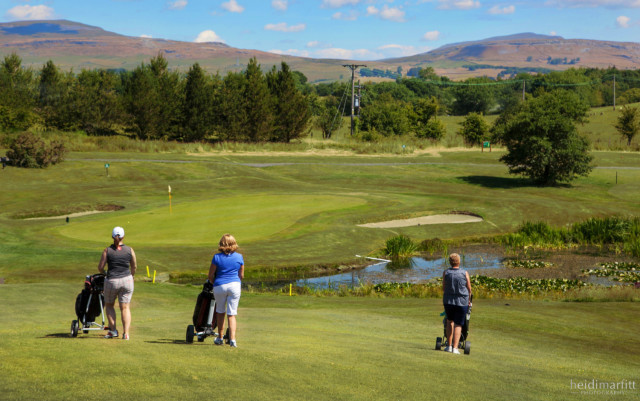 The signature hole is the 10th. It is a par three and it only measures 138 yards, but it is played from an elevated tee, over a lake to a small green that slopes from back to front. And it is followed by a par four measuring 406 yards - the tee shot is blind, played over a hill. When you reach your ball you will find that green is to the left and you need to hit your approach over a couple of trees to an elevated green protected by two pot bunkers. A par four here is a serious result. The 13th is a straightforward par four running to 295 yards and offers an obvious birdie opportunity. The ideal drive is on the left side of the fairway but be careful not to flirt too closely with the trees. Go too far right and two green side bunkers come into play. The 14th is an uphill par five measuring 512 yards that plays far longer than its length. It is a masterpiece. Go too far left and trees will block out your second shot. Anything short right will bring two hidden bunkers into play. The 15th is another short par four, this one running to 330 yards, but there is plenty of trouble to be avoided, with out of bounds on the left, water on the right and a small green protected by four bunkers. It should be a safe par but could easily be a lot more. The 17th is an uphill par three measuring 135 yards. It looks pretty straightforward but take one more club than you think and make sure you hit the green as it slopes away on all sides. And so to the 18th, a great finishing hole that measures 417 yards. Once again, the fairway is lined by trees on both sides. The second shot is played over a ditch to a green guarded by a large birch tree.
Food is served daily in the 1922 Bar and Kitchen, where dogs are also welcome - this is a feature of this part of the world. Wenningdale offers beds and water bowls for dogs. There is also an impressive eight-bay driving range close to the first hole.
The course has 250 members. Green fees start at £12.50 and there are reduced fees for those staying on the site.
Other courses in the area include Kendal Golf Club, Silverdale Golf Club, Kirkby Lonsdale Golf Club and Casterton Golf Course.
How best to sum up our experience at Wenningdale? Jaw-dropping. Simply jaw-dropping! And we will definitely be heading back.
For more information, go to www.wenningdale.co.uk
---
Related Content:
More Golf Course & Travel Features
Plan your next golf break with Golfbreaks.com