Walmer Kingsdown Golf Club Feature Review
By: Andrew Picken | Tue 11 Jun 2019 |
Comments
---
Review by Golfshake Ambassador Andrew Picken
---
Known as the club on the cliffs, Walmer and Kingsdown Golf Club is perched high on the white cliffs, virtually halfway between Dover and Deal. Its location gives easy access to the channel tunnel and ferries and is an ideal place to play if planning a continental expedition. There are some simply stunning views from the course across the Channel including views to the French coastline on a clear day.
Established around the natural landscape high up on the edge of the White Cliffs, the course sits along a sharp ridge and a steep valley which makes for a challenging and interesting round of golf. Expect and enjoy numerous hanging lies, uphill tee shots and a handful of distinctive square-shaped plateau greens that are protected by low, grassy banks that demand precision shots to finish anywhere close to the flag.
This is a mature, well established members club having celebrated its centenary in 2009. I loved the experience of playing here as it is so different from many courses I usually encounter. It is a tough, but enjoyable, down land course. It benefits from its position on the chalk cliffs which delivers rapid drainage making it eminently playable all year round, regardless of the amount of rain in autumn and winter.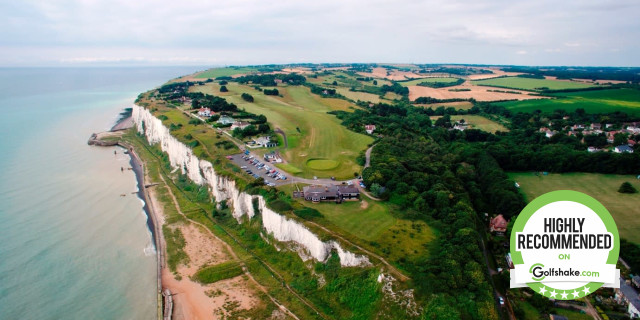 Mapped out by the esteemed James Braid to take advantage of the rolling downs and elevated views across the English Channel, the course tumbles and traverses down both sides of a prominent chalk ridge known as the White Cliffs of Dover. Flat lies were as rare as hen's teeth during my visit and there is a need for strategic management of the fairway slopes. The chalk ground allows for a lot of run and some of the balls I hit finished in positions well out of their intended finishing point due to extent of the gradient.
The single-storey clubhouse, a war-time billet for 60 soldiers, is well appointed, functional and extremely welcoming. There was a senior competition on during the morning of our visit, but pace of play was maintained comfortably. Post round we spent some time with the group and even got to share birthday cake with an ex Captain. There is a clear and deserved pride in this facility by its membership and staff and we were made to feel exceedingly welcome to be sampling the delights of this Kentish course.
The food in the clubhouse was excellent and it is clearly a very popular place for non-golfers as well as the membership. This is not surprising given its pre-eminent position on the cliff tops offering some stunningly beautiful views across the downs and nearby beaches. It really is a stunning location.
Course Layout
The courses measures a meaty, wind-swept 6,471 yards. The 7th is 451 yards and requires you to hit a long, accurate drive to get to the corner of this left-to-right dogleg and then try to feed an approach in from the right to avoid the two bunkers.
Based on chalk, the golf course drains exceptionally well and is known as an excellent winter venue because of this. It also possesses one of the few thatched roof maintenance sheds I have ever seen on a golf course.
There isn't a course planner currently available but there is a hole by hole guide on the clubs' website that I would advise a review of prior to play. Each tee box has clear signage detailing hole shapes and design, so this isn't a real problem for the visiting golfer as the routing and internal signage follows a natural flow.
The course opens with an uphill par four measuring 328 yards from the white tee box. Other highlights include the 4th, a tricky par three measuring 136 yards from the back tees, the aforementioned 7th, which boasts a stunning view across to France on a clear day.
This is a delightful golf hole with natural hazards to be avoided at all points. Avoid being distracted by the phenomenal views from the cliff top position as well.
The 11th is another interesting par three measuring 202 yards from the back tees but with a severely sloping fairway and well-guarded green. With the tee box located next to the famed halfway house the main distractions here are the smells of bacon and sausage wafting across the tee box. A par here is hard fought and will require a well struck shot fed into the green from the right avoiding awaiting bunkers and the ridged side structures.
The halfway house by the 11th is superb with exactly the sort of fayre the tiring golfer requires for sustenance. Not gourmet food, simply quality local products, well cooked and delicious.
Another par three, the 14th measures 135 yards that is a little weak given that it is a blind shot over scrub into a green that is very well bunkered. The tee shot is required to be played up a severe gradient. It is still a real challenge and quirky but despite its relatively short distance still offers potential pitfalls.
Notably, the 16th is an absolute beauty. 458 yards par four and offering stunning views out to sea.
Verdict
It can sometimes be difficult to assess a clubs' welcome to visitors when our visits are prearranged but I have no hesitation in stating that the welcome we received was to an exceptional level. Every single golfer we met as we played stopped, had a chat and were very helpful. Even people we encountered dog walking offered the same type of welcome and it was something myself and my colleague both found extremely encouraging.
The best recommendation I can give this course is that if I am travelling to France in the future by vehicle, I will endeavour to factor in a round as part of the trip as I would love to challenge myself again at this venue.
I probably won't be able to repeat the birdie on the par five 18th to win on the last but it would still be on my list of courses to visit again in future.
One of the club members is an excellent category one golfer who plays with one arm. He has represented his country against the USA playing in a Ryder Cup style competition against the USA for the Fightmaster Cup. This event was held at W & K in 2018.This event was discussed with great pride given that the entire membership embraced the event and there was a gallery of 150 plus watching the final hole of play assisted by car headlights as the competition was so close.
I was not surprised at the response of the club and illustrate it here as an example of its friendly nature.
Such was the impact of the support the event received that the World Championship for one armed golfers is now being held at W & K in 2020. The Society of One-Armed Golfers was formed in 1932 in the UK and has an event against its North American equivalent. It was named after the famous one-armed golfer Don Fightmaster who was the inspiration for many with permanent disabilities to take up the game of golf in the US.
Reading through histories of the club it was created more than 100 years ago through a desire to encourage more families and ladies to take up golf. The club remains true to its origins today, with a deep-seated community-spirit and friendly, family atmosphere readily apparent.
I thoroughly enjoyed this experience as did my playing partner and would happily play here again. If I lived close enough this is exactly the sort of club I would seek to support with my membership. Please check out the independent reviews of other Golfshake members as they rate this course as Highly Recommended as well.
---
Related Content: travel review Kent Golf in Kent England Courses
What do you think? leave your comments below (Comments)
---
Leave your comments below
comments powered by

Disqus
Plan Your Next Round
Canterbury Golf Club
Kent
from £30.00
Save 40%
St Augustines Golf Club
Kent
from £10.00
Save 20%
Etchinghill Golf Club
Kent
from £25.00
Save 33%
More Golf Course & Travel Features
Plan your next golf break with Golfbreaks.com
Travel Deals Newsletter
Save up to 50% on golf breaks!
Join Today »