Guide to Golf in Thailand
By: Derek Clements | Wed 19 Sep 2018 |
Comments
---
WHEN you consider your next all-inclusive golf break you could be forgiven for not putting Thailand on your list. It is a country that is renowned for the friendliness of its inhabitants, all of whom seem to go about their daily lives with a permanent smile on their faces. They love tourists and go out of their way to make them feel welcome.

Most people who visit Thailand will book a two-centre break that usually takes in the capital, Bangkok, and a beach resort such as Pattaya, Hua Hin or Phuket. Bangkok is a bustling, thriving city that never sleeps. It offers something for everybody - amazing street food, mouthwatering seafood and other local delicacies. You will also find some quite extraordinary bargains in Bangkok. If you like shopping, you will love the Thai capital. And if you are not too fussy you will also be able to pick up luxury brand name clothing and watches for next to nothing - they are fakes, of course, but the quality will surprise you, especially if you make it clear to the trader you are dealing with that you want to see his "good stuff". You may well be taken down some side streets to a storage area and you may ask yourself how comfortable you are doing this, but the Thai people know what side their bread is buttered on and you can relax in the knowledge that they will look after you.

You can't visit Bangkok without sampling some of the extraordinary adult entertainment. Suffice to say that some Thai women can do surprising things with ping-pong balls and darts, and you have to see it to believe it.
Golf Breaks to Thailand

So what does all of this have to do with golf?

There are some wonderful resort courses in Pattaya, Hua Hin and Phuket, and they really are worth trying.
PATTAYA
Pattaya boasts a number of world-class hotels that offer all-inclusive accommodation and golf deals. The most notable are the Hilton Pataya, Woodland Suites and Amari Ocean. The Hilton is located beside Pattaya beach within a complex that boasts more than 300 shops, a cinema and a theatre. Activities include snorkelling, jet skiing and swimming, as well as boat trips to Pattaya Floating Market. It is a fabulous hotel offering wonderful food, babysitting, spa - everything you would expect from the Hilton name.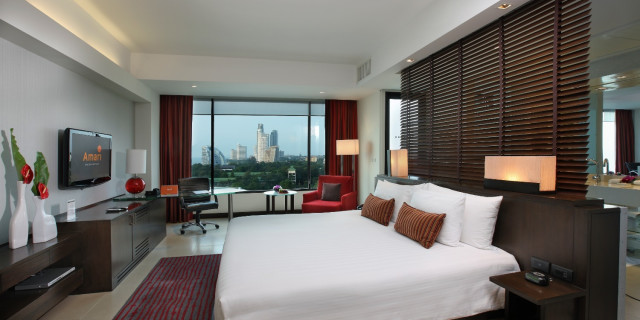 Pattaya Golf Holidays

The courses are Siam Country Club, St Andrews 2000 Golf Club and Laem Chabang International Country Club.

St Andrews 2000 was designed by Desmond Muirhead, who attempted to recreate a Scottish links - but without the howling winds. It is located 45 minutes from Pattaya, is 7,700 yards long and has a par of 74. There are plenty of well placed hazards that make this a great test. Siam hosts LPGA Tour events. It was the first private golf club in Thailand and has three courses that all offer different challenges - Siam Country Club Old Course, Siam Country Club Plantation and Siam Country Club Waterside. The views from all three are spectacular. Laem Chabang features 27 holes and was designed by Jack Nicklaus. It is located with 700 acres and features natural lakes and river valleys.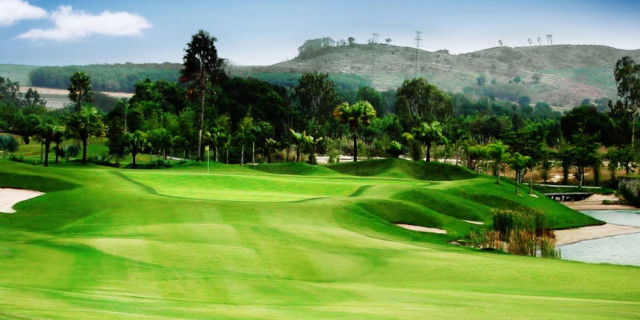 HUA HIN
Hua Hin's best hotels are the Banyan, Black Mountain Golf Club and Resort, which has its own course, and the Amari Hua Hin. Black Mountain features a 27-hole golf layout - the original 18 holes were opened in 2007, with a further nine holes added in 2016. Located in the foothills the valleys in Hua Hin Black Mountain offers state-of-the-art villas which are ideal for families or groups. Apart from golf, facilities here include a water park, spa, tennis, volleyball, miniature golf, wakeboard park and paddle tennis.


Apart from Black Mountain, Springfield Golf Club and Royal Hua Hin are worth trying. Springfield was designed by Jack Nicklaus, with every hole featuring five different tee. This is a proper test, with lots of trees demanding accuracy from the tee. The second nine is particularly challenging, with huge waste areas and water hazards waiting to catch out wayward drives. The signature hole is the 18th, a par five that can be reached in two by the bigger hitters. The tee shot is struck over the trees on the dogleg, followed by a long approach to an island green. Springfield opened an additional nine holes in 2005 designed by the award-winning golf course architects Lee Schmidt and Brian Curley. Many pundits reckon this is an even tougher test than Jack's course.
PHUKET
Phuket may well be Thailand's best known beach destination. It boasts the Chanalai Garden Resort and the stunning Grand Mercure Phuket Patong, with the key golf courses being Red Mountain, Blue Canyon Golf Club and Laguna Golf.

Grand Mercure Phuket Patong Resort & Villas is located within walking distance of Patong's thriving and bustling nightlife and the Andaman Sea. It features 314 rooms including 252 Superior Rooms, 38 Deluxe Pool Access Rooms, eight Superior Suites, two Deluxe Suites, 10 One Bedroom Pool Villas, and four Two Bedroom Pool Villas. The resort is ideally suited to young travellers, families and friends looking to spend quality time together in the heart and soul of Patong.
Phuket Golf Holidays

Red Mountain Golf Club winds its way through the site of a former tin mine in the heart of Phuket and features plenty of elevation changes, which means there are some breathtaking views to be enjoyed. Scars left from the tin mine era have been imaginatively incorporated into the overall scheme, creating a unique character at the same time as establishing an indelible link with an important era in the Island's past. Red Mountain was designed by Jon Morrow and Al Tikkanen. It measures 6,900 yards, with plenty of risk and reward holes. If you fancy a gentler challenge, try the shorter Loch Palm Course.
CADDIES
All courses offer female caddies - you will have seen them in action when the European Tour hits this part of the world. These women have a deserved reputation as being among the very best caddies in the world, and they know their courses like the back of their hands. If they tell you to avoid a particular part of the course then you really should listen. And if they tell you that a putt will break six inches from right to left then you can be certain that is precisely what will happen to your golf ball. You pay a them an agreed fee but they are so good at their job that you will almost certainly want to hand over a large tip.
CURRENCY
The Thai currency is the baht. Naturally, exchange rates fluctuate, but there are approximately 55 bahts to the £. And the good news is that your £ will go a long way. A three-course meal for two meal will cost you about £12, a half-litre of beer £1.20, imported beer £2, a litre of milk £1 and 1kg chicken breasts no more than £2.
GETTING THERE
You can travel to Thailand from most major UK airports but be warned that it is an 11-hour flight.
CLIMATE
Thailand markets itself as an all-year destination. The ideal time to travel is between November and April, when it is dry and cooler. You need to be aware that humidity can be a real problem in this part of the world - and they also have a monsoon season which lasts from May until November. It doesn't rain all the time but when it does you need to find shelter. Minutes after a shower has finished everywhere will be bone dry. All shops and restaurants have air conditioning.
For more information and packages, visit https://www.golfbreaks.com/thailand.
---
Related Content: travel
What do you think? leave your comments below (Comments)
---
Leave your comments below
comments powered by

Disqus
More Golf Course & Travel Features
Plan your next golf break with Golfbreaks.com