Oswestry Golf Club Feature Review
By: Melvyn Davies | Tue 29 May 2018 |
Comments
---
Golfshake Ambassador Mel Davies visited Oswestry in May 2018
---
Oswestry GC
is a mature parkland course that was designed by James Braid and is the home of two former Ryder Cup Captains (Harry Weetman 1965 at Royal Birkdale and Ian Woosnam 2006 K Club). Renowned for its excellent all year round condition and friendly welcome. Set in the glorious Shropshire countryside, yet close to major transport networks, and boasting new clubhouse and all the latest amenities with ample parking this is a club that can cater for all events.
Pre-Round Thoughts
Upon arrival Noel and myself were greeted by John Evans (Club Secretary) and then David Richards (Marketing Manager). You could see straight away what great condition the course looked in and the practice putting green was large and looked superb. We then made our way into one of the largest and most luxurious changing rooms I've ever come across. There is a very good practice area near the first tee where you can hit up to about 160 yard shots with a green and bunkers to ready yourself for the challenge ahead.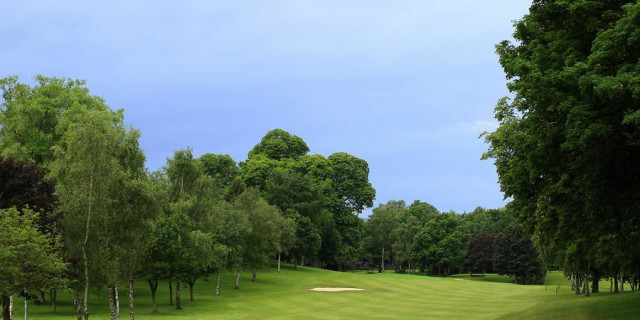 Front 9 Overview
The front 9 is probably the easier but it can still offer up a high score if you don't put the ball in the right place. We were joined by John and David for the front 9 which was great of them and also helped us plot our way round. The opening hole sets the standard for what lies ahead with a tree lined fairway requiring a straight drive leaving a mid iron to a well protected green.
The 2nd & 3rd are both possible birdie holes, especially the 3rd at 479 yards, where the big hitters can reach in two leaving an eagle opportunity. The 4th is the first par 3 all uphill and only 126 yards but don't be fooled...bunkers await any offline shots and the green slopes from back to front. The 5th is another reachable par 5 in two but again great fairway bunkering at driving distance and also short of the green makes it a tough hole.
The 6th and 7th are both par 4's with the 6th being 100 yds longer than the 7th but both can offer a birdie or a bogey. It's a risk and reward if you fancy cutting the corner but the risk in my opinion far outweighs the rewards so the best play is a long iron down the fairway leaving a nice angle approach into a well protected narrow and very tricky green. The 8th is another birdie opportunity and the 9th is a great par 3 with a mid iron to a green up above you and all you can see are bunkers.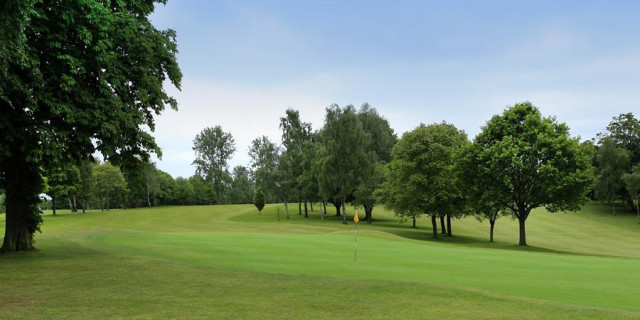 Back 9 Overview
John and David left us and informed us this was by far the tougher of the half, and boy were they right.

10 is one of the best driving holes you will play with the tee looking down onto a long straight fairway, a good drive leaves a short to mid iron to a green that as always seems is well protected left and right by bunkers.

11 is only 320 yards but again don't be fooled, a good tee shot will leave a tricky approach to another well bunkered green. The next four holes in my eyes are the ones that can really ruin a card....185 yd par 3, 434 yd par 4, 369 yd par 4 and 430 yd par 4. if you can play to your handicap through those four you've done really well. Each hole demands accuracy off the tee, good approach shots and even then getting down in two putts is no easy thing.

The 16th once more requires a good drive or fairway wood leaving a wedge into a really tricky green with bunkers front, left, right and the on that got me at the back....the green slopes from back to front so long is not really the miss.

17 is a tough par 3 of 175 yds all uphill with two bunkers in front making the green look so small to hit....par here is a real bonus!

18 is a great finishing hole that is straight, narrow and leads straight to the clubhouse. It only measures 344 yards but again two good shots are needed to get onto the green and avoid the bunkers once more waiting for any errant approaches.
Hole Highlights
Holes 10 and 18 were my favourite holes as you can see everything ahead of you and both demand accuracy rather than distance (which is a big feature here). Both can offer up a birdie or a bogey dependant on how you play them.
Post-round Thoughts
The course was in as good a condition as you will find. Tees and fairways were superb, great bunkering all way round and the greens are as good as I've played on for a good while. If you don't putt well here it's not down to the surfaces!
Verdict/Round-up
With the course being sand based it will be playable pretty much all year round. You can see how much pride the greens staff and the members etc take in the course and rightly do. Noel Woodman (Midlands PGA Captain 2018) said: "Oswestry is a little gem! If you haven't played it you really must. It is set in rolling countryside with a good mix of challenging holes. Not overly long (6163 yards) so a perfect course for all abilities. The standout for me are the standard of the putting greens. Very receptive to approach shots and very pure for rolling your ball. The best greens I have putted on for a long time. Excellent value and a warm welcome too. A must play!"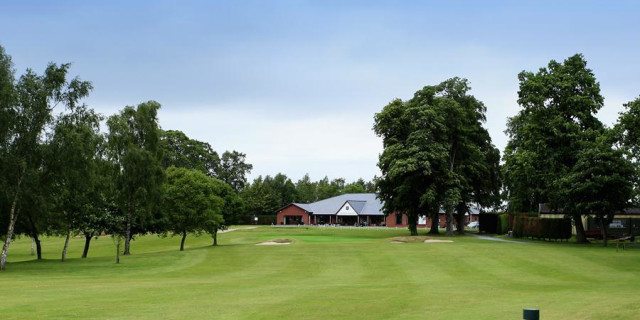 Reviewed in May 2018 by Golfshake Ambassador Mel Davies (Handicap 11)
Overall Rating - 9
Course (Conditions) - 10
Course (Hole Variety/Layout) - 9
Course (Green Condition) - 10
Course (Challenge/Difficulty) - 9
Club facilities & 19th/Clubhouse - 9
Practice Facilities - 9
Friendliness/Hospitality - 10
Pace of Play - 10
Value for Money - 9
---
Related Content:
What do you think? leave your comments below (Comments)
---
Leave your comments below
comments powered by

Disqus
Plan Your Next Round
Hawkstone Park Golf Club
Shropshire
from £21.00
Save 25%
Hawkstone Park Golf Club
Shropshire
from £17.00
Save 20%
Arscott Golf Club
Shropshire
from £10.00
Save 20%
More Golf Course & Travel Features
Plan your next golf break with Golfbreaks.com