Moor Allerton Feature Review
By: Kevin Paver | Tue 13 Mar 2018 |
Comments
---
Feature by Golfshake Ambassador Kevin Paver
---
Moor Allerton Golf Club, is a fantastic 27-hole parkland course set in North Leeds. Designed by none other than Robert Trent Jones Sr. Laid out across 220 acres, he did a fine job. Interestingly, he designed some fantastic course, including Valderrama, Firestone, Spyglass Hill and Sotogrande, yet Moor Allerton is the only course he designed in the UK.

The 27 holes are set across three stunning yet still very demanding loops of 9 that all start and finish at the clubhouse. What makes Moor Allerton a different challenge to its equally beautiful neighbours, is the large contoured greens, large teeing areas, boldly shaped bunkers and water hazards. Plenty of them. Back in the day, the European Tour came here, with the likes of Seve Ballesteros, Nick Faldo and Greg Norman all walking their fairways. Also, golf legend Peter Alliss was the Head Professional in the early 70s, and is still often at the club.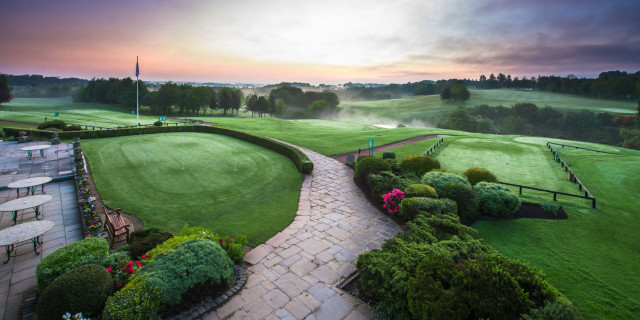 It has been home to the PGA EuroPro Tour for the last 4 years… with them returning again in 2018 for the Clipper Logistics Championship.

Over the last few years, Moor Allerton has undergone a pretty major improvement program, with significant work done to really bring the natural landscape to life… and what a damn fine job they have done!
Tell Me More
As you walk around to the pro shop, you are immediately struck by the amazing views. Head up to the balcony for an even better view… and get a picture! Once you've checked in at the pro shop, and perhaps got a few extra balls, grab a quick bite or a drink in 'The Waterhole', a great little relaxed spike bar overlooking the practice green. There is also a driving range and short game area too, so no excuses ahead of your round.

The nice thing at Moor Allerton is the three loops, meaning you can play 9, stop and have some food, go play another 9 and have some more if you need to! Then, you'll more than likely stay and do the last 9. You might as well now you're here. I can see why this venue works so well for societies and golf days.
Ten of the Best Golf Courses in Yorkshire

I've played this course several times now, and came to play again in January. Despite a reputation for being quite wet through the winter, the course was in fantastic condition. It was not that wet at all apart from some walks between holes that had endured heavy footfall…but for me, it was no different to most of the other courses. However, what set it apart were the greens. They were some of the best I've played this winter.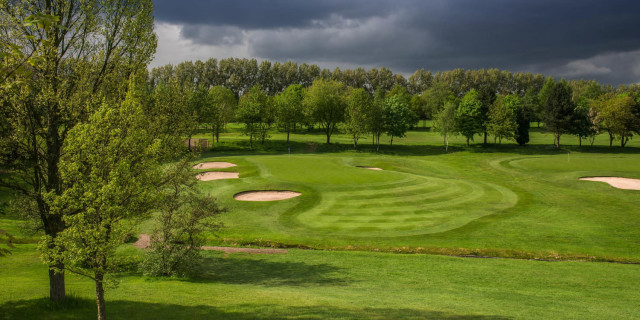 Holes 1-9 – 'The Lakes'
The 1st is a tough opening long par 4, but a great opening tee shot that allows you to really have a good whack from the off. Positioning is key here as the 2nd shot into a long tight green is tricky, over a ravine and with bunkers guarding the left of the green. Fall short and you will roll back down a steep approach and be left with a very tricky chip shot. You would be happy taking a par and going on your way! Onto the 4th, and the first of the par 3s. It's the shortest hole on the course at only 139yds from the medal tee. Playing over a large valley and into a small green creates such an illusion that club selection becomes a mind trick. Don't let it play with you! 5 bunkers circle this 2-tiered green so anything other than GIR will be punished.

The 6th tee is watched over by one of the oldest sweet chestnut trees on a golf course in the country at a mighty 465 years old, and sits in a beautiful wildflower meadow. It's these features and quirks that really show off the land that this course is laid out upon. They are also updating many of the bunkers and the 6th green surround is undergoing a huge transformation. Another very short par 4, but there's a theme that these short par 4's are hiding hazards! The green is elevated and blind from the fairway, but is narrow and long. A pitch up the hill requires you to remain central to have a chance of staying on the putting surface. Good luck!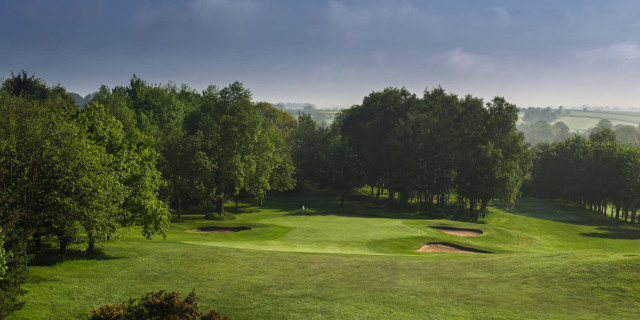 The 7th is a stunning par 3 from an elevated tee looking down to the green and a huge approach. It's a good hit from the medal tee and hard to judge the wind here. Again, you'll need to be GIR to have a chance here..
Holes 10-18 – "Blackmoor"
For me, the 10th is the start of my favourite loop at Moor Allerton. Each hole on this 9 is packed with character and is beautifully carved into the Yorkshire countryside. A straight long drive will give you a view into the green and an opportunity to pick your spot. Again, the large ravine to play over makes club selection tricky and anything short could be bunker bound. The green is tricky as it slopes back to front and also right to left.

The Par 5, 14th has been part of some big upgrade work recently. The lake in front of the green has been reshaped, and the greenside bunkers have been redesigned so you can see them from the fairway. There's been a lot of drainage work as well and the difference in winter especially clear to see. It's a tight par 5 that's tree lined to the right and has water running all the way up the left connecting 3 lakes together. The green is huge, and L shaped allowing the big hitters an opportunity to go for it in 2, but don't be short. If you are, you'll be feeding the fish!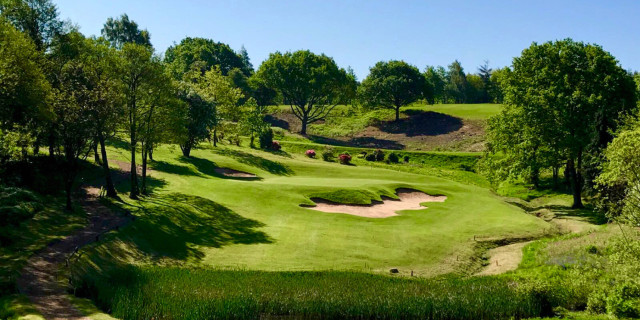 The 17th is Moor Allerton's flagship hole and a fantastic par 3. Another hole that has been subject to redesign only last year and what a job they have made of it. You just need to play it to appreciate it. Anything on the green is a bonus as you play over water, and towards the biggest bunker on the golf course that guards the full front and right side of the green. There is a small pot bunker to the left that sits in the banking and if you're in there you are hitting back out towards the big one! Take your 3 and run to the 18th… quickly!
Onto the 18th and the new medal tee that gives a spectacular view back to the clubhouse of this hole, that has been carved through a quarry rock face and a daunting fairway that is on 2 plateaus. 3 huge Mackenzie style tiers sit in the banking guarded by 2 massive bunkers. A good opportunity to really go at one off the tee though and you need to be close enough to have a short iron into this green. If you hit the green, you need a steady hand. The wrong putt on here can end up off the green and down into the lake! And no pressure, but this famous green sits in front of the watching clubhouse and can be real card wrecker if you get it wrong.
Holes 19-27 – 'High'
The 19th is first of the 'High' 9 at Moor Allerton. A tee shot with added pressure as it's right in front of the folk sat having lunch at 'The Waterhole'. Oh… and you have to play over a lake! This hole dog lefts to the left with fairway bunkers protecting the right side. The 2nd shot into a large approach can be run in or played high and a reasonably flat green awaits if your successful. Tree work on this hole has opened up an amazing view back across the course, and the big cliff hazard that frames the left hand side.
The par 4 23rd is one of the toughest tee shots on the course. The hole is practically a 90 degree dogleg right and the fairway slopes drastically away from right to left. The high tree line makes cutting the corner difficult so a big fade is needed, or an accurate iron to the start of the corner. If successful you can play a long iron or a pitch into a table top green and have a good chance of taking a birdie.

For many, the par 3 24th rivals the 17th as been the best par 3 on the course. A big elevated tee looks down on a huge green with a short approach running in. It's a long iron, but you have a great view of where you need to be. The green runs off into 3 large green side bunkers so you need to be able to stop the ball. A tricky putting surface with slight intricate slopes means if you're not close, you could easy 3 putt.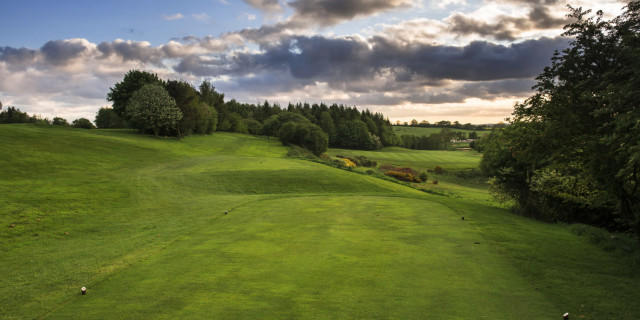 The 27th is arguably one of the best finishing holes in the area… and a tough one too! A large elevated tee looking all the way down a meandering fairway to the clubhouse. Bunkers positioned in key areas but with a reward for a big booming drive. Not many have the guts (or power!) to take this par 5 on in 2, as the green is guarded by a large lake. Laying up still requires a 130 - 150 yard shot into an elevated green with bunkers front and left. Another tricky putting surface awaits… but this is one of those holes you'll want to come and play again. And again. And again!
Final Thoughts
Moor Allerton is a brilliant place to come and play golf. I imagine the options here are fantastic if you were a member with the three loops of 9. Equally, it's a perfect venue for a golf day.

Regardless of your level of golf, you will enjoy playing here. Yes, it will be a stern challenge for a higher handicap, but those lower handicap golfers can also have a torrid time. It's certainly not an easy course to navigate your way around, but is one you with thoroughly enjoy.

Robert Trent Jones Sr is clearly a genius… and it's nice that the team at Moor Allerton are staying true to his original vision with their recent works. It certainly improves every time I come to play it.

So, to finish, I'll wrap this up with the words Peter Alliss used to describe Moor Allerton, as I think he sums it up brilliantly – 'Moor Allerton Golf Club is a golfing experience larger than life.'
WATCH THEIR VIDEO HERE:
What do you think? leave your comments below (Comments)
---
Leave your comments below
comments powered by

Disqus
More Golf Course & Travel Features
Plan your next golf break with Golfbreaks.com
Travel Deals Newsletter
Save up to 50% on golf breaks & tee times!
Join Today »