Feature Review: Amendoeira Resort – O'Connor Jnr Course
By: Golfshake Editor | Mon 02 Oct 2017 |
Comments
---
It might have only opened less than a decade ago, but the magnificent Amendoeira resort is mature beyond its years. Everything about the place screams quality, from the moment you begin the long drive up to the palatial clubhouse, passing along perfectly manicured boulevards as you climb towards a panoramic view of the estate with its two highly-rated championship golf courses, alongside its truly unique nine-hole floodlit Academy Course.
On arrival, the bag drop functions like a well-oiled machine – while you check in at the welcoming reception, your clubs are spirited away, ready to reappear on the back of a fully-charged and water-ladened buggy. Of course, that's how it should be, but we all know it's not always that way.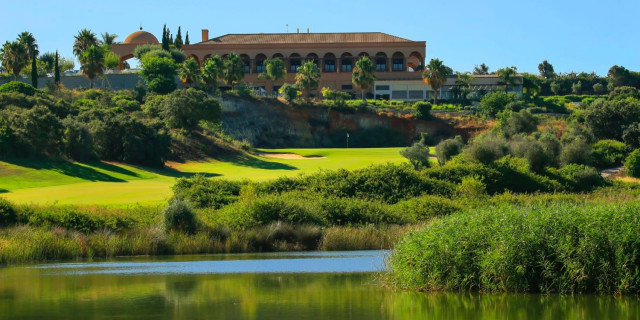 Arriving early allows enough time to take in the surroundings. A coffee on the terrace affords amazing views – away to the west, the famed Faldo course lies in wait. As is Sir Nick's signature design style, the bunkering is large and impressive… even from some distance, large swathes of sand are visible on what is generally regarded as the tougher of the two courses. The man himself describes the course as 'Mediterranean desert style' with a very strategic layout.
In the near distance, the gorgeous O'Connor Jnr course – designed by Ireland's Ryder Cup legend Christy Jr – is laid out across the gently undulating valley terrain. The perfect complement to the Faldo, the O'Connor Jnr is wider and flatter than its counterpart, but remains equally challenging and visually attractive with plenty of water and lush landscaping. What a combination of courses this is.
But before the assault begins, a warm up is almost certainly in order. And with facilities like these, it's a real treat. The driving range – with complimentary triangles of high-quality balls – is wide and perfectly maintained. Perfect for honing the game ahead of the challenges to come. With multiple chipping areas and a large putting green to savour as well, the overwhelming feeling of quality is ever-present. These are the sort of facilities you wish your home club had… and that's saying nothing about the par-3 course, the only floodlit course in Portugal, and which I'm told is amazing.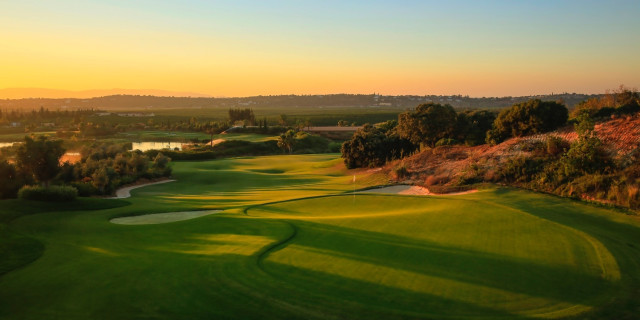 With the game in full working order (or at least as close to that as it can be) it's time to head to the first tee, stopping on the way to admire the huge bronze statues of both architects that were commissioned by the club. Irish sculptor Paul Ferriter has done an incredible job, capturing Sir Nick in his famous 'leaning-on-putter' pose, and Christy Jr with his arms outstretched following his singles win over Fred Couples at the 1989 Ryder Cup at the Belfry. Whether you fancy hitting a 2-iron uphill and over water to a tiered green as Christy did all those years ago is one for you to decide – and playing the O'Connor Jnr you'll have ample opportunity to do so.
The course opens up with a gorgeous par-5.. but as you'll find throughout the course, it's one that demands your full attention with trouble left, right and centre for poorly struck shots. But once you're safely on terra firma it's a straightforward approach to an invitingly wide green. Things get even more interesting on the short par-4 2nd, with a massive expanse of water cutting in from the left. Brave drives are rewarded but there's plenty of room for those without a bullet-straight tee-shot in the locker.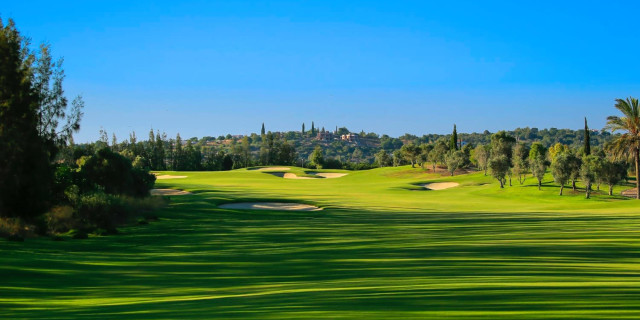 And so it continues, with wide and welcoming fairways butting up against all manner of attractive water features that are a real signature of this beautiful course. The par-3 third is an absolute beauty, played around the main lake which was first seen on the right of the first fairway. A fade in from the left will be just the ticket at this very pretty hole.
The 5th is an outstanding hole. Designer Christy O'Connor Jnr – clearly a man who loves his oranges – famously declared that he wanted one hole that was all about the citrus fruit. At this hole, played alongside a massive orange grove, he got his wish. A manageable par-five that turns left-to-right towards a heavily bunkered green, this is a very tasty three-shotter.
Before too long we reach the course's very own Amen Corner, with holes 7, 8, and 9 being the archetypal card-wrecker. Three very strong par-4s in a row, with water running from each to the other, it's a brilliantly challenging stretch that demands your full attention. As is the theme throughout, however, there is always room to bail out, both in terms of the fairway landing areas and also the green surrounds.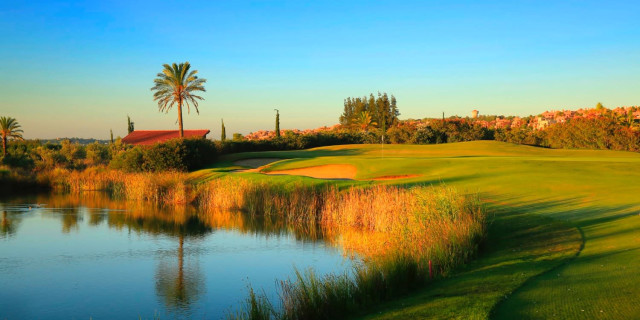 And that's the beauty of the O'Connor Jnr. It's far more than a second course to the Faldo, but it is eminently playable and a perfect complement to its tougher sibling.
The back nine continues in the same vein, with some gorgeous holes to enjoy. Look out for the 14th and 15th, both of which are very sporty par-4s, one turning right, the other left. This leads nicely into a tough closing stretch with a long par-5, a classy one-shotter and then a memorable closing hole.
Drive up to the corner of the dogleg and you're faced with an uphill approach of some 150 yards to a raised green. Once up there, don't forget to turn around and take in the magnificent views from what is the only elevated point on the course. Tap in for your par (hopefully) and you're finishing one of the Algarve's most enjoyable courses.
But the fun doesn't end there. Back on the beautiful terrace with its panoramic views, sit back and savour a cold beer and a tasty lunch to round off a day of golfing perfection.
To learn more about golf holidays at Amendoeira Resort, please visit Golfbreaks.com - Click here

---
Related Content:
What do you think? leave your comments below (Comments)
---
Leave your comments below
comments powered by

Disqus
More Golf Course & Travel Features
Plan your next golf break with Golfbreaks.com