Coventry Golf Club Feature Review
By: Melvyn Davies | Sat 01 Jul 2017 |
Comments
---
Course Review by Melyvn Davies
---
Originally formed in 1887 at Whitley Common, Coventry Golf Club moved to its current location in 1911. The course was redesigned in the late 1960s and, in the subsequent time, has hosted some prestigious competitions including Regional Open Qualifying, The National Assistants Championship, Seniors Tour events, and even held the Piccadilly Medal; a European Tour tournament that ran from 1973-1976, with the winners being Peter Oosterhuis, Maurice Bembridge, Bob Shearer and Sam Torrance. In August 2018, it will be holding the English Amateur Ladies Open.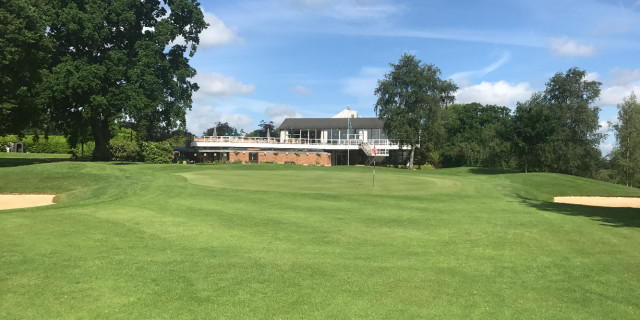 Coventry GC features a mature parkland course, with some moderate undulations and a varied collection of trees set within Finham. It was designed by Tom Vardon, with his more famous brother Harry marking where the bunkers should go.
Upon the club's move to Finham in 1911, an exhibition match between Harry Vardon and James Braid was played in 1912 to formally open the new layout. The course has since undergone many changes and improvements and now possesses a superb mix of holes that will challenge all levels of ability, with four par 3s, nine par 4s and five par 5s. Some bunkers were moved in 1994 and all others reconstructed to help combat the modern golfer, with this work completed in 1998.
Pre-Round Thoughts
I was warmly greeted by Professional Martin Sutliff on arrival who gave me a brief rundown of the club, the course and its history. Martin has a great shop attached to the clubhouse stocked with everything a golfer could need, including a fine selection of drivers, irons, wedges, putters and clothing; especially some lovely Coventry GC logoed Galvin Green shirts, gilets and jackets. One of the members gave me a brief insight on the club's environmental side, which has been validated by Coventry receiving GEO (Golf Environment Organisation) accreditation. There is a practice area for full shots and short game adjacent to the first tee, which is ideal for a warm-up.
Front Nine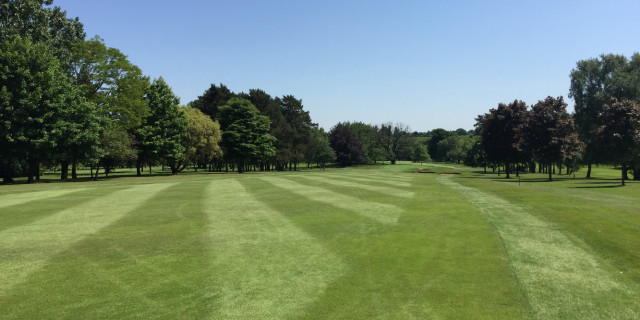 The opening hole is a gentle downhill par 5 of 482 yards off the whites, requiring a straight tee shot to avoid the trees lining both sides. The approach then demands another good shot to avoid the bunkers short and hugging either side of the green.
The 2nd hole again requires a straight drive before a downhill approach to another well protected green, with the river behind waiting to swallow up anything potentially over-clubbed. The 3rd is a real risk and reward proposition with the green only 330 yards from the tee, but the river awaits all down the left-hand side. A fairway wood or hybrid will leave a short iron into another green guarded by bunkers left and right.
The 4th is similar but longer to the third with OOB all down the left and fairway bunkers at carrying distance for most off the tee. At Stroke Index 2, a par here is truly a great score. The 5th is the first par 3 with a shot to the middle of the green being the order of the day. The 6th is a long par 5 with bunkers waiting both off the tee and for your lay-up shot. The green is protected by a large bunker to the left and slopes from back to front so a shot below the hole leaves a much easier putt.
The 7th is the shortest and prettiest par 3 with a pond that shouldn't come into play between the tee and hole, some mature trees either side and a green that has bunkers front, left and right; proof that a par 3 doesn't have to be long to be tough. 8 and 9 are both relatively short par 4s that require well positioned tee shots to enable mid-short iron approaches into well protected greens,
Back Nine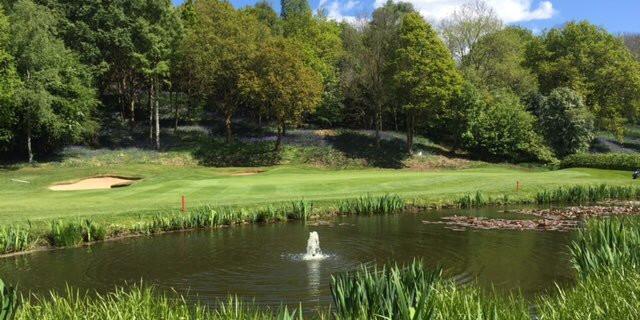 The back nine again starts with a par 5 where two good shots will get you close if not onto the green, with said green being well protected by bunkers on both sides. 11 and 12 are two great par 4s, both with water in play; especially the signature 12th. Well placed tee shots leave a short iron into healthily guarded greens, with the 12th being the most menacing to access with bunkers left and water to the right in addition to a lovely feature waterfall and fountain. This is a great hole to both play and walk.
The 13th is a par 5 with the river running all down the left and a pond lying just past the tee on the left. A bunker on the right will catch any wayward lay-up shots and another bunker running up the right of the green awaits any inaccurate approaches. The 14th at Stroke Index 1 is the start of what the professional described as a potential card wrecking last 5 holes. A long straight drive, preferably up the left, opens the hole up for a long-mid iron approach to a green with two bunkers; one left and one right. Par here truly is one up on the field.
The 15th is a long, challenging 221-yard par 3 downhill to a green that slopes away from you, making accurate clubbing a necessity to get your par. The 16th is the longest par 5 with some great fairway bunkering on both sides ready to catch any tee shots even slightly offline. The 17th is a great par 3 with a tight entry to the right half of the green, guarded by a rather fierce bunker that runs from the front left around the side of the green. Again, a par here is a pleasing result as you make your way to the last tee.
18 is a great finishing hole playing all uphill. The green has a great backdrop of the clubhouse and a rockery. The approach shot must be accurate to avoid the bunkers left and right and the rockery awaits anything slightly long.
Post Round Thoughts
The course was in fantastic condition with not a weak hole on it. If you strike the ball well you can craft a good round of golf making low scoring a possibility; however, at the same time it can punish anyone who fails to keep their shots accurate. The fairways were great, the bunkering was well thought out and they were all in great condition, and the greens rolled true and fast.
The clubhouse was well presented with friendly staff and a great selection of both food and drinks. There was a balcony outside overlooking the practice putting green, the rockery and the 18th, which was lovely to sit out on and finish off a great experience.
Overall Verdict
I found Coventry GC to be a wonderful venue that would suit all levels of golfer and is certainly somewhere I will be endeavoring to return to. The course was firm and fast but it looks like it would be a pretty dry course all year round, as there didn't appear to be any signs of drainage issue.
Rating: 9
Course (Conditions): 10
Course (Hole Variety/Layout): 9
Course (Challenge/Difficulty): 8
Club Facilities & 19th/Clubhouse: 9
Practice Facilities: 8
Friendliness/Hospitality: 9
Course (Green Condition): 10
Pace of Play: 8
Value for Money: 8
---
Related Content:
What do you think? leave your comments below (Comments)
---
Leave your comments below
comments powered by

Disqus
Plan Your Next Round
Atherstone Golf Club
Warwickshire
from £15.00
Save 25%
Harborne Church Farm Golf Club
Warwickshire
from £10.00
Save 10%
Marriott Forest of Arden Golf Club
Warwickshire
from £17.00
Save 20%

More Golf Course & Travel Features
Plan your next golf break with Golfbreaks.com
Travel Deals Newsletter
Save up to 50% on golf breaks!
Join Today »