Leicestershire Golf Club Feature Review
By: Andrew Picken | Mon 15 May 2017 |
Comments
---
Feature review from Golfshake ambassador Andrew Picken who attended and played the Leicestershire Golf Club in May 2017.
---
The Leicestershire Golf Club was originally founded in 1890. It is a beautiful parkland course which stands to the south of the city, backing on to open countryside, but at no time was I reminded of the city locality due to the excellent design and beautiful presentation of the track as a whole.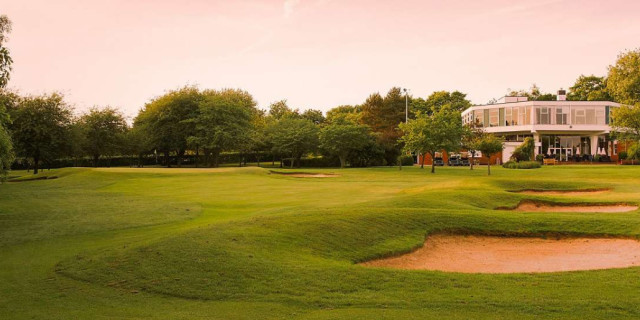 It is well defined by mature trees and foliage and benefits from the finest quality greens. The 6329 yard, par 68 course, challenges low handicap golfers whilst remaining suitable for golfers of all abilities. The venue will host the 2019 English Women's Open Amateur Match Play Championship.
The course was extended to 18 holes in 1899 and in 1910 improvements by James Braid included a number of new bunkers. In 1936 the course was further extended by Major Charles Mackenzie, brother of the legendary Alistair Mackenzie of Augusta National fame, and subsequently altered by C K Cotton.
Pre-Round Thoughts and Facilities
The unique and architecturally significant circular clubhouse commands superb views over the course and offers excellent facilities for entertaining, dining and relaxing. The clubhouse is distinctive and provides a panoramic view of the course whilst enjoying some excellent hospitality. This was a very welcoming private members club.
I always like to chat to members on my review visits to ascertain the views of the membership to the visiting golfer. Sometimes there can be friction between the needs of the members and need to attract extra revenue by encouraging visitors.
In this case it was clear that every member I spoke to was proud of the club and had ownership of its reputation. This kind of response to a stranger is worth its weight in gold and it left me with a lasting positive impression.
This is a traditional club in all the best ways but it also has a lot of forward thinking modern touches that are to the benefit of members and visitors alike. Visitors are seen as "members for the day" - I love that kind of attitude and it should be encouraged at more venues.
The Leicestershire has excellent practice facilities which include; an Indoor Teaching & Fitting Bay; Indoor Putting Studio; Outdoor driving range; pitching and putting green and short game practice area including bunker.
The club's award-winning PGA professionals, Tim Stevens and Peter Livie offer state-of-the-art coaching on a daily basis, while the Pro Shop is very well stocked with leading brands at internet prices.
The club has a membership that is extremely diverse and includes a thriving Ladies, Senior and Junior Sections.
The Course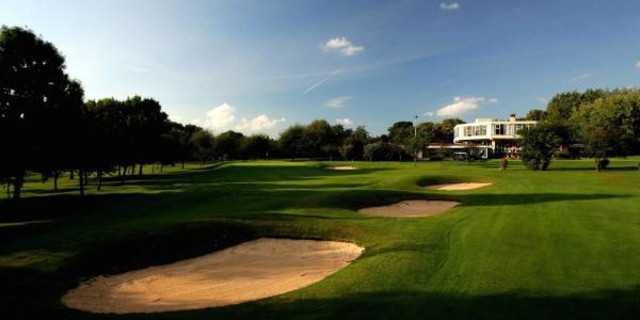 The Leicestershire Golf club offers a beautiful 18 hole parkland course surrounded by well established, mature trees and a stream flowing beautifully and naturally through the course.
The blossom on show at the time of my review was stunning and I recommend that you check out an article written by a member on the website detailing the wildlife seen at a course that is in the centre of one of Europe's largest cities.
The course offers a fair and enjoyable yet challenging test of golf for all, demanding accuracy on all of the short par 3's to top quality par 4's, where good driving and quality long iron/fairway wood shots are required.
Unusually, there are no par 5 holes on this course. Does this diminish from its quality? I think not! As the par 4 holes are of such a quality and design that I didn't appreciate the lack of a par 5 until we were well into the back nine.
They are experimenting with a different tee layout allowing the insertion of a par 5 to extend the overall yardage. This is an interesting development.
I have to declare a bias here as I love the shorter, tighter, well-designed courses such as the wonderful Cavendish in Derbyshire. One of the best designed and constructed by Alister Mackenzie.
All 18 greens are built to USGA specification to ensure the surfaces perform to the absolute highest standard all year round and I am told that the course drainage allows play in even most challenging winters.
Hole Overview and Thoughts
Hole 1 411 yards white tee's SI 7
The Leicestershire opens with a demanding par 4 dogleg right where you will have to watch out for the Out Of Bounds all down the right-hand side. The bailout area left is framed by tree's and then to lush rough. Guess how I know that!
Hole 3 207 yards white tee's SI 11.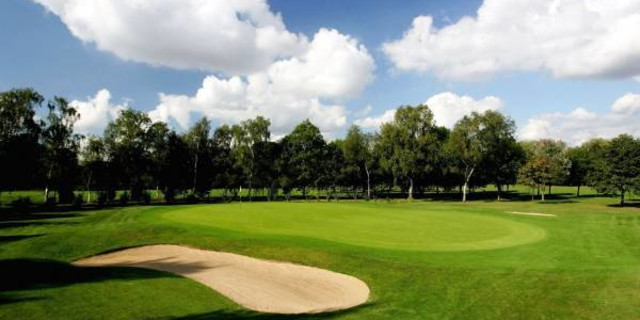 The first of 4 par 3's the 3rd hole ranges from a 6 iron from the forward tee box to a long iron or even a wood from the back tee depending on the weather conditions. It features a two-tier green testing both accuracy and distance control.
Hole 5 461 yards white tee's SI 1
The 5th hole is a dog leg right, and one of the most challenging on the course. From the back raised tee there is need to carry the stream running through the course.
Visually, this is a beautiful golf hole. We played from the white tee's and the opening shot is a challenge. For the longer hitters a good solid drive is required with the need to shape the tee shot around the dog leg to enable them a good chance to reach the green in two.
With testing slopes and quick greens, the need for a good short game is crucial. I made the mistake of leaving myself above the hole with a tricky putt that led to mistakes and frustration.
Hole 6 428 yards white tee's SI 5
James H Braid was seen as the principal developer of the dog leg golf hole and this is an excellent example of his art.
A defined dogleg left, again the tee shot is the key. Try and keep your drive right of centre, as missing this fairway left means, no, or very little chance, of going for the green in two. I foolishly fell into this trap and walked off with a 6 having been much too ambitious for a cleverly designed and constructed hole. A stream runs all the way across the fairway 55 yards from the well-bunkered green.
Hole 7 316 yards white tee's par 4 SI 15
Doglegging right, for the longer hitters you have two choices. Go for the green over the trees on the corner with the driver, to the small green which is well guarded by bunkers and trees; or play the percentage shot (as most do!) and play a shot of 200 yards or more leaving you an easy wedge shot. In my view, this is a perfectly designed risk or reward hole.
Hole 9 455 yards par 4 SI 3
A long hole, dogleg right. I love the fact that there are several play options for all level of golfer to enjoy this hole.
For the longer hitters you can try and take on the corner, over the trees, which if achieved can make it play much shorter. The green is tough, especially if you have a long iron, or even a wood in hand. As a further defence there are three, deep, well-placed bunkers waiting to catch anyone going for the green.
Hole 11 453 yards white tees par 4 SI 2
In my opinion, this is probably the prettiest hole. It presents beautifully off the tee following the natural contours and terrain. The drive again is the key, straight to left of centre. Greedy drives find trouble on the right when attempting to steal a few extra yards. Once the drive is in place, you still need to decide whether you can carry the stream at 58 yards from the green. It may be sensible to lay up as you could have a long iron or wood in hand off a hanging lie.
Hole 12 187 yards white tees par 3 SI 16
A very good medium length par three, although the bottom of the pin is not visible from the tee, this doesn't take anything away from this hole. Well surrounded by bunkers, be warned not to miss this green to the right, as the bunker protects the green more than you would expect. I would suggest taking one extra club as not many balls see the back of this green.
Hole 13 331 yards white tees SI 14
A raised small green makes this short par four play tougher than it would suggest. Good club selection from the tee is the key. The worst errors to make are to miss this green RIGHT or LONG.
I managed to do both! This took considerable skill as I blocked myself out right and then attempted to clear the trees protecting the right of the green. I made a complete "horlicks" of this hole but it is an absolute beauty.
The way that this hole is presented is nothing short of superb.
Hole 15 442 yards white tees par 4 SI 4
There are lots of playing options available for all levels of golfer on this hole. Take my advice, play conservatively; there are a lot of problems lurking for the unwary on this hole. I managed to find most of them through adventurous (foolish) play.
There is a fantastic finish to the course with the par 3 17th followed by a challenging par 4 18th.
Hole 17 par 3 173 yards par 3 white tees SI 18
This is the shortest, and some would say the easiest hole on the course!
However, from the back tees, into even a slight breeze, this par three turns into a difficult hole, requiring a long iron or even a wood. The green is well surrounded by three difficult bunkers, with no easy option of getting up and down.
The water is visually intimidating and the elevated tee brings all the hazards into a clear focus. I can imagine many medal cards being ruined at this point.
Hole 18 387 yards par 4 white tees SI 6
Once again hitting a good drive and keeping it on the fairway is the key to this hole. Out of bounds lurks to the right. There are also trees left and right that will block your entry to the green.
If you can keep below the hole on your approach shot, as the green slopes from back to front and also from right to left. If you miss this green right then getting up and down becomes a lot more difficult. I would say it is one of the toughest driving holes on the course when needing a par to finish your round.
The panoramic clubhouse overlooks the green and I can imagine the pressure putts on this green over the years.
Post-Round Thoughts
This club has a friendly yet traditional atmosphere that is not in any way intimidating especially with their forward thinking approach.
The clubhouse is architecturally interesting and the food was superb.
The Leicestershire Golf Club is highly rated and recommended on Golfshake and well worth a visit. If I lived nearer I would seriously consider applying for membership - I can't give it a higher recommendation than that.
For more information and to book a tee time visit: www.theleicestershiregolfclub.co.uk
---
Related Content:
What do you think? leave your comments below (Comments)
---
Leave your comments below
comments powered by

Disqus
Plan Your Next Round
Birstall Golf Club
Leicestershire
Humberstone Heights Golf Club
Leicestershire
from £15.00
Save 19%
Leicestershire Golf Club
Leicestershire
from £25.00
Save 30%

More Golf Course & Travel Features
Plan your next golf break with Golfbreaks.com
Travel Deals Newsletter
Save up to 50% on golf breaks!
Join Today »