Saffron Walden Golf Club Review
By: Matt Holbrook | Fri 31 Mar 2017 |
Comments
---
We sent Golfshake ambassador and regular golf course reviewer Matt Holbrook to Saffron Walden Golf Club in March 2017 to check out this East Anglia located golf course.
---
Situated in the grounds of Audley End House, Saffron Walden Golf Club is a parkland course boasting some stunning views over the town including Audley End House itself alongside the 193ft pinnacle spire belonging to St Mary's parish church - one of the largest in Essex. The course was originally established in 1919 as 9 hole course but then expanded to 18 in 1975 and is now easily one of the finest Parkland courses in East Anglia.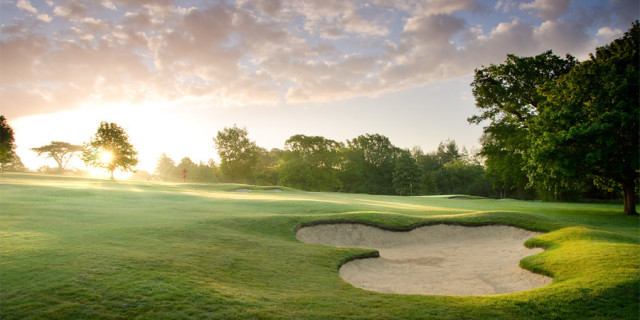 Pre Round Thoughts
I had heard a lot of good things about Saffron Walden. It is a private members club which unfortunately still makes me feel slightly uneasy as you never know what reception you will receive however I had no reason to panic! 4 or 5 warm 'hello's' between the car park and the pro shop. On arrival in the shop the professional was extremely helpful and happy to be of any assistance.
The large chipping green sits one side of the pro shop and 4 warm up nets and a putting green to the other side or the pro shop which offers everything you need in prep for your round.

It was also really nice to be met by the starter who greeted us on the 1st tee was extremely helpful in pointing out a few spots of interest on the course as well as one or two little tips before he sent us on our way.
Par 3s
5th Hole
A spectacular selection of pars 3's are on offer. In particular the 5th and 18th.
Whilst the 5th measures 184 yards it plays a bit shorter as you hit down to the well protected green. But the view of Audley End house and its ground in the distance is breathtaking.

The 18th, also playing downhill to the green situated to the side of the clubhouse offer both a great finish to your round as well as a perfect spot to have a refreshing drink whilst watching how other fair.
Par 4s
I really enjoyed the variety of the Par 4's - both short and long. Straight and fiddly dog legs where irons are a must from the tee keep you thinking throughout.

The 4th is a 90 degree left to right where getting past a tall overhanging tree from the tee is essential for a shot into a long narrow undulating green.

The 13th is long, with fairway bunkers in ideal position to catch any errant tee shots and tree lined with OOB left position is again key. Your approach will be long into a fair sized green but a 2 putt is no guarantee.

Whilst the 17th may seem fairly open from the tee the length and incline to the green makes for a demanding test for any golfer.
Par 5s
All bar one of the 4 par 5's play less than 500 yards from the yellow allowing for some realistic scoring opportunities.

The exception is the 6th hole and would fit in to any course. From the tee the large fairway bunkers are there waiting to pounce for longer hitters that might think about taking them. The fairway then slopes from right to left to the top of the mound which then feeds down towards the well protected green which is tough to find.
Post Round
The course was in great condition. It was great to see a number of green staff out working away to ensure the high standards of the course and the greens were exceptional and ran brilliantly.
The trio of holes, 4, 5 and 6 could quite easily be three of the best holes back to back any course in East Anglia has to offer. As highlighted above, three different types of challenges mixed in with stunning views and testing golf will be enjoyed by people that play to all standards of golf. The course can be tight in places but also forgiving in others and as long as you are sensible in shot selection a good score can be had.

Once you have finished be sure to grab some food and a drink and get out on the patio if the weather allows. A perfect spot to end a perfect experience and share post round stories.
Highly recommended and rated 10 out of 10.
---
Related Content:
What do you think? leave your comments below (Comments)
---
Leave your comments below
comments powered by

Disqus
Plan Your Next Round
Chesfield Downs Golf Centre
Hertfordshire
from £6.00
Save 30%
Canons Brook Golf Club
Essex
from £15.00
Save 28%
The Cambridgeshire Golf Course
Cambridgeshire
More Golf Course & Travel Features
Plan your next golf break with Golfbreaks.com