North Wales Golf Club Feature Review
By: Golf Shake | Tue 20 Dec 2016 |
Comments
---
Feature review for North Wales Golf Club by sports journalist and Golfshake writer Keel Timmins.
---
A golf break in North Wales should feature high up on any golfer's to-do list with a plethora of stunning links courses littered across the coastline. Royal St David's, Nefyn, Conwy and Aberdovey are all highly acclaimed, and rightly so, but a course that perhaps flies under the radar is North Wales Golf Club in Llandudno.

It's not going to win any awards for its infrastructure; the clubhouse looks dated and the car park would probably struggle to hold more than twenty cars, but in a way it adds to the charm of the place as you can tell there is a true history attached to the club.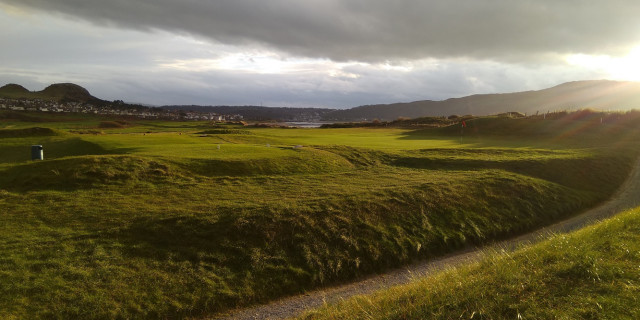 The first hole is a little disappointing; a short par 4 that doglegs to the left around large unsightly fencing that protects a housing estate, but in no way does this set the tone for the rest of the course.

The 8th hole is the best hole on the front nine, a 380 yard par 4 that starts as a blind drive with the train track running all up the left hand side of the fairway. A well-placed drive will leave a short approach into a green where you can only really see the top of the flag-stick. Make your way up to the green and hope that your ball has found the correct tier as the green slopes viciously from back to front.
The next three holes are a delight to play, all running alongside the sea with views of the Great Orme ahead. The back tee on the 9th is situated just yards from the estuary, and indeed if you were to walk down through the dunes you could have a little rest on the shingle beach. It doesn't really matter if you have brought your A-game, you can't help but to walk down these holes with a silly smile on your face as you take in the noises of the waves colliding with the rocks just a few steps away from you, it is true bliss when the wind is calm and the sun is out.
---
https://www.youtube.com/watch?v=Z6Ra6QhJRL4
Aerial drone footage
---
The 13th hole is another standout, a 180 yard par 3 playing back towards the ocean. From an elevated tee, playing towards a green that is surrounded by steep dunes on both sides, be prepared to club down as it can play a lot less than the yardage on the scorecard. But this doesn't make it any less daunting, a shot that drifts just yards offline will find the thick dune grass, and will probably lead to a lost ball and a big number.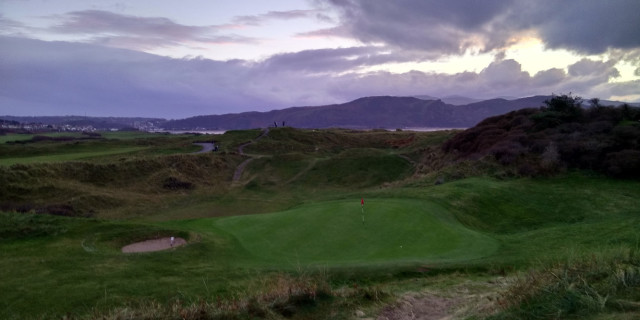 Think of some of the best par 3's in world golf; the 12th at Augusta, 17th at TPC Sawgrass, 7th at Pebble Beach and the iconic "Postage Stamp" 8th at Royal Troon. All are very short holes that require accuracy more than anything, and are absolutely great fun to watch on TV. Well the 16th and 17th at North Wales are truly great par 3 holes that will stick in the memory for a very long time. The 16th actually has some resemblances to the Postage Stamp, played from an elevated tee into a green that is longer than it is wide, with steep dunes surrounding the green from all angles. You won't know where your ball has finished on the green but it makes for great fun. The 17th is another very short par 3 played over a valley to an upturned saucepan-like green with steep drop offs both short, left and right. Both holes are no longer than 275 yards combined but they will produce some great moments and are probably worth the green fee alone.

The final hole is a short par 4 that is drive-able if the wind co-operates, but is a bit of flat end to what is a superb closing stretch of holes.
It's easy to overlook North Wales Golf Club with some of the bigger, better known golf courses nearby, but this course provides superb value for money, particularly with the twilight rate and special deals on GolfNow and TeeOffTimes.
It's by no means a difficult course; a low number can be posted here, but for the quirky and fun nature of this links, it is well worth a round and you will no doubt end up feeling pleasantly surprised.

For more information visit: www.northwalesgolfclub.org.uk or check out the reviews on Golfshake.
---
Related Articles
Golf in North Wales - Destination Guide

The Undiscovered Corner of North Wales

Golf in North Wales

A guide to golf in Mid-Wales

---
Related Content:
What do you think? leave your comments below (Comments)
---
Leave your comments below
comments powered by

Disqus
Plan Your Next Round
Denbigh Golf Club
Clwyd
from £12.00
Save 25%
Abergele Golf Club
Clwyd
from £13.00
Save 20%
Bangor St Deiniol Golf Club
Gwynedd
from £18.00
Save 18%
More Golf Course & Travel Features
Plan your next golf break with Golfbreaks.com