StantonontheWolds Feature Review
By: Andrew Picken | Thu 06 Oct 2016 |
Comments
---
Golfshake ambassador Andrew Picken visited Stanton-on-the-Wolds Golf Club near Nottingham in April 2016. Find out how he got on.
---
Stanton-on-the-Wolds is 110 years old and is a Par 73, 6,457 yard parkland course featuring greens, tees and fairways that are in excellent condition all year round.
The club has only recently started to accept society bookings and is an ideal venue for groups. It is also a difficult task to cater for the needs of members and members and Stanton-on-the-Wolds does so by restricting tee times for visitors, but still makes them feel welcome.
Additionally there is a practice range, training facility and small driving range. The professional's shop at Stanton-on-the-Wolds has recently been refurbished and Nick Hernon, the pro, provides a warm welcome to all visitors. All staff provided a warm welcome and the club had a real feel of optimism and activity.
Unusually, the club is run by a five-person management committee who have been authorised to make decisions about the running of club and course without having to go through the usual committee structure.
The course has four par threes, five par fives and nine par fours, set out in a double loop. It may not be hugely long, but the fairways are tight and the holes well designed.
Course Highlights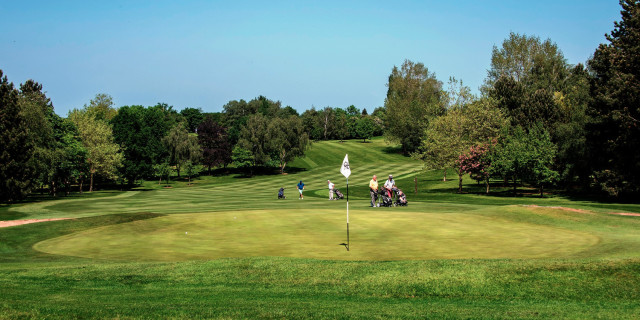 4th, par 4, 377 yards (white tee)
This is a dogleg right. out of bounds down the right with a dyke on the left of the fairway landing area. This is a good risk or reward hole. Taking on the out of bounds leaves a short iron to the green.
7th, par 4, 418 yards
Tight fairway boundaried by well-established tree's, an ideal shot is to the left of the fairway to allow access to the green which seems very small. It has lots of borrows and adds further to the overall challenge.
16th, par 4, 375 yards
This is a cracking golf hole. An elevated tee provides a very restricted view of the fairway as fully mature trees cut into the fairway at about 170 yards. These tree's are preceded by penal rough. This means that any Tee shot has to carry a least 180 yards to have any chance of hitting the short stuff. The landing area is adequate but the eye is inadvertently drawn to the trees. They shouldn't cause a problem but within our group they did. The tiny green is protected by bunkers left and right and the green is very severely sloped. It is a real challenge if the ball is above the flag. This is a great golf hole, visually deceptive and challenging.
Finishing holes
The course concludes with two par fives. The 17th is a cracker at 534 yards. Again visually deceptive of the tee with mature trees easing into the fairway causing the fairway to look smaller than it actually is. Strategically bunkered to the left and protected along its width by a water hazard. Entry to the green is tight, protected by bunkers.
Post Round Thoughts
In conclusion, this was a superb visit. This is an excellent golf course and facility with some really superb staff. They are clearly keen to encourage visiting golfers. The course was extremely well maintained and the greens, given the winter weather that we've had at the time of my visit, were absolutely superb. I would go as far as saying that they are some of the best that I've played all year.
The place abounds with little thoughtful touches like free sweets following the coffee and bacon cobs. Every member of the society at the conclusion of the meal was given a voucher for a future four ball for the price of three.
There is clearly a lot of thought going into the marketing in this venue and I have no doubt whatsoever it will become an incredibly popular venue. Given the restrictions on the tee times visiting golfers have available we have already booked for another visit. I can't think of no better recommendation.
This is a quality venue and an absolute gem if you are in a society in the Midlands area. Highly recommended.
For further information visit www.Stantongolfclub.co.uk
---
Related Content:
What do you think? leave your comments below (Comments)
---
Leave your comments below
comments powered by

Disqus
Plan Your Next Round
Pewit Golf Course
Derbyshire
Glen Gorse Golf Club
Leicestershire
from £12.00
Save 22%
Lingdale Golf Club
Leicestershire
from £10.00
Save 25%

More Golf Course & Travel Features
Plan your next golf break with Golfbreaks.com
Travel Deals Newsletter
Save up to 50% on golf breaks!
Join Today »