Tiger at 40 - Will life begin again for Woods?
By: Golf Shake | Tue 29 Dec 2015 |
Comments
---
Post by Sports Writer, Derek Clements
---
On December 30, 1975, Eldrick Woods was born. From the moment he was old enough to walk his father had him swinging a golf club. He was supposed to be destined to change the face of golf forever. And in many respects he did – he won the US Amateur championship three times as a fresh-faced kid, the won the 1997 Masters and broke just about every record in the book, in a glorious spell during 2000 and 2001 he simultaneously held all four majors and in 2008 he won the US Open over 91 gruelling holes on a broken leg. He had won 14 majors by the time he was 32 – Jack Nicklaus, who won 18 in total, had won 11 at the same age.
But Nicklaus kept on winning, securing the last of his majors in spectacular fashion at Augusta in 1986 when he was 46. Woods hasn't won one since that US Open. And while Woods' body continues to fail him, the Golden Bear's never did.
Woods being the sort of person he is will point out that Nicklaus won three of his 18 majors when he turned 40. He will also tell us that Ben Hogan won three majors in the same season at the age of 40, not to mention his friend, Mark O'Meara, winning two when he was 41 and a host of other "veterans" winning the sport's major prizes.
Not so very long ago, Woods seemed certain to easily surpass Nicklaus' record, but now it seems highly unlikely that he will ever add to his total of 14.
---
Will Tiger come roaring back or will he be walking away?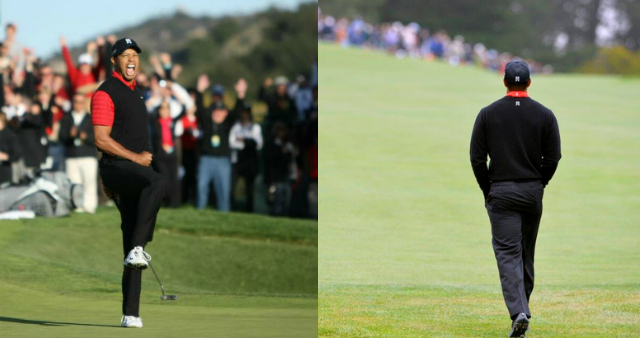 ---
He continues to deny the evidence of his own eyes and is constantly upbeat - in public at least. No matter how bad the round, Woods will insist that his best game is 'just around the corner', that he 'hit some great shots out there' or that 'the swing changes are almost grooved in now and my swing feels great'. The reality is that he can no longer find a fairway with his driver, unless it is the one three holes away from the one he is trying to find. He longer sends towering iron shots to the hole-side. He misses putts. And, worst of all, he fluffs straightforward pitches and bunker shots.
It is all too easy to forget that it was only in 2013 that Woods won five times, including the Players Championship and two World Golf Championship events, to be crowned PGA Tour player of the year for the 11th time and win the Vardon Trophy for lowest scoring average at 68.98.
But then came the nightmare season of 2014 and the initial back operation which forced Woods to miss The Masters for the first time in his career and was the start of a downward spiral of record scores, consecutive missed cuts in majors and more surgery.
As surprising as it was to see Woods shoot rounds of 85 in Nicklaus's Memorial Tournament and 80 in the US Open, it brought a tear to the eye to witness his press conference at the Hero World Challenge in December. It was the first time that he let his guard down in public, the first time that sense of optimism seemed to have been cast to the four winds.
He revealed that he had no idea when he would be fit to play again. "There is nothing I can look forward to, nothing I can build towards," he said.: "I think pretty much everything beyond this will be gravy. If that's all it entails, then I've had a pretty good run."
He certainly has. Apart from all those majors, he has won 79 PGA Tour titles,second only to Sam Snead, who was still winning into his 50s.
He has admitted that he knows retiring from golf is now a possibility and that the priority of having an active life with his children meant there would be no more surgery. "Seven's enough," Woods said. "Four knees, three backs, that's enough."
Like Woods himself on his good days, his legions of fans will highlight the achievements of Darren Clarke, Ernie Els and Phil Mickelson, who won the Open Championship in consecutive years at the age of 42 or above. But they were fit. Tiger is not - and may never be again.
One thing is certain - if Woods does win another major, it will be his greatest achievement. If anybody can find a way, it is him.
---
What do you think? leave your comments below (Comments)
---
Tags: tiger woods
---
PLAY MORE PLAY BETTER - LATEST TUITION TIPS
---
Leave your comments below
comments powered by

Disqus