2015 - The year of Jordan Speith
By: Golf Shake | Fri 02 Oct 2015 |
Comments
---
Post by Sports Writer, Derek Clements
---
THE impact made by Jordan Spieth in 2015 is similar to the whirlwind that accompanied the arrival onto the world stage of Tiger Woods when he won The Masters in 1997. We were open-mouthed in wonder at what Woods achieved all those years ago, when he played the first nine holes in 40 shots and then proceeded to break every record in the book. Would we ever see his like again?
Well yes, we would. Admittedly, we had to wait 18 years and the source of that inspiration was not necessarily the golfer we expected. When we arrived at Augusta, all eyes were on Rory McIlroy, the only man capable, surely, of emulating Woods. Instead, Spieth put on a sensational show, breaking plenty of records of his own on the way to winning his maiden major.
---
Jordan Spieth's Masters win was reminiscent of Wood's in '97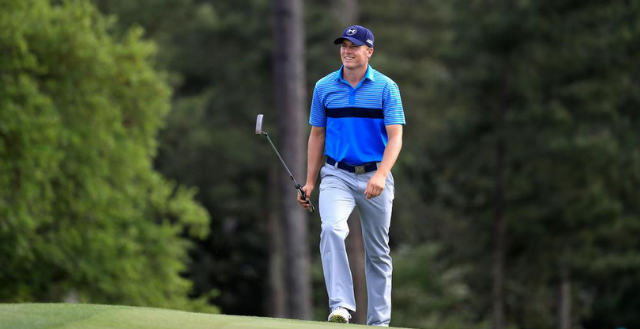 ---
He became the first man ever to reach 19 under par and equaled Woods' record winning total of 270. Spieth produced every shot in the book. He is not a long hitter, but his iron play at Augusta was sensational. And his putting was to die for, but more of that later. Justin Rose played terrific golf and would have won the tournament in almost any other year, but Spieth was in a class of his own.
Speaking of class, Spieth has it in spades. The first thing he did after hugging his caddie and family after holing the winning putt, was to walk round the 18th green applauding the crowd. In all his interviews he went out of his way to thank the fans for their support. He also signs autographs at the end of a round, regardless of how he has played, and does so until there is nobody left in the queue. The only other player in the modern game to come close is Phil Mickelson.
---
Spieth's never say die approach has become a familiar sight and was used to good affect at The US Open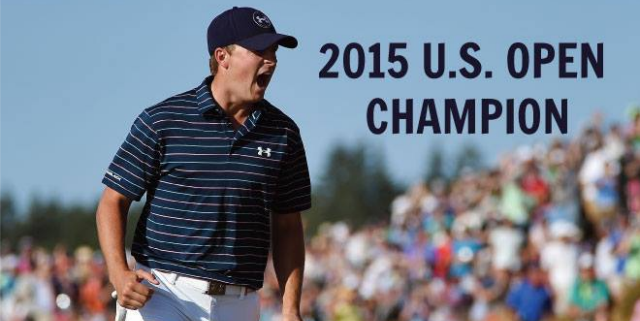 ---
Spieth then set off to Chambers Bay, the controversial course used to host the US Open. Most people will remember it as the major that Dustin Johnson lost, but let's remember one thing - Johnson came to the 18th hole and had a putt to win, but raced it past because he didn't want to face Spieth in a playoff. And it was no surprise when he missed the next putt either. More worrying for Spieth's rivals should be the fact that he won the US Open on this dreadful golf course while playing way below his best form.
So he headed off to St Andrews for The Open. In the absence of an injured McIlroy, there was onlyone question on everybody's lips: could Jordan Spieth win a third successive major? He very nearly did. Once more, he wasn't really at his best and at one stage he slipped down the leaderboard. But he came storming back and reached the final hole needing a birdie to reach the playoff. Agonisingly, his approach to the final hole finished inches short and rolled back into the Valley of Sin. He finished one shot short.
---
Spieth finished to one shot short of the playoff at the third leg of the Grand Slam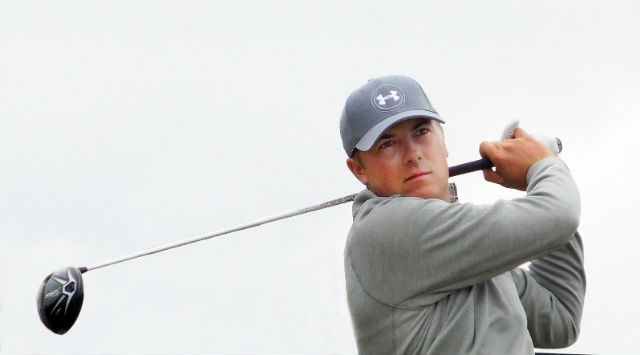 ---
There would be no calendar Grand Slam. Next up was the US PGA Championship at Whistling Straits. This time Spieth ran into Jason Day in inspired form. The American took everything that Day threw at him over four days and kept coming back for more but on this course, on that week, Day was the man who came out on top,winning his own first major.
Spieth missed the cut in the first two FedEx Cup Playoff events, proving that he is, after all, human. He showed some flashes of form at the BMW Championship but headed to East Lake for the season-ending Tour Championship knowing that his only chance of winning the Playoffs was to finish at the head of the field. He won by four shots. But here is the thing. Spieth played horribly, hooking drives, pulling drives, slicing drives, pushing drives. When he did find the fairway he struggled to hit the greens. He won the Tour Championship because he has an unbelievable mindset and a putting stroke to die for. He broke Henrik Stenson's heart with some of the bombs he holed. And he kept doing it, time after time after time.
---
Spieth completed a remarkable year by winning the Tour Championship and with it the FedEx Cup
https://www.youtube.com/watch?v=Md3_01LIVzs
---
The statistics will show that he also two-putted many greens, but they will not record how often he had to hole out for par in the 6-8 feet range. He was like a robot. There are those who say that he can't possibly continue putting like this, but they have been saying that since he first came out on the PGA Tour.
He won five times in 2015, picked off two majors, holed more footage of putts than any other player, recorded the lowest scoring average on tour, pocketed official prize money of more than $14m, is world No1 and has been named PGA Tour Player of the Year. Spieth is just 22 years of age. He has the world of golf in his hands. Yes, he gets frustrated on the course from time to time but, unlike so many of his rivals, he never curses, he never swears and he recognises his responsibilities as the world's best player. And make no mistake about it, Jordan Spieth IS the world's best player, and is likely to remain so.
---

The oldest & most prestigious major, a trip to The Open is a must for every golf fan. From tickets and transfers to hospitality & golf, Golfbreaks.com can build the perfect package to help you experience The Open in style.
---
---
What do you think? leave your comments below (Comments)
---
Tags: Jordan Spieth
---
PLAY MORE PLAY BETTER - LATEST TUITION TIPS
---
Leave your comments below
comments powered by

Disqus