The USPGA Championship - Golf's Unsung Hero
By: Golf Shake | Wed 12 Aug 2015
---
Post by Golf Writer Kieran Clark. Follow him on twitter @KieranClarkGolf
---
There is always a tangible sense of regret among golf fans when the PGA Championship comes around each August. It is an almost downcast realisation that after the champion has been crowned this weekend; we will be without the excitement and suspense of a major for another eight months until the game takes that collective drive down iconic Magnolia Lane in April.
That frustration is testament to the fact that major championships remain the absolute pinnacle in the game. Although relatively recent concepts like the FedEx Cup and Race to Dubai have served to bridge that seemingly never-ending gap with some meaningful action, there is nothing particularly engrossing about watching already rich players competing to simply become even richer.
In that respect, perhaps the greatest beauty of the majors is that in the modern sporting world of colossal monetary rewards, the trophy is still what matters most of all. The achievement of becoming part of history is the motivation for the players, and witnessing it is what attracts those watching from outside the ropes.
---
While players will compete and win massive amounst of cash it is just the Wannamaker Trophy that they really want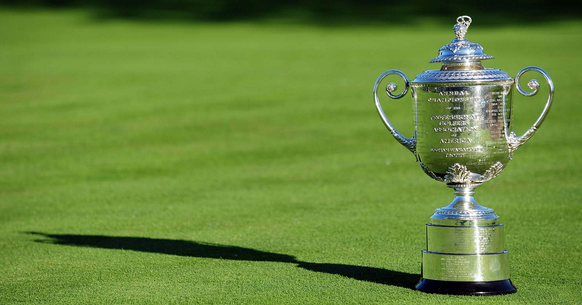 ---
The fourth leg of the Grand Slam calendar also brings with it an opportunity for a period of collective reflection, to assess what has already occurred this year. With such an internationally diverse and demographically varied collection of players at the top of the game, this season always had the potential to be exhilarating, and it has been proven to be undeniably memorable, belonging to Jordan Spieth.
For Jordan, and us, the major season began with his dominant four-stroke victory at Augusta National, which was a triumph that will unquestionably be recalled and compared with for decades. Signalling the emergence of an American star, leading the Masters Tournament after each round, the then-21-year-old became the first player to win wire-to-wire since Raymond Floyd in 1976.
There were echoes of a young Tiger Woods in that performance, with an assured confidence to Spieth's demeanour feeding itself into a calm supremacy over the rest. However, unlike Woods, who overpowered the legendary course on route to his maiden victory in 1997, the tools at the youthful Texan's disposal were more psychological and cerebral, plotting his route surgically around the iconic layout, with a deft putting touch separating himself from those in pursuit.
Those traits would be an important asset two months later at Chambers Bay, where he electrified the golf world with a victory that was achieved in a different (but equally impressive) manner to his success in Georgia, as he patiently waited to grasp the opportunity by making fewer mistakes than his rivals on an uncooperative course that was a cross between a Disneyland rollercoaster and the surface of the Moon.
---
Spieth will again be setting his sights on major glory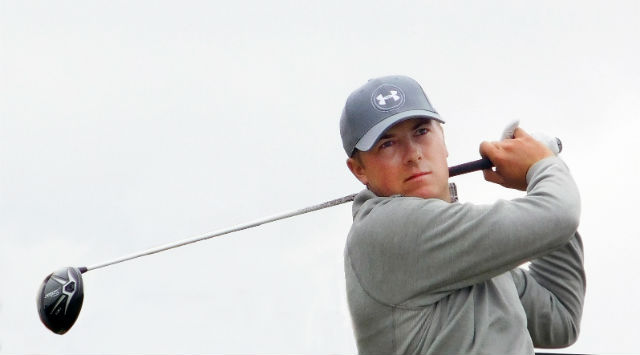 ---
In the immediate aftermath of that dramatic finish in Washington State, attention became fixated on the game's most celebrated venue, St. Andrews, which would soon become the fitting stage and canvas for the Open Championship and Spieth's next attempt at making history.
Many questioned the nature of his preparations for the game's oldest major, debating whether a late arrival to Scotland could scupper his chances for the Grand Slam. However, he defied those critics during an entertaining and lengthy championship at the Home of Golf, catapulting himself into contention with a third round of 66.
The history books will record Ben Hogan as being the sole player to win the Masters, U.S. Open and Open in the same year, with Spieth having followed Arnold Palmer, Jack Nicklaus and Tiger Woods as being the only individuals to have won the first two majors on the calendar since The Hawk's legendary 1953 season.
During the Monday marathon finish on the Old Course, Spieth's bid for history looked to have been sunk with an uncharacteristic four-putt on the eighth, however, testament to his deep resilience as a golfer, he responded with two successive birdies, which placed him on the precipice of something truly monumental.
Few will forget the few seconds of elation that followed his mammoth lead-tying putt on the 16th. Had he won the championship, it would have gone down as one of the truly great moments in golf history. Although he would come up just short in his bid for sporting immortality, finishing one shot outside of a playoff that was won by Zach Johnson, for a few minutes Spieth made us believe that the improbable was actually going to happen. That is some achievement.
After digesting all that he has accomplished during an incredible four months, this week is a further opportunity for the 22-year-old to achieve remarkable things. He seems to have a penchant for doing so. No one has ever won all three U.S-based majors in the same year, with a victory in the PGA arguably securing Spieth the greatest major season in history.
Though it may be a somewhat unfair assessment, the PGA Championship has continually lagged behind the other majors in terms of prestige and public awareness; to such an extent that its laughable new promotional slogan 'This Is Major' seems to simply exist in order to remind everyone that the event actually holds such an elevated status.
That is partly a result of his place in the schedule, coming fourth on the calendar, but it also lacks the unique characteristics that separates and make the other three Grand Slam events so distinctive. In many ways, the PGA of America's Championship does feel very much like an amped-up tour event.
However, the inoffensiveness that prevents the championship from standing out may just conversely also be its greatest strength. Unlike the warped minds at the USGA, the PGA of America are generally less twisted in their setups of golf courses, ensuring for a refreshing sense of freedom to this major, which has contributed to some genuinely thrilling finishes. The players here are always the story.
Anticipation has been intensified by the surprising return of world number one Rory McIlroy. Most observers had begun to doubt whether we would have actually seen the Northern Irishman again this year – after he missed the Open Championship due to an ankle ligament injury. His emergence is unexpected but welcome.
Unearthing to defend the title that he won last year at Valhalla, the 26-year-old will be hoping to ignite a genuine rivalry with Spieth, who he has been grouped alongside for the first two rounds at Whistling Straits. That will offer an intriguing subplot, as they will also be jousting for the world number one ranking this week.
In a year of compelling major championships, a true head-to-head contest between the two best players (such a rare commodity in golf) is all that has been lacking. We had hoped to witness it at St. Andrews last month, but the 97th PGA may just be the vehicle that delivers that for us.
Away from the big two, Dustin Johnson, Jason Day and Louis Oosthuizen have all come up agonisingly short in the big events this season, with the PGA being their last opportunity to claim major silverware in 2015. For Johnson, there is an added incentive of potential redemption for his cruel loss on this course five years ago, while Day shook off any hangover from the Open by winning a week later in Canada. All three are primed for this one.
And what of this week's venue, Whistling Straits, which has evidently found favour with organisers, who have now brought the PGA Championship to this "links style" course for the third time in just 11 years. They're even bringing the Ryder Cup here in 2020. On two those previous occasions, Vijay Singh and Martin Kaymer triumphantly raised the Wanamaker Trophy after playoffs.
However, the Wisconsin course is a layout that has divided opinion, with some of the opinion that it as another spectacular piece of devilish genius in the colourful Pete Dye cannon of designs, while others see it (and its 1,012) bunkers as being an outlandishly cartoonish caricature of a genuine British seaside course situated on the banks of Lake Michigan. Nevertheless, whichever side of that divide you fall on, it is an interesting and visually striking layout.
2015 has been the year of Jordan Spieth. A win here would complete a generation defining accomplishment. After all, this is major.
---

Be part of the action with a selection of unique golf tournament experiences, from playing in a pro-am with the stars to watching the action at golf's most illustrious events. Whether it's the Masters or The Open, The Ryder Cup or WM Phoenix Open, build your own bespoke package with the experts at Golfbreaks.com.
---
Tags: Jordan Spieth
---
PLAY MORE PLAY BETTER - LATEST TUITION TIPS
---