FootJoy Launch HYPERFLEX Golf Footwear
By: Golf Shake | Thu 15 Jan 2015 |
Comments
---
FootJoy have announced the introduction of the HYPERFLEX™ their most distinctive footwear category in history. The HYPERFLEX features innovative materials including the new FlexGrid™ exoskeleton and delivers lightweight support and cushioning, enabling golfers to play at their highest level.
The most striking feature of the new HYPERFLEX golf shoe is the upper. Most athletic shoes are constructed with soft, mesh upper materials that are ideal for running and activities that don't require a great deal of lateral movement. However, for FJ's research & development team, the key was to keep those comfort qualities in place but also deliver the support, stability and waterproof characteristics required for golf. Through extensive testing, this balance was achieved utilising a material never before used in golf shoes, called FlexGrid.
The very distinctive FlexGrid upper was inspired by the Leonard P. Zakim Bunker Hill Bridge in Boston, Massachusetts. When viewing this type of cable-stayed bridge at different angles, the cables create a grid offering tremendous strength and support, all while maintaining a sleek, lightweight and technical appearance – similar to FlexGrid.
The FlexGrid exoskeleton is strong enough to keep the foot from rolling laterally during the golf swing but also conforms to the foot and allows it to flex. The base layer that supports the exoskeleton consists of a tight-knit, lightweight, soft, flexible, waterproof mesh, which allows for maximum comfort, breathability, flexibility and airflow. The combined layers produce a golf shoe that wraps the foot in the comfort you expect from an athletic shoe with the additional support of a high-performance golf shoe.
"Our designers have carried out research in civil engineering and construction to create the distinguishing aesthetics of HYPERFLEX which are also fundamental to its performance," said Doug Robinson, FootJoy Vice President of Design and Development Worldwide.
"Every area of this shoe has been carefully considered, incorporating exceptional craftsmanship and innovative componentry to create an incredibly flexible and lightweight, yet stable, platform from which to swing."
HYPERFLEX key features and benefits
FlexGrid™ 2.0 exoskeleton upper – The high-performance upper material defines the aesthetics of HYPERFLEX but also has a highly functional purpose. The soft and comfortable material helps to control the foot during the swing and retain its shape over time. Incorporates a breathable membrane that is guaranteed waterproof for two years.
FineTunedFoam™ 2.0 – The inclusion of FTF 2.0 provides the exceptional comfort of HYPERFLEX. The next-generation midsole, constructed of a softer and lighter EVA blend, delivers supercharged cushioning.
O.P.S.™ - Visible at the rear of the shoe, the Optimized Performance Stabilizer provides support and motion control towards the heel.
N.E.O.™ - Next Evolutionary Outsole, equipped with 'Tornado' Cleats by SoftSpikes, has been specifically engineered with thin TPU that provides flexible-yet-durable underfoot traction elements that utilise the Fast-Twist® insert system.
Colour options – HYPERFLEX will be available in Navy/Lime, Charcoal/Orange, White/Light Grey/Royal Blue and Black/Silver/Yellow. Additional BOA Lacing options will be offered in White/Light Grey/Royal Blue and Charcoal/Orange.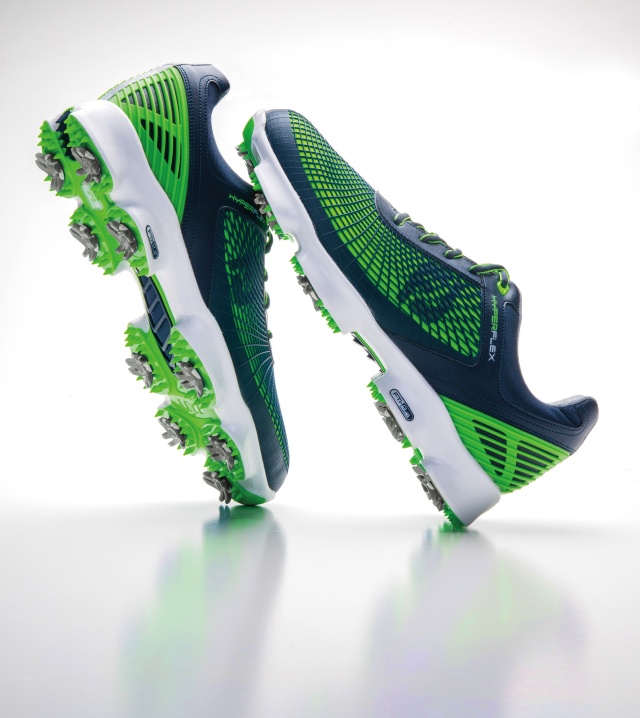 The HYPERLFEX will be available from March 2015 with a RRP of £135/£150 BOA
For more information visit www.footjoy.co.uk/hyperflex
---
What do you think? leave your comments below (Comments)
---
Tags: Footjoy
---
comments powered by

Disqus